Cryptocurrency entrepreneurs have moved to Puerto Rico to build a crypto utopia – initially dubbed Puertopia but now named Sol – where they plan to pay little in taxes.
The crypto expats also hope to demonstrate how the city of the future will look with blockchain methods used for most transactions alongside the development of a new digital cryptocurrency.
But it's less clear about whose future – the few or the many – will be the driving force for change on the US territory.
Puerto Rico was devastated by last year's Hurricane Maria and, with inadequate aid from the US, it desperately needs investment to rebuild the island's infrastructure. Puerto Rico was already facing severe financial difficulty before the calamity. It goes some way to explaining why local authorities are cautiously welcoming the arrival of cryptocurrency entrepreneurs on the island. But at what cost?
The term crypto-colonialism isn't new. It was coined 18 years ago by Michael Herzfeld, but had nothing to do with cryptocurrencies – the bitcoin network didn't come into existence until 2009.
Crypto-colonialism originally referred to countries, such as Greece and Thailand, seeking to acquire political independence at the expense of massive economic dependence. And it used the original meaning of the word "crypto" – concealed, hidden or secret. Such countries are nominally independent, but their national culture is refashioned to suit foreign models. The term colonialism in this sense is not overt at the point of a gun, but covert through the subversion of norms and cultures.
Notably, this definition of crypto-colonialism remains applicable to the socioeconomic consequences of crypto utopia.
Crypto land
There is a deep link between libertarianism and the cryptocurrency movement. Cryptocurrencies such as bitcoin rely on a decentralised, extralegal and unregulated approach. But while the crypto billionaires will enjoy their Caribbean playground, poorer locals with little knowledge of the technology will be excluded.
The mostly male entrepreneurs, who moved to Puerto Rico last year and plan to do more than create a cryptocurrency bank, will perhaps bring crypto libertarian ideas to the island. Their vision is similar to another would-be crypto utopia, the Free Republic of Liberland, which claims to be a "micronation" camped on the western bank of the Danube river. It uses bitcoin as its "national" currency.
Back on Sol, the wealthy crypto expats want to use the blockchain system for decentralised elections and even to issue citizenship ID. But we doubt that locals who are fighting poverty will be enthused by these ideas.
This behaviour reeks of disaster capitalism – the use of a natural or economic crisis to reshape and mould a society into one which entrenches a libertarian, hypercapitalistic worldview. When you are without power for months and feel ignored, any offer of help can seem a good lifeline with little thought for the consequences.
Fight the power
Crypto utopias can also cause severe environmental damage. Puerto Rico remains in a deep power crisis after Hurricane Maria, making the idea of Sol simply impractical. One bitcoin transaction consumes 215 kilowatt-hours (KWh), enough power to supply dozens of households on the island when the grid was at full capacity.
The annual electricity consumption for mining bitcoin increased from 9.5 terawatt-hours (TWh) per year to 48 TWh in the last 12 months – 2.5 times higher than Puerto Rico's total consumption of 19 TWh. Resources and infrastructure, post-Hurricane Maria, are too stretched to support cryptocurrency mining on the island.
Crypto rich kids made their fortune on the rapid growth of cryptocurrency markets – which are problematic due to their idiosyncratic risks. It's a game for wealthy people who can cash out early and lock in gains, having been the developers of the bubbly product. This is characteristic of any bubble – those who get in early do well, those who cash in late do poorly.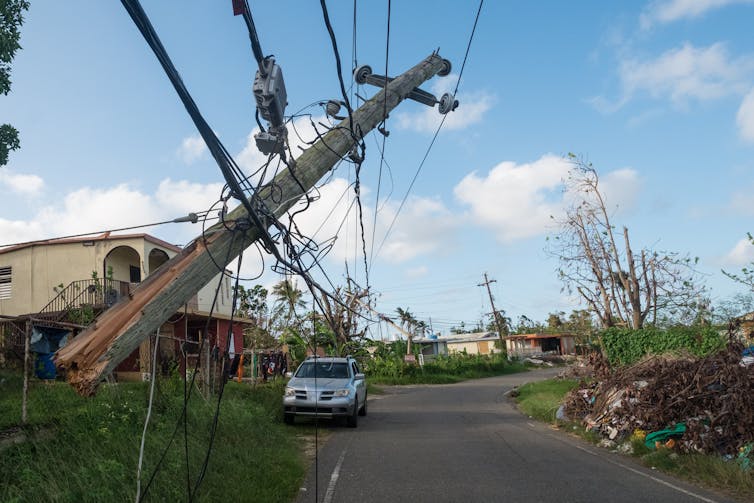 Our recent research shows that cryptocurrency prices are relatively isolated from the shocks transmitted from other assets, such as gold and equities. But cryptocurrency prices are deeply interlinked with each other, so a fall in the price of bitcoin affects other virtual currencies.
If bitcoin can ride out its latest price fall, then it's likely that crypto-colonialism will slowly spread around the globe. Crypto libertarians – if they follow the Sol model – could focus on those parts of the world that have been ravaged by earthquakes, tsunamis, hurricanes and economic crises.
But cryptocurrency has also become a panacea for economic recovery. In December, Venezuela announced a creation of a new cryptocurrency – dubbed "petro" – backed up by Venezuelan reserves of precious metals, oil and diamonds. It hopes to use this cryptocurrency to fight US sanctions, high inflation and low oil prices.
However, bitcoin solutions for developing countries – previously known as neo-colonialism – shouldn't be seen as the ultimate solution for disaster and crisis management. In the transition period, when the potential of cryptocurrencies and applications of blockchain are unexplored, we have to be sceptical of such initiatives as Sol.