This is an edited extract from Elections Matter: Ten Federal Elections that Shaped Australia (Monash University Press 2018), edited by Benjamin T. Jones, Frank Bongiorno and John Uhr.
---
In 2004, the Australian Labor Party, led by Mark Latham, was expected either to win or closely contest the upcoming election. Instead, John Howard's Liberal-National Coalition secured a comfortable victory, increasing its majority in the House of Representatives and securing a majority in the Senate.
Although disappointed, Labor took comfort in the fact that it had taken the coalition five attempts to oust the Hawke-Keating Labor governments. The conventional wisdom was that Australians simply do not change governments quickly. With the turbulent Whitlam years seen as an exception to the rule (and even he secured two successive victories), in post-war Australian politics, long terms in office was an expectation.
---
Read more: Moment after moment of madness: Liberals manage the ugliest, messiest leadership challenge in history
---
This view might now be considered the old normal. Following the landslide Kevin07 victory, many predicted Kevin Rudd would be a long-serving prime minister, perhaps handing the reins to his popular deputy, Julia Gillard, in a third or fourth term. That he did not even see out one full term in office marked a new era in Australian politics.
Rudd's swift dismissal cannot be explained away by his personal traits or leadership style. With Australia's first female prime minister at the helm, Labor clung onto power following the hung parliament result of 2010 with support from nominally conservative rural independents Tony Windsor and Rob Oakeshott. Once again, a new prime minister would not see out a full term, with Rudd wrestling back control after a second leadership challenge.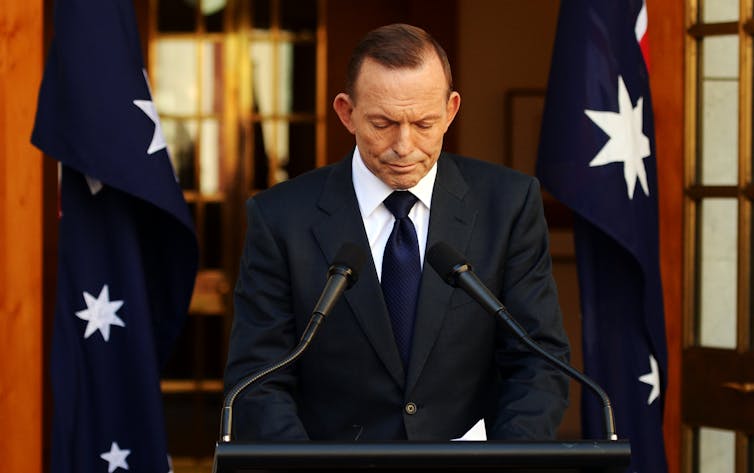 This could perhaps be explained away as a particularly dysfunctional episode of Labor rule, except the Coalition would then follow the same pattern. In 2013, the newly-elected Abbott government promised strong and stable government under Coalition rule. "The adults are back in charge", he smugly claimed. And yet, Abbott too would fail to see out his first term as prime minister, losing a leadership challenge to Malcolm Turnbull in 2015.
Turnbull won the 2016 election by a single seat in the lower house and the Coalition has consistently trailed Labor in the polls. As with the previous three terms of parliament, the prime minister who claimed electoral victory would not survive till the end.
This is the new normal of Australian political life. The coup against Turnbull marked the fourth consecutive term with a change of prime minister. John Howard in 2004-7 was the last prime minister to serve a full term in office, and even he was plagued by persistent leadership rumours leading to a public promise that he would hand over power to his deputy Peter Costello.
The new normal is marked by electoral volatility. The major parties can no longer take for granted a primary vote in the high 30s. As the Greens, Palmer United, One Nation, and the Xenophon Team, have shown, Australia is more willing than ever to cast large numbers of votes for minor parties as well as independents. It is no longer a truism that Australians do not change government quickly.
The old normal would presume that an incoming federal government will set the national agenda for a decade or more. Especially after the 2010 result, one term governments are entirely conceivable. The most pronounced feature of the new normal is the ease with which a prime minster can be replaced. Dumping a first term prime minster, considered political hubris for so long, is now a regular occurrence.
The BBC dubbed Australia the "coup capital of the democratic world" in 2015. Should Scott Morrison lose the 2019 election, there will have been six prime ministers in the six years since 2013.
Although the new normal represents a profound change, it is far from unprecedented. Australia had three prime ministers in 2013. While this may have seemed historic, it is the fifth time this has happened (1945, 1941, 1939 and 1904).
The early Federation period saw a high turnover of prime ministers. It was only when Billy Hughes took the top job in 1915 that Australia saw its first long-serving prime minister (seven years, 105 days) albeit with three different parties.
---
Read more: Grattan on Friday: Morrison ticks the boxes but can't hide the dysfunction
---
To the pessimist, the frequent change of prime ministers over the last decade can be seen as evidence of political instability and turmoil. Alternatively, much like Australian politics at the dawn of the 20th century, it could be seen as evidence of the flexibility built into Westminster democracy. It is a system that allows parties and leaders to change without always needing a fresh election. With Australian federal elections already frequent, every three years compared to four in the US or five in the UK, it is perhaps a blessing that a new prime minister does not necessitate a new election.
Kevin Rudd's changes to the party rules mean it is probable – but by no means assured – that the next Labor government will serve a full term without changing leader. While it is unlikely the ALP will oust their next prime minister, there is no such guarantee from the public now used to a short turn-around of both parties and leaders.
How long the new normal lasts is entirely up to the electorate. The old saying goes that in a democracy, you get the government you deserve. This is particularly true of Australia, with around 95% of the adult population taking part in federal elections. Voters are empowered and elections do matter.