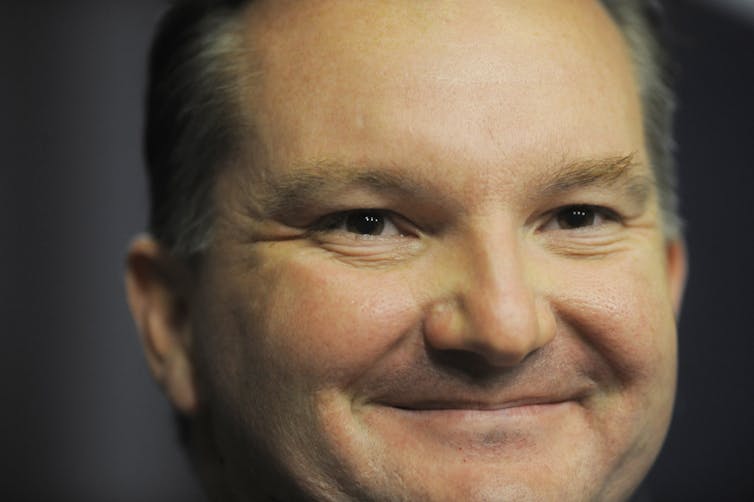 "In him I see a future prime minister of Australia", Kevin Rudd said of Chris Bowen, one of his key backers, the day after last month's leadership fiasco. Bowen had just resigned from the ministry, a very competent performer gone to the backbench, sniped at by the Gillard supporters who accused him of disloyalty.
Rudd's statement was a tribute to a mate, but it would have surprised many, because Bowen is not usually named in the short list of possible future Labor leaders.
Yet, on the basis of record and talent he deserves a spot. He probably thinks so too, which may be one motive in putting his time as a private member to use by writing a book. (Tony Abbott, though on the frontbench, penned Battlelines in a period of frustration. It was a useful statement of his beliefs, although he later had to walk away from a few parts.)
Melbourne University Publishing, announcing its catch of another high profile political author (others were Peter Costello, Mark Latham and Abbott) says Bowen will make the case "for how modern Labor must govern".
The book - to be about 40,000 words, of which Bowen has done 15,000 - will outline his "blueprint for economic growth as the tool for turning aspiration into reality, and how Labor is the best party for those who seek opportunity."
Bowen is reluctant to elaborate on the record about his enterprise but MUP describes the book as a "clarion call to Labor's heartland", outlining his "vision for a mass, participatory Labor party". "Labor can and should reclaim the mantle of liberalism", he says in the MUP release.
No doubt one of the proposals he will put forward is that the wider party should be given some say in the choice of party leader, not just the caucus, something he has canvassed before.
The book will outline his own background – the boy from Sydney's western suburbs – and how he joined the ALP at 15.
Only 40, Bowen is of an age to be part of Labor's future, even if the party suffers a very bad defeat in September. That's assuming he can hold his seat of McMahon, on 7.8%, normally safe but not necessarily so in these times in western Sydney.
Son of an NRMA shift worker and a child care worker, Bowen studied economics at Sydney university and was active in local government, serving as mayor of Fairfield, before entering parliament at the 2004 election. His pathway followed the now familiar route of being a political staffer (to a NSW state minister).
From the NSW Right, Bowen initially had a stellar rise: by 2006 he was on the opposition frontbench as shadow assistant treasurer. When Labor won he became assistant treasurer, and minister for competition policy and consumer affairs (where he had troubles with the ill-fated FuelWatch and Grocery Watch).
Under Rudd he was promoted to cabinet as minister for financial services, superannuation and corporate law, and minister for human services.
The logic, and among many the expectation, after the 2010 election was that he would become finance minister, following Lindsay Tanner's retirement from parliament at that election.
Instead Gillard put him into one of the least-favoured jobs – immigration, which turned into a time of political torture.
Bowen was behind the idea of the Malaysia "people swap", which might have acted as a deterrent if it hadn't been for the High Court ruling it illegal and the opposition refusing to pass enabling legislation.
As things became more desperate, with the people smuggling trade flourishing and the Opposition's "stop the boats" mantra resonating, Bowen proposed to cabinet in October 2011 that Nauru be re-opened as part of a deal that would also include Malaysia. The aim was to try to force the opposition on board.
He was rolled by his colleagues, with Gillard refusing to support the initiative – only to have Nauru embraced by the government in the wake of the report from the Angus Houston panel. The cabinet stoush, the detail of which was leaked, produced bad blood.
Senior Labor sources criticise Bowen over his handling of the in- principle approval for more than 1700 foreign workers for Gina Rinehart's planned Roy Hill mine. The issue caused serious trouble with the union movement There were claims that Bowen did not adequately consult colleagues including Gillard; Bowen insisted that he had.
Bowen only escaped immigration early this year when he was moved to tertiary education, just a few weeks before his exit from the frontbench.
In his generation of Labor talent are Bill Shorten, 45, from the Victorian right and Jason Clare, 41, of the NSW right, and Mark Butler, 42, of the South Australian left.
At this point Shorten would be the frontrunner for opposition leader after a Labor defeat. But if Labor was in the wilderness for two terms, the party might go through more than one leader, which would bring the well-regarded Clare (or Bowen) into the frame.
In politics there are second prizes and Bowen, with a good background in economics and an ability to do the heavy lifting in selling a political message, would be well qualified to be deputy leader and shadow treasurer in opposition, or treasurer in a future Labor government. He would have been treasurer if Rudd had regained the prime ministership.
The release on his book features the word "aspiration(s)". The aspirational voters of western Sydney, and other parts of Australia, are a major challenge for Labor, which is failing to connect with them.
Gillard talked about aspirations as she began her western Sydney campaigning week earlier this year, but the Gillard government has got diverted into class war rhetoric and been unable to hold the "battlers", many of whom aspire to leave the battler cohort.
For example in making the cuts to higher education to help fund the schools program the government might have assumed that Labor's base cared little about the universities while in fact these people look to getting their kids a tertiary education.
The response to Labor's superannuation changes shows what it faces. Three polls published this week were negative about the new impost, although it is mild and affects only a small number with large super accounts.
In Nielsen, 52% oppose taxing personal superannuation accounts holding $2 million or more; Essential found 46% against taxing earnings over $100,000 from super assets (40% support); in Newspoll 78% opposed increasing the tax on super and 55% said they did not currently trust Labor on the issue.
The opposition's fear campaign and Labor's appalling handling of the issue generated much of the mistrust. But super is also a hot button for the aspirationals. Many of them simultaneously think of themselves as battlers suffering from cost-of-living pressures while imagining that one day they too might have a big dollop in that superannuation account.
Bowen promises his book, released mid year (that is, pre-election), will be different from all those about what's wrong with the party. It will not, apparently, be a show and tell of the last nearly six years; he plans to refer to his ministerial experiences only as context. But it can't help being more bad news for Gillard – another backbencher with a lot to say about what needs to be done which will generate a lot of bad publicity for her.