Same old thing
In brand new drag
Comes sweeping into view

– David Bowie, Teenage Wildlife (1980)
Time and again, David Bowie has confounded us with enigmatic acts of gender transgression.
Those acts have been fuelled by a restless drive for recreation, often in the form of ambiguously-gendered personas, such as Ziggy Stardust and the Thin White Duke.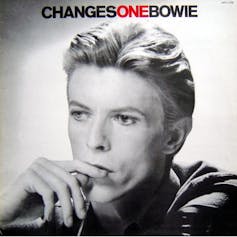 Bowie's mutating personas do not simply emerge from a constant need for transformation. They are created as part of a complex process of performativity, in which Bowie mimics and re-animates the gestural traits of performers such as Marlene Dietrich, Katharine Hepburn, Lauren Bacall, Greta Garbo, Elvis Presley and Frank Sinatra.
In her book Gender Trouble (1990), Judith Butler described this aspect of gender play as "drag" – an ongoing process by which gender is performed, imitated and re-performed.
Bowie fell to earth and thrust himself into this cycle of mimicry at a prescient moment in the seismic landscape of gender politics. Never content to just mimic the costume and bodily gestures of other performers, Bowie has been a cultural alchemist, hybridising gestures with references from music, theatre, philosophy, literature, avant-garde art and cinema.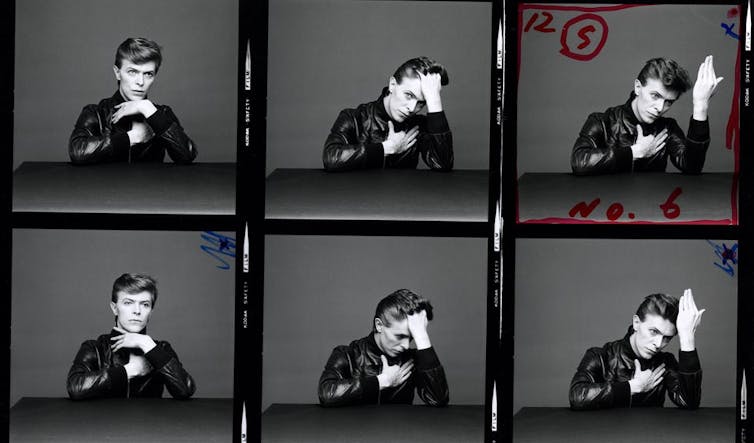 In the process, he has given new life to certain gestures, performing acts that transgress the boundaries of normalised gendered behaviour.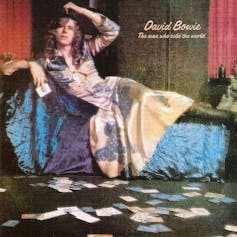 This has been played out progressively over several of Bowie's album covers. His elaborately feminine dress and reclining pose on the cover for The Man Who Sold the World (1970) provocatively invites us into his game of gender play.
Bowie's pose and self-touching gestures on the cover of Hunky Dory (1971) are drawn from those of Garbo, Hepburn and Dietrich. For the Aladdin Sane (1973) album cover, Bowie mutates beyond gender. He is reborn as an exquisitely androgynous, carnal alien, who plays with the alienation of being "Other".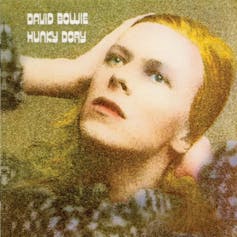 Alienation and gender fluidity also play out in Bowie's music videos. A particularly enduring gestural act is performed in the music video for Boys Keep Swinging (1979), directed by David Mallet.
In the midst of his drag of Hollywood starlets, Bowie aggressively pulls his wig off and throws it off stage, then with the back of his hand, defiantly smears his lipstick across his face. Reappearing moments later as another drag persona, he repeats those gestures, as if to reinforce the gender subversion.
Being a master of drag, Bowie probably foresaw the cyclic reiteration of the back-handed lipstick smear. It resurfaces in the music video for China Girl (1983), when New Zealand model Geeling Ng smears her lipstick in a clear echo of the Boys Keep Swinging video – but this time as an act of defiance to the racial positioning of the "exotic Other".
Some 31 years later, at the 2014 American Music Awards, New Zealand singer Lorde ended her song with the back-handed lipstick smear, which was regarded by media commentators as a "punk rock move and a protest against perfect beauty".
The gesture of lipstick smearing has migrated across cultures and performance mediums, where it has been inflected with alternate meanings. It could be associated with mime and kabuki theatre – art forms that Bowie integrated into his performances and costume design.
Although the origin and meaning of the lipstick smear may be difficult to pinpoint, its enactment by Bowie has played a crucial role in characterising this gesture as transgressive, and giving it a mimetic life of its own.
And so the cycle of drag continues. Performers such as Tilda Swinton and Jessica Lange, and models such as Kate Moss and Iselin Steiro, have used costume, gesture and musical performance to drag Bowie. Bowie-drag proliferates stage performances, music video, fashion magazines and everyday life.
The fashion industry barometer has sensed a flame fuelling the zeitgeist of retro fashion and transgendered identity. Fashion designers, fans and identity-forming youth, have jumped aboard the drag-ship and participated in the cyclical re-enactment of gender transgression.
Just when many thought Bowie had outgrown gender play, at the age of 66 he confounded us with just how complex his gendered identity really is. In the music video for The Stars (Are Out Tonight) (2013), Bowie and director Floria Sigismondi collaborated in a vicarious meta-performance in which Bowie's prior gender play is re-cast through four androgynous co-stars.
While Bowie appears the least androgynous of these characters, Steiro's drag of the younger Bowie is achieved by emulating the costume, posture and gestures of the Thin White Duke persona.
Steiro's ever-gazing presence threatens to unsettle the serenity of Bowie's "normal" life as an older man. He is also haunted by the sycophantic goading of a celebrity couple, played by Saskia de Brauw and Australian transgender model Andreja Pejic.
Swinton is shrewdly cast as Bowie's wife, whose domestic bliss is disturbed by the threat of her husband's past personas. Undergoing a psychic transition, Swinton transforms into a gesturing hysteric, as though channelling the estranged bodily movement of 1920s surrealist film.
Then, morphing into another ambiguously-gendered drag of a younger Bowie, she showers him with lipstick kisses. In Boys Keep Swinging, lipstick smearing was a defiant signifier of gender transgression. In The Stars (Are Out Tonight), Swinton's lipstick kisses suggest the unification of femininity and masculinity within an individual.
With this ironic act of self-love, the ghosts of Bowie's past personas reposition themselves, leaving him in peace. Re-asserting himself as the king of drag, Bowie has passed on the drag-torch to others.
Thanks to Bowie and his collaborators, the flame of gender transgression continues to burn brightly.
Lisa Perrott will present at the David Bowie symposium, The Stardom and Celebrity of David Bowie, as part of the David Bowie is exhibition at ACMI, on July 18. Details here.
David Bowie is will be exhibited at ACMI, Melbourne, from July 16 to November 1. Details here.