Rugby union is a game that draws on players of all shapes and sizes, from the big and muscular forwards in the scrums, rucks and mauls, to the backs who need to be quick and fast on their feet.
But does having bigger, stronger or faster players necessarily determine the winner of a game?
Looking at the stature of the Wallabies vs Fiji match overnight, there was little difference in the total height and weight of the teams – just 8cm and 1kg difference between the main 15 – and both were big!
There was no surprise then that the game was extremely physical, as any game involving a side from Polynesia always is, with the Wallabies winning 28-13 over Fiji.
The challenge for all teams in the round-robin pool play of the initial stages of the World Cup is to give players sufficient game time to get into the swing of the tournament while rotating them to allow rest and recovery. These games can in some cases be only four days apart.
Come the knock-out stage of the tournament, the break between games is seven days, which gives the players sufficient time to recover from (most) of the knocks and tissue damage.
The initial selection policy of teams is usually focused on creating at least two players vying for each position within an allowed squad of 31 players. Several players have the ability to play multiple positions – so size matters – but player skill and preparation from training, combined with astute coaching decisions, remain the key to success.
Early upsets
Japan's shock 34-32 win against rugby heavyweights South Africa in their 2015 Rugby World Cup opener on Saturday night personifies the ever-closing gap between the best and the rest.
Affectionately known as the Cherry Blossoms, Japan's win over the heavily favoured Springbok outfit has been lauded by many as arguably the greatest upset not only in rugby union history but in all of sport.
While from the outside Japan's win may seem like David defeating Goliath, their meteoric rise did not happen overnight. Japan's continual improvement over past decades has been acknowledged and rewarded via their inaugural inclusion in next year's Super 18 Rugby competition.
The expansion of arguably the world's strongest club competition will also include an Argentinian team, another definitive example of the globalisation of the game.
Rugby union is now truly an international game played by more than 7.23-million players in 120 countries across six continents. Participation numbers are rising rapidly.
A growth in players… literally
Over the past few decades the weight and size of rugby players have increased, irrespective of their role and playing position.
But Japan's pack weight and height, which was a total of 57kg and 50cm less than their South African competitors, defies the logic that size is everything.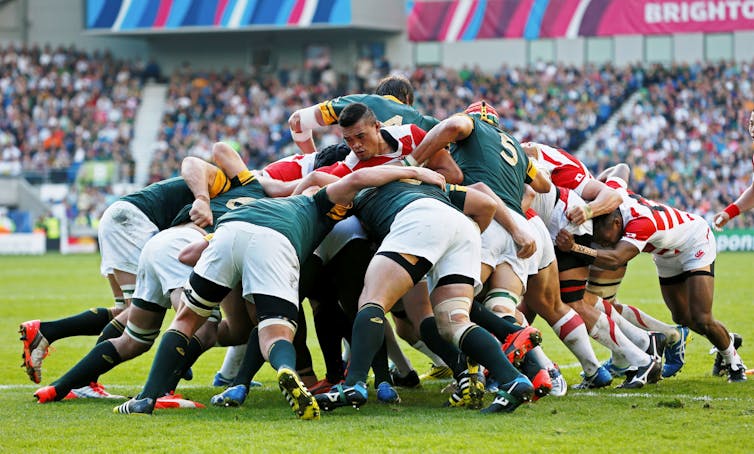 South African prop Jannie Du Plessis said prior to the game:
[…] Japan has an efficient and a good scrum that's going to be a massive challenge for us. So the challenge for us is to go and meet them at their height and still be effective ourselves.
The statistics from the game signify this challenge, with Japan winning all its own scrums. But Japan's initial success in the World Cup took a turn overnight when they were defeated 45-10 by Scotland.
It's more than just size that counts
While anthropometric traits may contribute to team success, sporting performance is a multifactorial phenomenon. As such, teams that do not possess the size and shape of their opposition may have to find alternative solutions to succeed.
Although the weight of rugby players has increased at each successive World Cup from 1987 to 2011, the size of the increase has plateaued in recent years.
Given rugby union is a game characterised by engaging in or evading physical contact, there must be an upper threshold at which any further increase in size of a rugby player may be detrimental to playing performance.
While tactical and technical adjustments of playing strategy are fundamentally important to team success, there are numerous avenues to enhance sporting performance.
Improved understanding of player activity profiles during training and matches via advances in wearable micro technology (such as GPS), paired with knowledge of how they recover, may enhance the likelihood of positive physical adaptation and reduce the likelihood of illness and injury via more effective training practices.
Sleep and nutrition practices are incredibly important for player recovery and mitigating fatigue that may influence playing performance.
Fatigue may also be associated with the travel demands of competition. This is of considerable importance given the international expansion of the game. Travel fatigue, which may manifest as jet lag when time zones are crossed, may have detrimental effects on athletic performance.
Utilising a scientific approach to the preparation of athletes may reduce the gap between the traditional custodians of the game and the emergent nations, despite the size and shape of their populations.