As Russia gears up to host the 2018 football World Cup, the country's officials will be hoping that excitement about one of the world's biggest sporting events generates some goodwill for the country. Because, right now, Brand Russia has an image problem.
While soaring temperatures in host cities like Kazan and Volgograd seem inevitable next June, the frostiness surrounding Russia's first hosting of football's top competition seems unlikely to go away any time soon. This has been a World Cup mired in controversy since the country's name came out of the hat in 2010, at the end of a hugely controversial bidding process.
Qatar has borne the brunt of concerns about FIFA's highly unusual decision to award World Cup hosting rights to two nations at the same time (for 2018 and 2022). Yet Russia is also seen by many as being culpable for alleged misdemeanours during the bidding process, despite being cleared of wrongdoing by FIFA's investigation into the matter.
Litany of bad press
But this has done little to fix the country's image. Its last experience of hosting a major tournament, the 2014 winter Olympics in Sochi, attracted widespread criticism for its financial excesses, as well as for the country's handling of LGBTQ+ rights.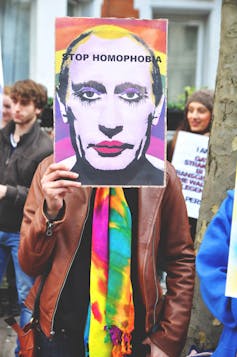 More controversially, an investigation commissioned by the World Anti-Doping Agency (WADA) found Russia guilty of a state-sponsored doping programme between 2011 and 2015. Almost 650 positive drugs tests were recorded among several Russian athletes.
As a result, the sport's global governing body, the International Association of Athletics Federations, suspended Russia indefinitely from world track and field events. This meant that fewer than 280 athletes were cleared to compete in last year's summer Olympic Games in Brazil. Official Russian squads would normally take upwards of 400 to the event.
Following this, Russia has been the source of numerous cyber attacks on WADA. A group calling itself Fancy Bears or Tsar Team (APT28) has released the medical records of numerous athletes, including US gymnast Simone Biles and British cyclist Bradley Wiggins. The Russian government denies involvement, but it doesn't look good. Especially alongside the claims and counter-claims that continue to swirl about Moscow's interference in the domestic politics of numerous countries, the US and Britain included.
Another stain on the Russian sporting establishment is the reputation of its fans. Events at the UEFA Euro 2016 tournament in France saw incidents of hooliganism – which many believed to be the worst ever seen, with some claiming these were orchestrated by the Russian state.
So Russia's stock in some parts of the world could hardly be lower at this point. Financial Times journalist Simon Kuper has gone so far as to suggest that, as far as the World Cup is concerned, the game is effectively already over for Russia before it has even begun. People are deeply suspicious about the country and its motives for staging the tournament. And they are likely to be sceptical about the messaging coming out of Moscow over the next year.
This is not the stuff of which successful nation brands are built.
More promisingly for Russia, Gideon Rachman suggests in The Economist that the World Cup will be an opportunity for the country to present a more positive view of itself. As Rachman notes, "Russia is far more tightly controlled than Brazil [where the last World Cup was held]. The Russian government will hope foreigners will look beyond the political controversies and enjoy the country's rich culture."
Soft power stutter
Sporting events such as the World Cup are normally an opportunity for countries to project a positive image of themselves. Indeed, it is now common to refer to the soft power influence of sporting events. Soft power entails a nation accentuating its attractiveness through cultural means.
Russia has already been playing a game of attraction, with its staging of last summer's FIFA Confederations Cup, its upbeat messages about healthy World Cup ticket sales, and strong reassurances about the threat of hooliganism. It has even played the politics of attraction by hiring former England international Stan Collymore to host a weekly football show on state broadcaster RT. Who could have guessed that Stan – a mid-weight football pundit, known as much for his gaffes as for his incisive commentary – would become an instrument of Russian soft power?
Just how the World Cup's local organising committee, Putin and the country's state apparatus will continue trying to convince the world of their attractiveness remains to be seen. Of course, Russia is a beautiful country, with an amazing history and often hospitable citizens. But, in marketing parlance, consumers may ultimately still encounter cognitive dissonance, if they think that what they were promised and what they receive are two different things.
In other words, whatever it is that Brand Russia is offering, then it must deliver on these brand promises … and fast. Otherwise, the permafrost of the world's perceptions about the country may remain so thick that they fail to thaw in time for next year's tournament. This would not only undermine the World Cup, but reinforce popular perceptions that Brand Russia remains villainous, not virtuous.