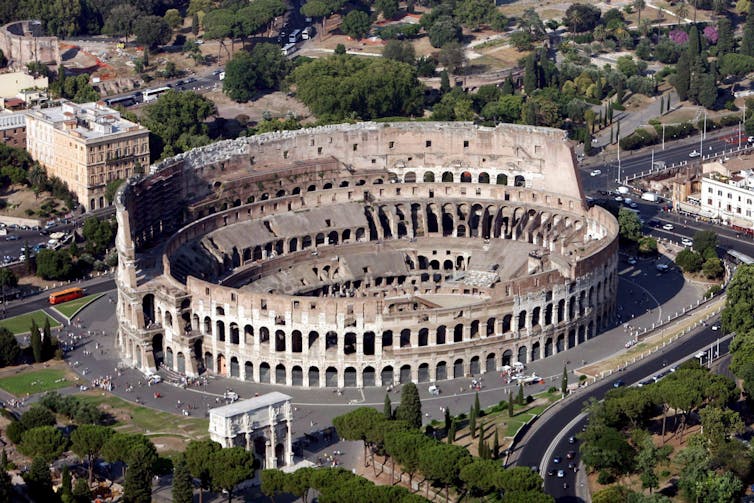 It remains to be seen whether this Wednesday's "people's forum" will make it to on to free-to-air television. If it doesn't it will represent an extraordinary closure of access to a debate and a cross-selling device for News Corp. It will be on Foxtel that is part owned by News Corporation, Sky is part owned by News Corp's BSkyB, and the event is now being marketed as a sponsored event: "Sky News/The Courier-Mail People's Forum" (to be followed by a "Sky News/Daily Telegraph People's Forum" at Rooty Hill planned for Aug 28).
An article by Steven Scott in the Courier Mail yesterday has Rudd "relenting" from his earlier refusal to talk at the forum because "Dire polls show voters have turned on him"!
Polls themselves are excellent marketing tools for newspaper sales, and they become self-referential when a newspaper group is editorialising in the same direction as its own private polling is trending. So a people's forum might seem to be a much fairer source of information for a media conglomerate to host.
But insofar as it is shaping up to be a reality TV program of staged-authenticity, the really important question is how will the 100 strong audience be chosen? How will the questions be solicited?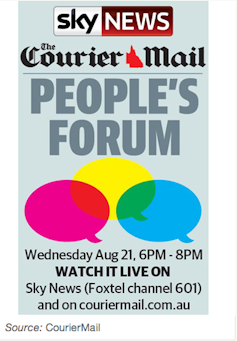 As it is being held in Brisbane, the forum should favour Rudd, but the Broncos Club reality TV format of simulating the 'people's say' may work against him, if it is as controlled as the tabloid editorialising of News Ltd papers.
Forums like these make for powerful television, because they reverse the relationship between performer and audience.
The politicians are not the star performers. The physical audience at the forum will be "on stage" more than the leaders themselves. For the viewer at home, the possibility of seeing something "genuinely" uncontrolled, an outpouring of "raw" feelings about politics, provides a way for them to deal with their "invisibility". As with the audience in a talk show, the public participants in the forum will be seen as the 'representatives' of people at home, giving a performance on behalf of those million of viewers who never get the chance — except on election day itself.
So a forum where the audience is interacting with the politicians can act like a "house of representatives" that is more important than the one in Canberra, The people's forum takes place where "the people are", be it the Rooty Hill RSL Club or the Brisbane Bronco's Leagues Club.
But of course, who is the demographic that most identifies with this brought-to-you-by-News-Corp House of Reps? Are they the swinging voters who aren't interested in Canberra politics? Which house are they more likely to trust? And which party will this trust favour?