The British government has published documents for people to use to report the end of a relationship to immigration services.
When your relationship breaks down you are expected to use these forms to confirm that it's over and give the name of your partner to the government. They ask you to declare that you "do not live with them" and "do not intend to live with them" in the future. These forms ask for the names of who is confirming the break-up and the estranged spouse or partner. These are then to be filed with the Home Office.
The purpose of all this is to provide information to UK Visas and Immigration, the Home Office department in charge of managing deportations. Spousal visas can become invalid when the holder's relationship with a British citizen ends. The new form appears designed to help identify individuals overstaying their visas.
Message in a bottle
According to the latest International Passenger Survey, 45,000 non-EU nationals migrated long-term to the UK to accompany or join others with the intention of residing one year or more over the past 12 months. This is a decrease from 53,000 in the previous year.
The Home Office's new forms take a clear aim at exposing bogus marriages but the government no doubt hopes that more estranged people will come forward to inform the Home Office when their real relationships end.
The problem is that the government has not thought this through. The flaws in these forms are startling. For one thing, they fail to ask for the contact details of the person submitting the form. Any submitted statement cannot be verified before it is investigated.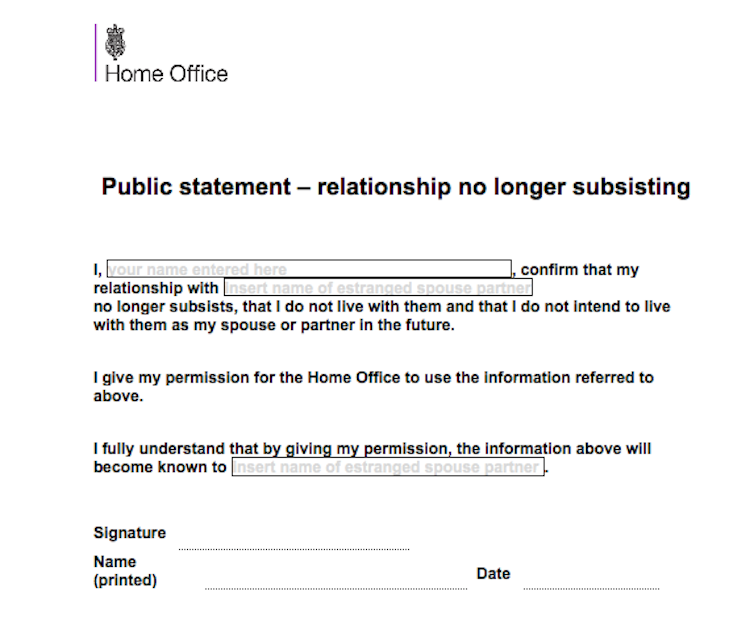 But there is more. The forms don't ask for the estranged partner's contact details or nationality either. This makes their discovery and potential removal all but impossible. Without an address, phone number or email account, these new forms are all but meaningless.
And it gets worse. The Home Office also appears to have forgotten to note where the form should be submitted. It provides no address, email or fax number leaving completed forms with nowhere to go. In my many years of working in immigration policy, I have never seen such a shambles before.
Worse than useless
So why do this at all? These forms seem directed more towards looking tough than being effective. The public will wonder why the Home Office produced a form that no one can use – and that can be sent nowhere.
Usually such forms are accompanied by a press release to help communicate new measures introduced by the government. But remarkably, the Home Office appears to have forgotten to produce one. It's almost as if it did not want the public to know about this new measure aimed at getting the public to rat out their ex-lovers.
And really, this form should never have been released in the first place. There will rightly be concerns that it could be used to intimidate non-European citizens into remaining in relationships they wish to leave for fear of removal from the country. This could make these forms more a tool for abuse than the public good.
If the Home Office wants to identify terminated relationships, it can begin by checking the courts for divorce announcements for a start. Ministers would do better to use common sense and raise their game by becoming more knowledgeable about how the system works before making yet another policy change that may well make necessary detection more difficult. This isn't rocket science. But it is people's lives, and the public deserves better.