Brexit, Trump's protectionist agenda and the debacle of getting everyone to ratify the unpopular Trans-Pacific Partnership (TPP) are all a global trend towards bilateral trade agreements.
This is good news for Australia. With its manifold set of strong free trade agreements, Australia is geared up to reap the early gains of this new trend.
The domestic squabble between Prime Minister Malcolm Turnbull and Opposition Leader Bill Shorten on whether the "the TPP is dead in the water" meant that Turnbull's ongoing support for the Regional Comprehensive Economic Partnership (RCEP) went unnoticed. This signals that, unlike the TPP, the Chinese-led trade deal RCEP is alive and well, and that both sides of Australian politics support it.
Considering the existing spaghetti bowl of international economic partnerships, Australia is already in the fast lane of bilateral trade agreements with the US and China. In fact, Australia is the second largest economy and trading partner of the only six countries that have in place free trade agreements with both the US and China. The group includes South Korea, Singapore, Chile, Peru' and Costa Rica.
If Australia quickly wraps free trade agreements with Canada, the European Union and the United Kingdom, Australia will be the only major trading link among these countries, with evident growth opportunities on favourable terms.
When it comes to trade deals already in force, Australia's trade portfolio includes many bilateral agreements, but only one regional trade agreement (with the Association of Southeast Asian Nations).
---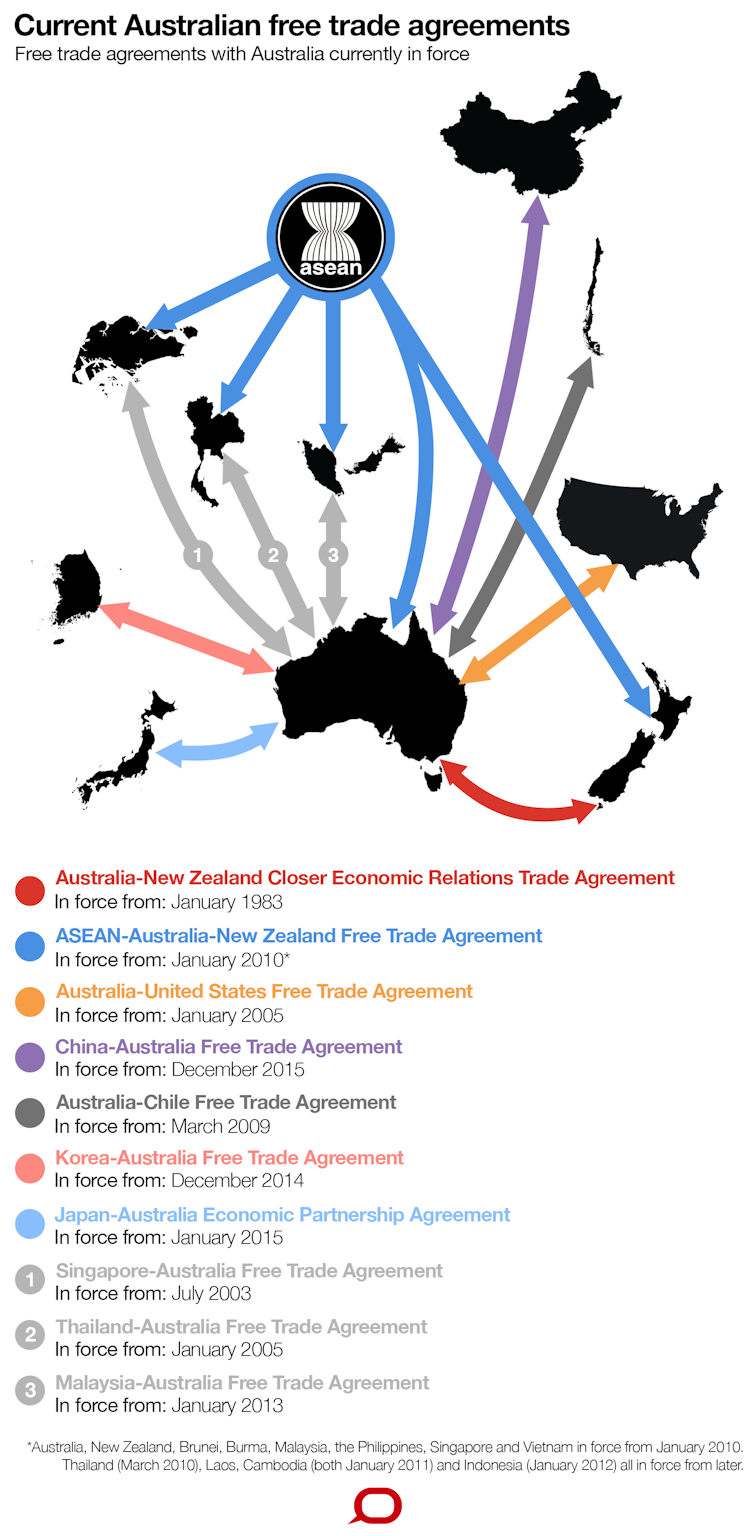 ---
Trade deals with multiple countries are dead
Promoting international trade has always been important to Australia's economy, to encourage growth, attract investment and support business. For the past two decades Australia has been expanding its trade policy agenda with multilateral, regional and bilateral trade agreements.
There are only two multilateral trade agreements under negotiation which involve Australia. One is under the World Trade Organisation (WTO) umbrella (the Environmental Goods Negotiations) and the other is in competition with the WTO system (the Trade in Services Agreement – TiSA).
---
---
The tumultuous political events of 2016 in the US and Europe confirm Kevin Rudd's remark that "the West has turned inward", while the Asia Pacific region is emerging as the torchbearer for free trade and economic integration.
For the past few years there's been disagreement on which type of agreement is best for Australia's trade policy: multilateral, regional or bilateral.
The failure of the WTO's Doha round of trade negotiations has undermined the credibility of the multilateral trading system. With the US and Japan denying China the market economy status sanctioned by its WTO accession, multilateralism is further out of question.
When a country grants China market economy status, it can no longer impose punitive anti-dumping tariffs on Chinese-made goods. More than ten years ago, Australia was fast to recognise China's full market economy status as a precondition of the China-Australia Free Trade Agreement (ChAFTA), which entered into force on 20 December 2015.
If multilateralism is dead, regional trade agreements are also not looking so good outside of Asia. With the rise of Trump and anti-EU sentiment, the Transatlantic Trade and Investment Partnership (TTIP) is lost at sea, and so is the EU-Canada Comprehensive Economic and Trade Agreement (CETA).
The benefits of bilateralism
Australia has a once-in-a-generation economic opportunity to exploit the cracks opened in the international trading system by the stark return to bilateral agreements. Australia is already poised to negotiate two such agreements with Canada and the EU.
Brexit is creating further ripples in the economic diplomacy waters. For example, in Canberra there are loud voices calling for "absolutely free" trade between Australia and the UK. According to some, a full-blown China-US trade war fought on currency manipulation is the single biggest economic threat to Australia. A falling Chinese currency in combination with US protectionist measures would dampen the Chinese economy by way of reduced volumes of exports and higher interest rates spreading across the Asia Pacific and pushing down the price of commodities.
However, it's highly unlikely that monetary dynamics alone will damage Australia's "rocks and crops" economy. The growing productivity of the agricultural and mining sectors is strong enough to rise above global tensions and falling commodity prices. Australia's export volumes in key markets are poised to further rise in a situation where trading partners will already be warring for the best market and investment opportunities.
A protectionist western economy across the Atlantic will further swing the global pendulum of economic growth to Asia. It will also amplify the positive effects of further economic integration in that region for Australia.
When the RCEP comes into force, Australia will have privileged access to China's One Belt One Road (OBOR) initiative, the so called new Silk Road. This development will lead to massive infrastructure investment and trade opportunities for Australia, even more so as it has the comparative advantage of being a highly developed economy with privileged access to Western know-how.
As cynical as it may sound, at present Australia's economic fortunes depend on juggling free trade with both a commanding Asian region and a disunited west. Essentially, if Australia manages to keep a trade policy that is geopolitically neutral, its economy will thrive on unsavoury developments.
Some of these include the success of Trump's protectionist agenda, which may deteriorate the US relations with NATO and the EU, to the point of fuelling European nationalism and disintegration.
Another questionable development, yet positive for Australia, is Japan's re-militarisation to contain China's rise. The preservation of the postwar institutional framework that guarantees economic openness and the prospect of economic and political security in the the Asia Pacific region may soon require tough choices for Australia and Japan.
With Japan standing in for the US security role in East Asia, Australia would take a sweet deal to become the neutral and peace-monger Switzerland of Asia.