The row over who is to blame for the slow pace of financing UK small businesses has yet to be resolved. But the solution might lie with you. Plans to bring the risk and returns of peer-to-peer lending into one of Britain's most popular investment products might provide some welcome relief for entrepreneurs … and some sleepless nights for those taking the plunge.
Following up on a Budget pledge, the government has now published a consultation on including peer-to-peer lending in individual savings accounts (ISAs).
Some 23m people in the UK have ISAs, which make the return from your savings and investments completely (or mainly) tax-free. There are currently two types. Stocks-and-shares ISAs invest in relatively risky stock-market investments like shares, gilts and investment funds. But 16m people opt to hold just the safer version, cash ISAs, which are tax-free savings accounts with banks, building societies and National Savings & Investments.
Funding gap
Peer-to-peer lending is a fast-growing new type of investment. Through websites (often called "platforms"), run by firms with zany names like Zopa, Funding Circle, Thincats and Assetz, you can lend your money direct to individuals and business who want to borrow.
Traditionally, banks have been the major source of finance for small firms. At the same time, they are also the major provider of accounts for savers. So banks perform the minor miracle of transforming our low-risk savings into funding for business. Yet, since the global financial crisis, banks – intent on mending their own battered finances – have shunned small businesses as too risky. Meanwhile, UK households, who hold around 60% of their financial wealth in cash, have borne the brunt of the Bank of England's low-interest-rate policy. Before the financial crisis, in mid-2007, you could get a return of over 6% a year from a best-buy cash ISA. Today, the best is little over 2%. So peer-to-peer lending with minimum investment as low as £25 and advertised returns of, for example, 7.1% (Funding Circle) and 9% (Thincats) sounds tempting.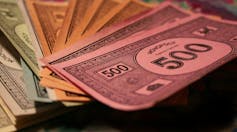 However, peer-to-peer lending is more risky than putting your savings in a bank. Although the money you lend will typically be spread across many different borrowers, peer-to-peer loans are often unsecured and, unlike savings accounts, they do not qualify for protection from the Financial Services Compensation Scheme. Default rates have so far been low and some peer-to-peer firms have set up their own compensation funds. But, even so, you could lose some of your investment.
Also you choose how long you want to lend for at the outset. While some platforms do have arrangements that let you sell your loans to other lenders, it may be hard to get your money back early if no one wants to buy them.
Loan stars
In recognition of these risks, the government has prudently proposed that peer-to-peer loans should not be eligible for cash ISAs, only for either stocks-and-shares ISAs or a brand new category of peer-to-peer ISA. On the other hand, the government claims the peer-to-peer option will provide "potentially higher returns for those holding ISAs" and also be a way of "improving competition in the banking sector". Both comments clearly signal that it expects peer-to-peer lending to appeal to existing bank savers.
This is borne out by a recent poll. peer-to-peer firm Wellesley found that 47% of people surveyed said they would increase their investment in peer-to-peer lending if it could be included in an ISA and 44% if it offered better interest rates than traditional banks. Another survey, by Opinium in 2012, found 49% of the population would be open to peer-to-peer lending as an alternative to traditional banking.
Those numbers could translate into a significant shift in how we save and invest. It may imply that we are all willing to become bankers now – to ramp up the risk in order to escape the inertia of low-interest rate savings accounts. Alternatively, it could be the start of another financial scandal where consumers fail to appreciate the risks until it is too late.
The financial regulator, the Financial Conduct Authority, has said: "any comparison of a peer-to-peer loan interest rate with a regular savings account interest rate must be fair, clear and not misleading". That's a message for the industry it regulates. But the government, as well as peer-to-peer firms, should heed this warning and tread carefully before encouraging us savers to take on more risk than we can bear.