In a recent speech the UK foreign secretary, Jeremy Hunt, stressed that Britain needs to strengthen its support for a rules-based international order, saying there will be a price to pay for countries that do not share the UK's values and frequently cross geopolitical red lines. Hunt was of course referring to Russia, but he may as well have been taking about Saudi Arabia – a country with a similar recent history of flouting international norms, whose conduct receives far less censure from the UK government.
Saudi Arabia has been leading a coalition of states fighting Iran-backed Houthi rebels in Yemen since 2015. There are credible allegations that it has launched air strikes on civilian targets in the conflict, which a recent UN investigation found to amount to potential human right abuses and war crimes. Humanitarian relief organisations have called the situation in Yemen the world's worst man-made disaster; the coalition has exacerbated the situation by imposing an aid blockade that affects 20.7m of Yemeni citizens (75% of the country's population) in need of assistance. And domestically, Saudi Arabia remains an autocratic country, one where activists are executed and human rights defenders detained.
Saudi Arabia is also perhaps the most important UK ally in the Middle East. Longstanding military and trade relations have meant that the two countries have been co-operating on matters of security and counter-terrorism for decades.
A frequently heard argument for engaging with oppressive countries like Saudi Arabia is that direct diplomatic and military engagement enables the UK to export its values, such as respect for basic human rights and a belief in liberal democracy, to such places.
At the start of a visit to Jordan and Saudi Arabia in 2017, the UK prime minister, Theresa May, said that "an even deeper partnership with these countries, and greater knowledge and understanding of one another, will increase our ability to address the issues that concern us".
But in Saudi Arabia's case at least, little to no progress appears to have been made on this front. In a new study of Britain's ties to the kingdom, my co-researcher and I found that the supposed benefits to the UK are limited at best and non-existent at worst.
Quid pro quo?
First, it appears that it is in fact Saudi Arabia which influences the UK's actions, rather than the other way around. The UK government has a history of covering up allegations of corruption related to arms deals with the country. One of the arguments given for engaging with Saudi Arabia is that the kingdom's intelligence is crucial for UK counter-terrorism efforts. Yet, details of this are hardly publicly available, and in 2017 the Home Office decided to withhold publication of a report into terrorist financing that would have reflected poorly on Saudi Arabia. We were hard pressed to find similar cases of Saudi Arabia placating the UK in a similar fashion.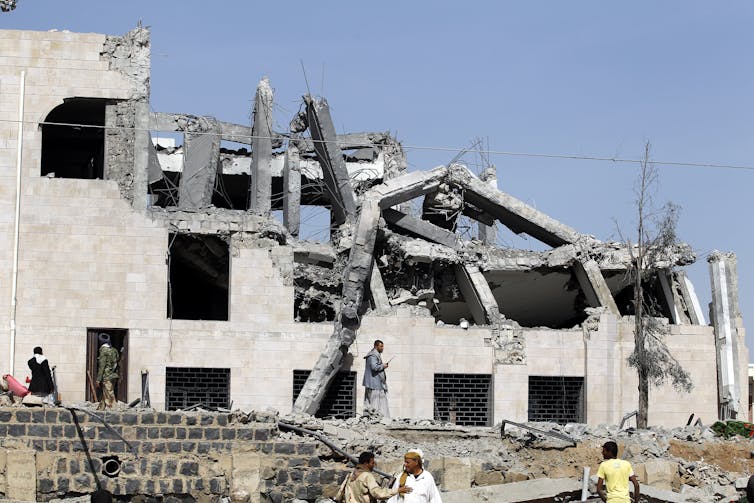 Second, the economic value of the relationship for the UK is negligible. Goods and services sold to Saudi Arabia represented just 1% of the UK's total exports in 2016, while it is estimated that arms sales bring in just £30m for the Treasury. In our research, we found that that came to just 0.004% of its total revenue in 2016.
Then there's the reputational damage that comes with providing diplomatic cover to the Gulf state over the war in Yemen. The UK government's post-Brexit "Global Britain" agenda has seen it emphasise the need to defend and uphold the international rules-based order, but the tacit support for Saudi Arabia's actions is entirely antithetical to this stated aim. The UK helped to design many international laws and conventions that seek to guarantee a peaceful, stable world. But its stance on Saudi Arabia means its deeds currently don't match its words, and that puts its credibility at risk.
This is a case study in what happens when a country's supposed economic interests come into conflict with its stated norms and values and its international obligations. The situation cannot carry on indefinitely. As the UK government makes plans to tread the international stage as a solo player outside the EU, it's already being confronted with a series of difficult choices and trade-offs. It needs to critically assess its own foreign policy and uphold its own values before it can ask others to do the same.