Poplar, in the east of London, is home to two blocks of housing that are providing a symbolic battleground for lovers and haters of modernist, brutalist architecture.
It was recently announced that Robin Hood Gardens – a 1970s housing estate – has not been listed for heritage protection by the UK government. This means that it is now, once again, threatened with demolition. The Twentieth Century Society, the national amenity society of which I am deputy chairman, has been in the vanguard of a long-running campaign to protect this building for posterity.
Robin Hood Gardens was designed by Alison and Peter Smithson for the London Borough of Tower Hamlets, and completed in 1972. These buildings were not meant to be attractive: in a sense, that is the whole point of them. They are a statement of the Smithson's thinking on residential architecture – a subject that had possessed them since they first designed an assertively "ugly" concrete house for a site in Soho.
The Smithsons could be elegant designers when they wanted to be. The three towers forming the Economist development in St James's Street, London, certainly are. And their school at Hunstanton in Norfolk – with which they launched their career – looks terrific, even if it was, in almost every respect, technologically incompetent.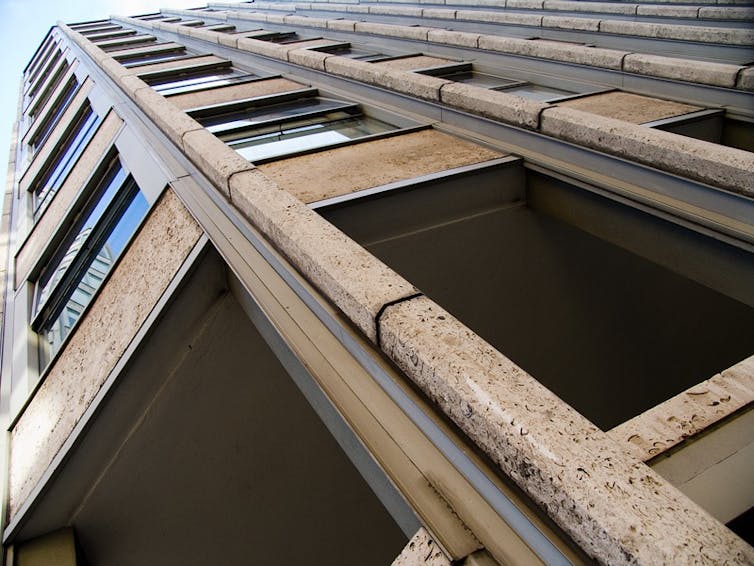 But the common theme of the Smithsons' work was what they called "grit" – by which they meant an aggressive approach to buildings and housing. They had grown up amid working-class terraced housing in the north of England. For them, the ugliness of these surroundings was an authentically British trait, which they believed should find a new expression.
Architects with attitude
They were propagandists, polemicists, and influential teachers at the Architectural Association's School of Architecture, where they competed with other tutors to spew out catty, spiteful comments at student critics.
Not for nothing was Alison Smithson known among the architecture students in my year as "the rudest woman in Britain", and the architectural historian Alan Powers has called them "the clever but disruptive children of a Modern Movement that thought it had settled down for a conformist middle age".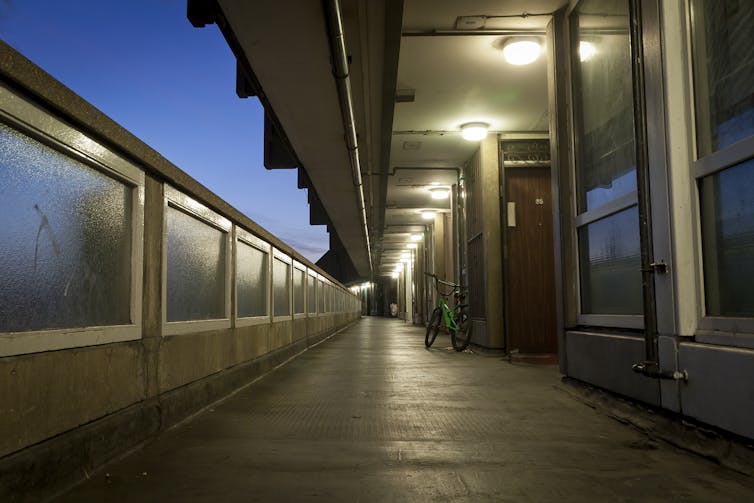 Late in life Peter Smithson, interviewed on BBC radio about the Robin Hood Estate's apparent technical and social failures, blurted that people didn't know how to treat their homes properly. The pair continues to fascinate students from all over the world, and the British Brutalist movement owes a lot to them.
A question of aesthetics?
The overall composition of the two blocks that make up Robin Hood Gardens actually has some pleasing aspects to it. The long, sinuous shapes of the blocks, designed in plan in the form of two waving arms, are lined on their internal garden side with open walkways, and are punctuated vertically with rhythmic mullions.
The landscaped garden between the blocks is dominated by a curious low grassy hill – perhaps a metaphorical burial mound for the previous buildings on the site.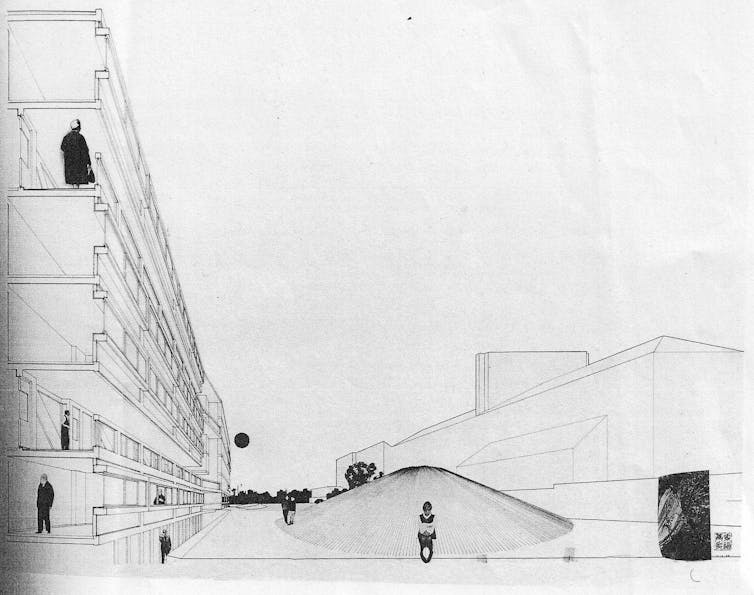 But aesthetics are not enough for a government minister, whose justifications must stand up to public scrutiny and meet the demand for higher-density buildings and better physical environments in poor inner-city areas.
Not all of Robin Hood's current residents are unhappy. They (and the council, some years back) have made it a reasonable place to live. We now have both the knowledge and ability to deal with the remaining practical and technical problems.
So the physical state and the controversial aesthetics are not really at the heart of the question of whether Robin Hood Gardens should be protected.
Instead, the continuing life of the estate is justified because of the sheer number of large-scale historical questions it plays a part in. Of course, the purely architectural stories are of particular significance.
Cultural landmark
Among the Smithsons' students was Richard Rogers – an architect best known for his work on the Centre Pompidou in Paris and, more recently, terminal four at Barajas Airport in Madrid. Rogers is thought to have developed his ideas for sharp and expressive building construction systems and layouts as a result of their teaching, and remains an active proponent of their work.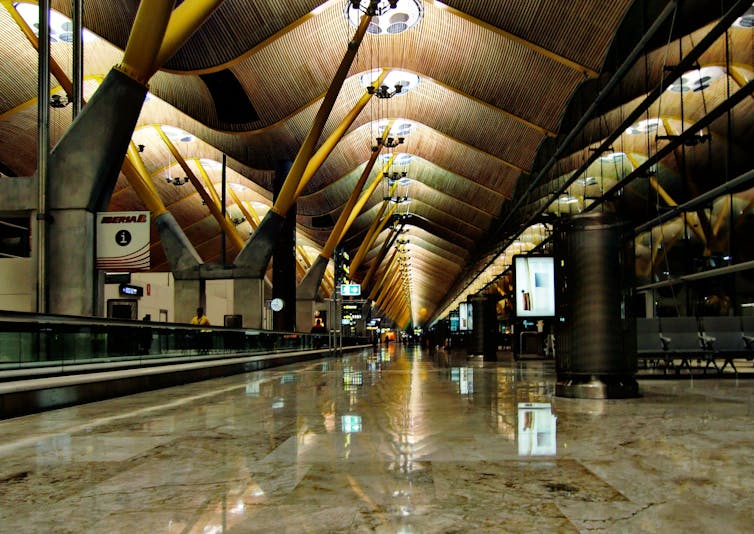 What's more, the development of architecture's high-tech movement – one of Britain's most successful exports – owes a great deal to the absurd ideas being fenced about by the crackpots at the Architectural Association when the Smithsons were in their pomp.
The post-war public housing schemes in the East End in general – and the Borough of Tower Hamlets, in particular – represent a fabulously rich assembly of experimental housing, which is, in most cases, pleasant and comfortable to live in.
Just to the north of Robin Hood Gardens lies Frederick Gibberd's Chrisp Street Market and the Lansbury Estate. This picturesque ensemble could represent the antithesis of the Smithson's Brutalism. And the unmissable architectural attraction of the immediate area is Ernö Goldfinger's Brownfield estate, which brought classically-inspired early 20th century French rationalism to unexpected landscapes and cultures.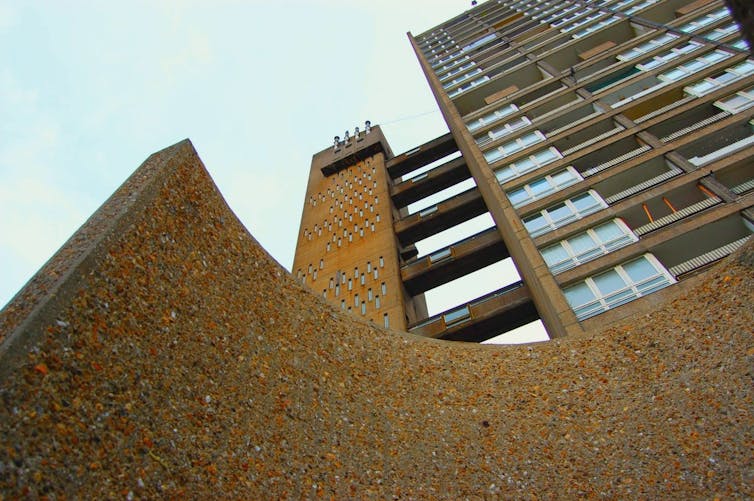 Robin Hood Gardens represents more in civic or even national history than a freak piece of architecture. It is part of a story about what the public realm is, or could be, and how post-War British politics and governance deployed buildings to remake citizen's lives and horizons.