The 2015-16 Commonwealth budget's "Stronger Communities" slush fund for every lower house MP raises serious questions. The allocation of $150,000 a year to every MP's electorate risks seducing and trapping MPs into unethical behaviour that conflicts with new benchmarks for parliamentary codes of conduct.
The allocation, at a total cost of $45 million over two years, is wrong on two counts.
Firstly, taxpayers' money is being used to buy advantage for government MPs compared to their opponents at the next election, whether opposition, minor party or independent candidates. Because Tony Abbott's Coalition government has more MPs – they occupy 90 of the 150 seats in the House of Representatives – more of the money will go to government-held electorates.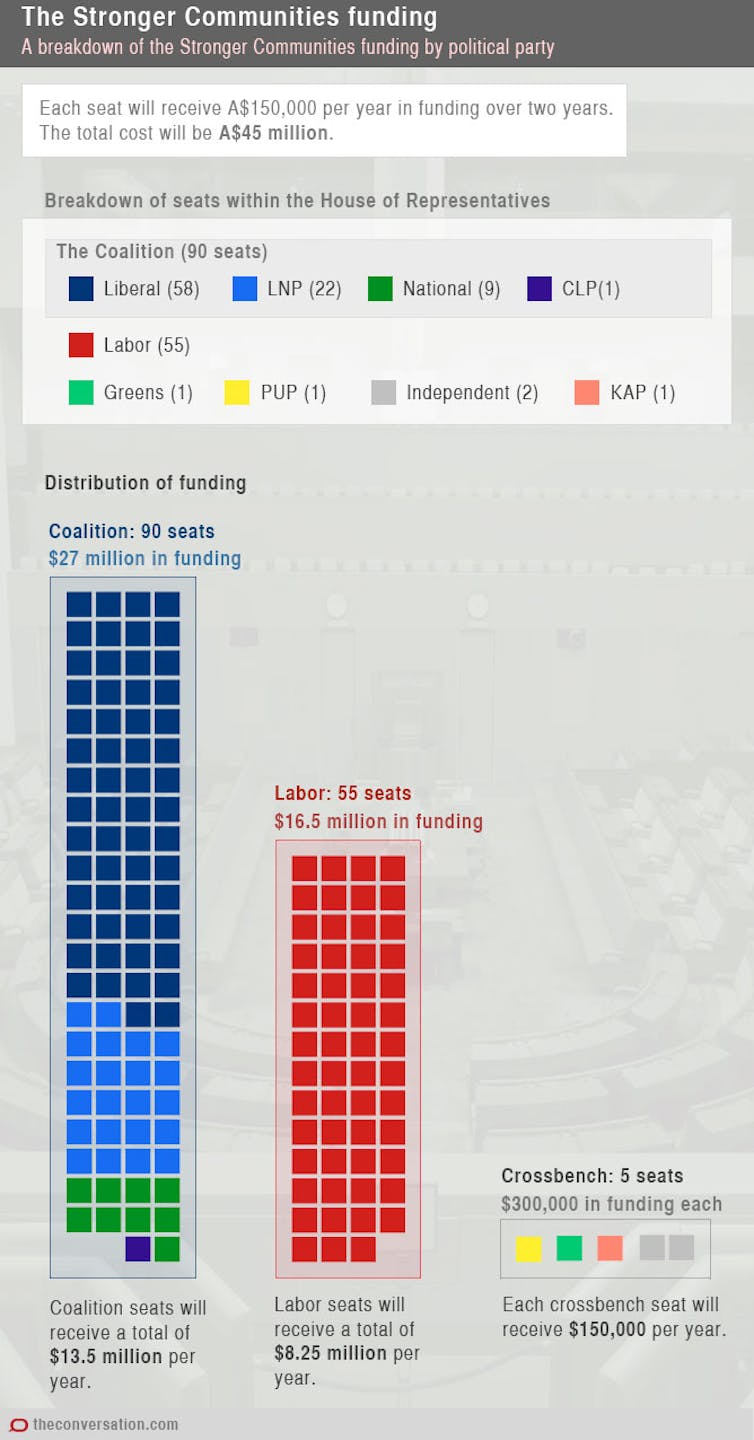 The Coalition's marginal seat MPs will be especially advantaged. Incumbent MPs will be able to splash around taxpayers' money – an extra $300,000 each over the next two years – to curry favour from voters. Their opponents in these electorates will have no access to public money for projects to strengthen the same local community.
Secondly, these slush funds have a sorry record of corrupt use by MPs to benefit themselves, family friends and supporters. Known as constituency development funds (CDFs) in other countries, they are notorious for diversion and misuse. They have been spent on everything from non-existent "consultant's reports" to urgent, expensive medical treatment for individual constituents.
Federal MPs have no code of conduct
The risk of misuse is greater in the Australian Parliament because it has no code of conduct to guide MPs on ethical behaviour.
Two things should happen. As a matter of principle, the "Stronger Communities" money should be removed from political influence. The money should be administered by public servants to fund projects according to national priorities, not vote-buying.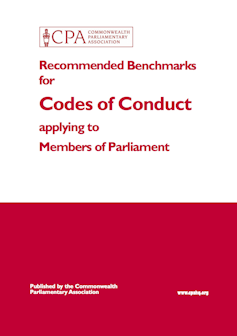 Even more importantly, the parliament should adopt and enforce a code of conduct, using the new Benchmarks for Codes of Conduct recently developed by my team based at Monash University working with the Commonwealth Parliamentary Association (CPA).
The CPA benchmarks aim to strengthen parliamentary performance and fill a serious gap in how to deal with unethical behaviour by members of parliament. Research suggests that unethical behaviour undermines reputations, legitimacy and performance. Effective parliamentary codes greatly reduce the corrosive risks of unethical behaviour.
Underpinning the CPA benchmarks are fundamental concepts which must be reflected in codes. Thus every MP must understand that he or she is a public officer, entrusted to act on behalf of the public in general.
MPs must put public interest first
An MP is not free to act in his or her own interest or that of anyone else except the public. This also means that political parties must put the public interest first. These concepts relate to essential features of parliament which are crucial to good governance.
The code also rests on principles including the internationally respected Principles of Public Life: selflessness; integrity; objectivity; accountability; openness; honesty; and leadership. These ethical principles can be traced back to Queensland's Fitzgerald Royal Commission, which investigated rampant corruption in the state government. The principles were further developed by Lord Nolan almost 20 years ago.
Corruption in politics is a constant risk, not just a product of the occasional "bad apple", according to research extending over decades in many countries. It requires eternal vigilance backed up by effective codes that are strongly enforced.
Our research identified three key features of an effective code:
clear standards of expected behaviour

ethical training and advice

independent investigation of alleged breaches.
The history of political corruption around the world confirms that sooner or later, some MPs will succumb to the temptation to rort the "Stronger Communities" slush fund. MPS will advise on and are likely to have influence in the selection of projects in their electorates. The temptation to misuse public money to win votes is particularly strong in marginal seats.
The absence of a code of conduct adds to the risk. The lack of an independent adviser with whom MPs can discuss the ethics of "Stronger Communities" proposals is yet another weakness, which heightens the risks of the program becoming a slush fund.
Prime Minister Abbott would have had severe doubts about the ethics of the "Stronger Communities" funding if he had followed the principles recommended in the CPA benchmarks. It is hard to argue that advantaging the incumbent majority of Coalition MPs is in the public interest. Rather, it undermines public confidence in the fair use of taxpayers' funds.
Australia is out step with the many other democratic parliaments that have and enforce a code of conduct. These parliaments are expected to apply the CPA benchmarks to the structure and functions of their codes of conduct, and so help avoid MPs being trapped through schemes like the "Stronger Communities" slush fund.
---
Acknowledgement: The Benchmarks for Codes of Conduct applying to members of parliament is available here. It has been funded by the Commonwealth Parliamentary Association (CPA) in partnership with Monash University. The CPA is the international association of national, provincial/state, territory parliaments of the UK and its former colonies – almost 200 houses of parliament.