The ordeal of David Miranda at Heathrow Airport on Sunday is a critical moment in the conflict between press freedom and national security. Miranda, the partner of The Guardian's investigative reporter Glenn Greenwald, was detained by security while flying home from Berlin to Rio de Janeiro. He was questioned over nine hours under schedule 7 of the Terrorism Act 2000 and his laptop, phone, computer games console and memory stick were confiscated by authorities looking for sensitive information relating to national security.
Schedule 7 allows the police to detain someone on suspicion of involvement in or knowledge of acts of terrorism. The police action has attracted widespread criticism from all corners of the political and journalistic globe. But there have also been those who have criticised The Guardian for becoming involved to the extent that it risks becoming a player in - rather than a reporter of - the story.
Since August 2012, Greenwald has written, extensively, frequently and critically on a variety of "sensitive" issues concerning mass surveillance. It is common knowledge that Greenwald has worked closely with Edward Snowden, the computer specialist employed by the CIA and the NSA who leaked details of numerous [secret mass surveillance operations](http://www.bbc.co.uk/news/world-us-canada-23721818](http://www.bbc.co.uk/news/world-us-canada-23721818) to the press. According to documents leaked by Snowden, the NSA broke privacy rules and overstepped its legal authority thousands of times in the past two years.
On June 14, US federal prosecutors charged Snowden with espionage and theft of government property. Snowden has been granted a 12 month period of asylum by Russian president Vladimir Putin, on the condition that the disclosures cease. Which leaves Greenwald as the number one thorn in the US government's side. It has been reported that Snowden passed Greenwald 15 - 20,000 documents with details of NSA surveillance operations.
Threat to journalists everywhere
After Miranda's release, Greenwald told The Guardian:
This is a profound attack on press freedoms and the news-gathering process… [which] is clearly intended to send a message of intimidation to those of us who have been reporting on the NSA and GCHQ. The actions of the UK pose a serious threat to journalists everywhere.
The editor of The Guardian, Alan Rusbridger, in a column devoted to the threat faced by journalism in the digital age, wrote of the "international dismay" that the arrest had caused. He argued that the state was building a surveillance system where before too long it would be impossible for journalists to maintain the confidentiality of sources and that governments, whilst paying lip service to the need for public debate, are making a concerted effort to silence whistleblowers.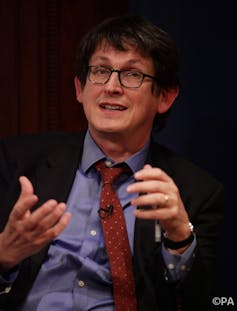 This was where The Guardian became the story as it emerged that Miranda was more than just a partner returning from abroad. He was in Berlin for a week visiting Laura Poitras, a documentary film maker, who had worked with Greenwald on the NSA revelations. The New York Times revealed that that The Guardian had paid for the flights.
To be fair to The Guardian, though, both Greenwald and his editor Rusbridger were up front about the importance of Miranda as an "intermediary" to the journalistic process. Rusbridger has since confirmed that The Guardian will be "supporting" Miranda in his legal action against the British government. But none of this detracts from what has, rightly in my view been called a "gross misuse" of terror laws. Under what basis could Miranda have constituted a terrorist threat?
For Nick Cohen in The Spectator, basic freedoms have been violated by the state and the events were another indicator of how Britain had changed for the worse: detaining Miranda at the request of the US in order to find out what Greenwald was going to do next.
Guardian criticised
But some commenters have backed the police's action. Writing in the Daily Telegraph, Tim Stanley argued that "the actions of the British authorities make perfect sense. It knows that Greenwald is linked to Snowden and it knows that Snowden has access to stolen information related to UK security. So why wouldn't it take the opportunity of Miranda stepping onto British soil to interrogate him? They're really only fulfilling their job description."
Former Tory MP Louise Mensch told the BBC that Greenwald had admitted that Miranda was carrying "classified, stolen intelligence data encrypted on hard-drives. He wasn't stopped because he was somebody's husband and he wasn't stopped because he was a journalist."
Perhaps the most sensible commentary is from Richard Sambrook, a former director of Global News at the BBC. He highlighted various undeniable truths presented without the myriad differing agendas which often cloud debates on national security and journalism. To paraphrase a few points: those involved in revealing secrets of national importance should not be surprised if the security services take an interest in their activities. But this doesn't mean that those issues of national importance should not be reported. Importantly, governments, police and the intelligence services should recognise that journalism is not terrorism and terrorism laws should not be used to intimidate journalists.
Clear act of intimidation
We seem to be careering away from some basic principles of a functioning democracy. One of the most alarming episodes recounted by Rusbridger in his column on Miranda's arrest, concerns a visit to The Guardian's offices by two GCHQ experts who stood and watched whilst two of the newspaper's hard drives were destroyed. Leaving aside the barely credible scene of a government in 2013 forcing the destruction of press property, do we really accept that these two experts believed that, in the digital age, the information was only on those machines?
Not at all. Rusbridger's account points to a very clear act of intimidation. Bully boy tactics of little finesse and sinister purpose. Rusbridger was left in no doubt by senior government officials that the government would seek to close down the paper's reporting through legal means - and if it could not, force them to hand over, or destroy, material on which they were working.
Would it be a massive shock then - given the way Rusbridger has extolled the liberties enshrined in the US First Amendment - if The Guardian were found to be considering moving its reporting base from London? Where at least it would be free, in theory at least, from the physical attention of government and GCHQ?
Miranda's arrest and Rusbridger's revelations should alarm those members of public who still believe that the British government acts in the best interests of democracy and freedom. It is evident that, in the words of Kirsty Hughes of Index on Censorship, "it seems that the UK government is using, and quite likely misusing, laws to intimidate journalists and silence its critics".