Prime Minister Julia Gillard today delivered a political surprise by announcing former NSW premier Bob Carr as Foreign Minister in her reshuffled cabinet.
Carr takes over from Kevin Rudd, who returns to the backbenches after his failed leadership challenge on Monday.
There had been speculation all week that Carr was being sought by Gillard but most observers had ruled out the Labor veteran making such a dramatic comeback.
The Conversation spoke with former foreign minister and ANU chancellor Gareth Evans about what the nation can expect from Foreign Minister Bob Carr.
---
What is your view of Bob Carr, especially in the light of this dramatic comeback?
This is a brilliant appointment. Bob Carr is an outstanding figure in Australian history already and I think he is now poised to make his mark in a wholly new and quite spectacular way.
He is a guy that combines policy smarts of the first order with brilliant communication skills, and that is a formidable combination for a foreign minister.
What would you say are the key foreign policy priorities facing Australia?
There are multiple priorities. Obviously our own region is central. The biggest single issue for Australia in the years and decades ahead will be avoiding being dragged into a zero sum choice between the US and China - our crucial security ally on the one hand and our crucial economic partner on the other.
Developing and sustaining a relationship with a new emerging giant in India will also be very, very high on the list, as of course will be developing and sustaining intimate relations with our own neighbours in South East Asia.
We also have to do a bit more work on the South Pacific which has been showing signs of agitation - Papua New Guinea especially - in recent times, and where the world expects us to know what is going on there and to have strong and personal relationships with the key figures.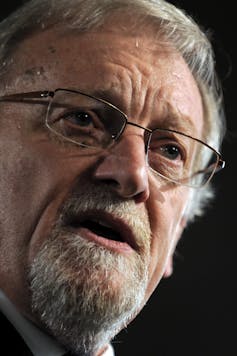 On top of all that, of course, there are major global issues which can't be neglected and are a very high priority for us as good international citizens - a phrase that I have often used and Bob Carr repeated today at the press conference.
I think there are two high priorities for us at the moment in that respect. One is to develop the role of the G20, that global policy making organisation which is assuming real significance, and not just in economic matters, where Australia does have a seat at the table along with all the other major countries.
Secondly, the Security Council candidacy. I have written on this so my views on this are very clear. I was delighted to hear Bob Carr saying today that he will be absolutely determined to maintain the candidacy and fight for it and to win Australia back, after 27 years, a seat at that global table.
Will there be any changes in foreign policy direction or emphasis after Rudd's term?
I think Kevin Rudd was an outstanding foreign minister, attending very actively and energetically to all the issues that I have described. Perhaps there was a little less attention at his level to the South Pacific issues that might have been desirable in an ideal world but of course he did have a parliamentary secretary – Richard Marles – working full time on those issues.
I am not in the slightest bit critical of Kevin Rudd for the concern that he showed for the atrocity crimes in Libya and the whole situation in the Middle East and North Africa. This was Australia playing its role as a creative middle power with a long record of commitment on these great issues of principle, and using our aid budget in a very constructive and helpful way on major issues.
There will be all sorts of criticisms that will continue to be made about Kevin's style, which I think was perhaps a little bit over-exuberant in terms of trying to do an enormous number of things simultaneously.
I'm not being personally critical of Kevin Rudd. Everybody has their own style and Kevin Rudd is a guy of absolutely outstanding intellect and absolutely extraordinary physical energy. I think he did a first class job and I was very, very sad to see him go.
But there is a case, as I have indicated publicly and privately for a slightly more ordered approach to setting and implementing priorities than was visible during the Rudd foreign ministership, and it is highly likely that Bob Carr will be responsive to that need.
How would you characterise Bob Carr's style, both on a personal and professional level, that he will bring to the role?
Bob has an omnivorous appetite for information, is interested in a huge range of issues, and has written on a huge range of issues, in books and blogging and so on.
He's intellectually adventurous and he is interested in other countries and their political system and he's interesting in terms of the way in which he will be perceived as a human being. He has a very funny and witty cast of mind; and he has a great capacity to charm people personally, which is hugely helpful in this job that has got a very big personal dimension to it.
The personal relationships that you develop around foreign policy are just as important as the policy positions that you take in the way that the world actually works, and how diplomacy works at that level.
I think Bob Carr will be an absolutely outstanding performer in that respect.