Australia's complementary and alternative medicine (CAM) industry is worth about A$4 billion annually. Around two thirds of Australians use CAM – which includes therapies such as chiropractic and naturopathy, traditional Chinese medicine, vitamins, minerals, nutritional supplements, as well as homoeopathic and aromatherapy products – and there appears to be no sign of this declining.
In many cases, the evidence for CAMs having significant beneficial effects is scant. And recent studies have even found that some supplements can be harmful.
Though this is not true for all CAMs and, as a critic, I must be careful not make sweeping generalisations about efficacy – each CAM modality must be examined at face value. It is now well accepted, for example, that folic acid can prevent some birth defects and St John's Wort is effective for mild to moderate depression.
But, as a consumer, how can you tell what products might be of use and which ones will only lighten your wallet? The task of sorting the wheat from the chaff is not made easy by unscrupulous pharmacies selling what is essentially snake oil alongside drugs for which efficacy is well established.
Can you trust the government to regulate products and only license those that work? You'd think so, but you'd be wrong. Indeed, the government is largely to blame for misleading consumers when it comes to CAMs.
How are medicines registered?
In Australia more than 10,000 drugs and medical devices are listed on the Australian Therapeutics Goods Register (ATRG). There are two arms to the ARTG:
Listed products. These products are considered low risk and include complementary medicines such as herbs, minerals, vitamins and sunscreens. Listed products are identified with an "AustL" number.

Registered products. These products are high risk because they have a known effect and include prescription drugs and painkillers. Registered products are identified with an "AustR" number.
The degree of assessment and regulation required to gain registration (AustR) is rigorous – sponsors are required to provide comprehensive safety, quality and efficacy data.
This is not the case for AustL. Under the current system, you can get your CAM product stamped with an official-looking number by simply applying online. You should hold evidence that your product works as described and you can explain this in a "free text" box which is provided when you apply for listing.
And therein lies the problem. Back in 2010, TGA auditors conducted a spot check on about 400 AustL products and found nine out of ten breached regulations.
The breaches were largely relating to false claims of curative powers on labels and as a result, a "significant number" of products were removed from the ARTG. Which products were removed and precisely why, was not revealed by the TGA.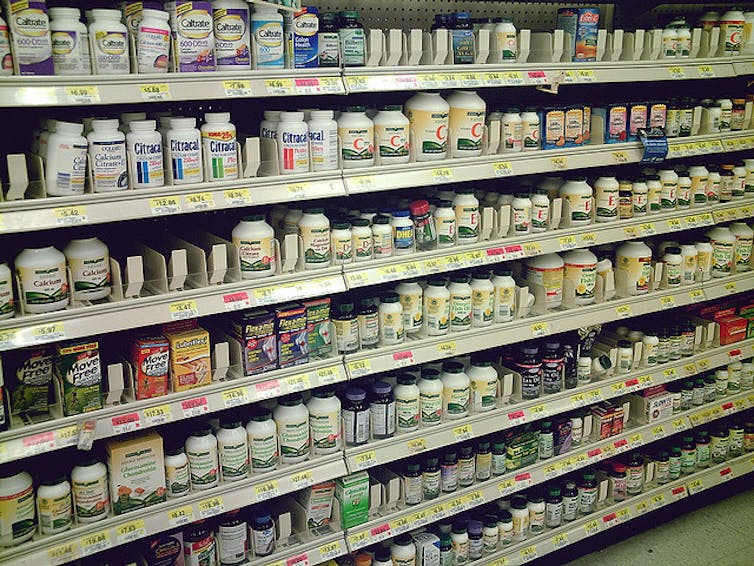 Time for change
Recently, the TGA announced it was finally putting a stop to the "free text" option when applying to list a product. As TGA manager Dr John Skerritt told a Senate estimates committee, this is supposed to be part of "the most sweeping reforms of complementary medicines regulations for many years in this country". The proposed changes mean sponsors will have to select from a list of indications, the aim being to prevent spurious claims of cures or miracle treatments.
But this is not the first time the TGA has announced an overhaul of the CAM listing system. In 2012, it proposed the introduction of an Expert Report that would require sponsors to conduct a review of the scientific literature in support of their product's claims.
Following a call for public consultations, this proposal was quietly scrapped, apparently as a result of pressure from the CAM industry which protested it was prohibitively expensive and would force many small suppliers to close down. Or maybe it was the lack of published evidence for their claims that was worrying them. Curiously, it appears this idea was recently resurrected with a second round of consultations on the same issue closing on February 18, 2013.
The removal of the free text option is also not new, being first proposed following a transparency review commissioned in 2010 by the Honourable Catherine King.
But even if these changes are implemented (and there's some suggestion that in an election year, there may not be enough time to modify the relevant legislation) they miss the point, in my opinion. What consumers should be made aware of is that the TGA does not check any AustL products to see if they work or even if they are safe. This needs to be stamped on the side of all AustL products in great big letters.
And while consumers are free to make complaints about what they believe to be false or misleading claims made by AustL products, don't expect anything to happen, even if the TGA rules in your favour. In approximately 30% of cases, orders to publish disclaimers or remove misleading material are ignored by sponsors and the TGA has never in its history prosecuted a sponsor for non-compliance. Ever.
Adding a warning to a product may not change consumer behaviour, but it at least increases transparency, thus enabling consumers to make an informed decision about what they purchase. Although homoeopathy doesn't always come under the ARTG (because some preparations are too dilute to be considered of any risk), a sticker saying "this is not medicine" or "there is no evidence this works better than placebo" would make me think twice about handing over my 20 bucks.
So, the TGA can jump up and down all it likes and make announcements about proposed changes and new legislation, but until it actually instigates meaningful change, then it's just lip service. While I was encouraged to see the removal of several products from the ARTG recently, much more needs to be done.