Immediately after one of the most shocking election results in living memory, David Cameron set about creating his first all-Conservative cabinet. Shot of his coalition obligations to the Liberal Democrats, he is now free to create a cabinet that serves only his own political purposes, representing the parts of the party he needs to repay, those he wants to elevate and those he needs to remain loyal.
So while the full cabinet has not yet been announced, we are already seeing some continuity – and some festering debts finally settled.
It should be remembered that Cameron last reshuffled his cabinet in July 2014, following the announcement of William Hague's retirement plans. So it was always likely that some of those appointments would remain in place in order to allow them time to fulfil their potential and push through existing party plans.
Steady hands
George Osborne remains at the Treasury, and has the added title of first secretary of state. Not only is Cameron demonstrating his faith and trust in Osborne and their shared economic vision of fiscal responsibility and deficit reduction, he is also repaying Osborne for his faithful service during the election and perhaps even naming him as heir apparent.
Philip Hammond remains foreign secretary, not all that surprising considering he was only moved into the position in 2014 after a move from the Ministry of Defence. Also staying in place is relative newcomer Nicky Morgan, heading up education.
Hammond's successor, Michael Fallon, remains secretary of state for defence, suggesting his outburst during the election regarding Ed Miliband's treatment of his brother, David, did not damage his reputation within the party. While Cameron allowed the public to believe Fallon was acting on his own initiative, his reappointment suggests that his accusations were at the very least popular with Number 10. Perhaps they even originated there.
Long May she continue
Theresa May's reappointment at the Home Office is perhaps a little more surprising, since her long tenure has been tumultuous to say the least.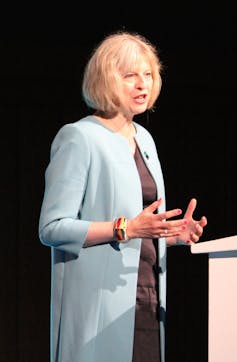 Even successes have been complicated: the protracted battle over the deportation of Abu Hamza was ultimately a coup for May, but it was the final chapter in a prolonged and sometimes embarrassing legal battle.
Still, she has managed to avoid becoming the scapegoat for some real disasters. The government's failure to hit its targets on non-EU immigration could easily have been pinned on May and her department, but Cameron clearly believes that she is an asset to his government – and he's probably right.
Given she's a possible contender for the Tory leadership, it's surely better to keep her a committed member of the cabinet rather than turn her into a rebellious backbencher. And with no open positions at the other big governmental departments, May was almost certain to remain at the Home office.
All-stars
One of the biggest debts Cameron has repaid was to Michael Gove. The former education secretary was hugely unpopular with teachers and other cabinet ministers, and ended his education reign in a surprisingly public spat with May, whom he tried to publicly embarrass over extremism in schools.
He was demoted to chief whip and succeed by Morgan, who appears to have largely stuck to Gove's policy aims – but without the combative style. Gove was said to be unhappy with his demotion, even as Cameron protested that it was no such thing.
His return to cabinet as justice secretary and lord chancellor is a reward for his continued loyalty to Cameron. His predecessor, Chris Grayling, has replaced retiring Hague as leader of the House of Commons.
As we wait to hear about more cabinet positions, big questions remain. Will Boris Johnson be given a front bench job? How will Cameron appease his right-wingers? Will we see any important course changes in departments that previously had Liberal Democrat members – who in their own words provided the Conservatives with a heart? And what will happen with health and the election battleground that was the NHS?
Cameron himself may only be formulating the answers now. Given that his majority was entirely unforeseen, it's quite possible that he didn't have any finalised plans for an all-Conservative cabinet. But he's wasting no time putting it together, and he knows how high the stakes are. With an EU referendum on the agenda, a restive Scotland and a wafer-thin majority, he will need a solidly loyal cadre of lieutenants to stick by him for the next few years.
Dissent is of course inevitable, and Cameron needs to ensure that his most dangerous enemies within the party have been placated and his loyalist friends rewarded. In such a febrile environment, to upset either camp would be disaster.