Uganda now has around a million refugees. To put this in perspective, the East African country is the physical size of the UK and yet hosts more refugees than arrived in all 28 EU member states in 2015, the peak of the European refugee "crisis".
Since March 2017, 2,800 refugees have been arriving daily from South Sudan's conflict and famine. The country now hosts the largest single refugee settlement in the world – at Bidi Bidi, in the north of the country. It is home to 270,000 refugees, and the UN Refugee Agency has described it as being at "breaking point".
The influx of people from South Sudan is a humanitarian crisis. But it also matters because Uganda has some of the most progressive refugee policies in the world. Through its so-called Self-Reliance Strategy, it is one of very few major refugee-hosting countries to allow refugees to work and move relatively freely. These policies not only enable Uganda to absorb refugees, they serve as an exemplar of good practice for the rest of the world.
Uganda's strategy gives refugees almost unparalleled opportunity to engage with markets. It enables refugees in rural settlements to get access to plots of land, and those in urban areas to start businesses. On an informal level, the approach even predates Uganda's independence from British colonial rule in 1962, with the Nakivale settlement in the south-west of the country providing opportunities for crop cultivation after opening in 1958. But it began to crystallise as policy from the late 1990s before being enshrined in law in the 2006 Refugee Act.
At the Refugee Studies Centre in Oxford, we collected data between 2012 and 2014, examining the effects of the Self-Reliance Strategy at a time when the country had from 200,000 to 300,000 refugees. Our data showed how both refugees and hosts have benefited from the approach. Nearly all refugee households had some independent income generating source, dependency levels were generally low, and in the capital, Kampala, around a fifth of refugees ran a business employing someone.
The research provides significant evidence that Ugandans benefit economically from the refugee presence, from labour, from customers, and from markets. Older refugee settlements like Kyangwali, Nakivale, and Kyaka II, which host Congolese, Rwandan, Somali, and South Sudanese refugees, have flourishing markets and connect to wider commercial networks.
Uganda has become a go-to example of the success of refugees' right to work and for the viability of market-based approaches. It shows that another approach – beyond dehumanising encampment or urban destitution – is possible.
Pressure building
For a long time, the international community has assumed that Uganda will always be there to play this role, and that its president Yoweri Museveni's commitment to self-reliance for refugees would remain unwavering. Even as refugee budgets left the African continent in support of the more visible Syrian crisis, so Uganda has persevered with the model, quietly accepting significant Congolese and South Sudanese influxes in 2015 and 2016.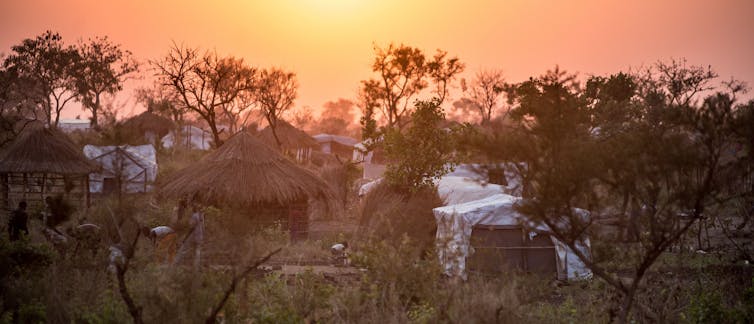 But in 2017, with such large numbers, the country's commitment needs to be urgently bolstered by the international community. To the government's credit, it insists it will retain its approach. But this absolutely cannot be taken for granted. Although there is no open agitation to end the right to work, there is growing popular unrest in Uganda linked to chronic unemployment and the arrests of Museveni's main opponent, Kizza Besigye. In this climate, refugees could become part of the political agenda.
There are some key steps that it would be useful for the international community to take in order to ensure the sustainability of Uganda's refugee policy.
Complex politics
First, donors must understand the politics behind the policy. This has partly been unique because Uganda has surplus arable land, but it has also been due to the country's politics. As a "no-party democracy", the country's leaders rely upon patronage to maintain power, and the ability to maintain their networks of support.
But at the same time, external recognition matters more to them than internal elections – a concept known in African Studies as "extraversion". Because of these two factors, many of Uganda's historical advocates for refugee rights have been "progressive" not just because of their support for refugees but also as a means to access and allocate resources towards their refugee-hosting constituencies.
This means that the international community has leverage, but needs to be aware that local powerbrokers in refugee hosting areas must be kept happy. For example, in the early 2000s, Brigadier Moses Ali – the only surviving cabinet minister from the regime of Idi Amin – led negotiations with the international community on support for self-reliance in part because his Nile Valley constituency benefited directly from that support.
Help refugees build a living
Second, the international community must help to invest in the communities hosting refugees. Unless hosts share in the benefits, in terms of services and markets, it's very hard to maintain support for refugee presence. In the "old" Ugandan settlements, the surrounding communities already recognise many of these benefits.
In our earlier research, we also focused on the creation of an emergency camp at Rwamwanja, after an influx of refugees from the Democratic Republic of Congo in 2014. The camp and local economy evolved rapidly in ways that had mutually beneficial effects, but we found that there were gaps in the way development-based approaches to refugees were applied in the emergency phase. For example, support for refguees' livelihoods and access to capital were absent.
This is relevant to the new settlements like Bidi Bidi. "Emergency development" initiatives might be better conceived in ways that support locals, and facilitate opportunities for early market-based interaction between refugees and locals.
Third, for Uganda to continue to absorb such large numbers requires a sustainable response that goes beyond humanitarianism. Small and medium-sized enterprises in Uganda need access to capital for refugee entrepreneurship. Larger-scale work is also needed by international investors to identity opportunities for sector-specific economic growth within northern Uganda, where the South Sudanese refugees are, not only for corporate social responsibility reasons but to generate viable agricultural markets.
Our ongoing research consistently reveals that it is refugees themselves who are among the greatest sources of social protection to other refugees. More needs to be done to create enabling environments that encourage refugees to help themselves – right from the start.