No modern U.S. president has been more openly opposed to scientific endeavour than Donald Trump.
In his first year in office, Trump has withdrawn his country from the Paris climate accord, proposed severe cuts (31 per cent) to the Environmental Protection Agency's budget and installed a climate change denier as its director.
More widely, an aggressive anti-immigration policy has thrown the national and international scientific communities into uncertainty.
In Trump's America, science appears to be embarking on a period of wholesale penance because of the conservative, nationalistic exuberance of a few.
As the United States' closest cultural, political and economic partner, Canada's influence on its southern neighbour should not be underestimated. A weight of responsibility now falls upon Canada to stand up for science and demonstrate why world-leading nations, quite rightly, aspire to be at the very forefront of cutting-edge research.
In the absence of American political leadership on science, Canada must take up the mantle.
Canadian values support science
It's important to recognize that modern science is fundamentally international in its nature. University departments and research centres are deliberately multicultural, multilingual institutions and collaborations can contain thousands of scientists spanning all the world's communities, cultures and countries.
Good science depends strongly on a continuous flow of people — and importantly, their ideas — across borders. Canada aspires to be at the very forefront of cutting-edge research and is therefore in a highly competitive global market for the very best talent. If it can demonstrate that the liberal and progressive values underpinning its society are fundamentally aligned with high quality science, Canada will prosper.
This is not new thinking. Across Canada there are people in government, science and just about every corner of society that are striving to develop the scientific agenda and ensure the resources at our disposal are world-leading. Just as we exercise our rights to criticize government when we think they're getting it wrong, we must be vocal in commending them when they are getting it right.
The responsibility falls on all of us, scientists and non-scientist alike, to support and encourage politicians that pay attention to evidence and base their policies upon it as well as challenging those who claim that science is a luxury in times of necessity.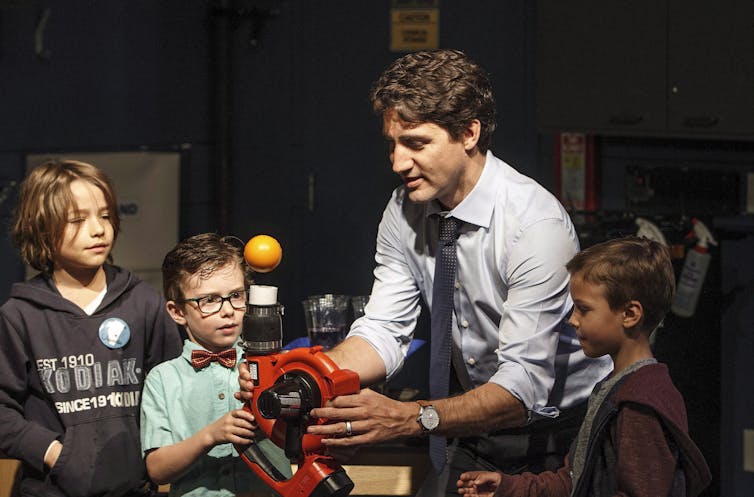 Global science leadership
For many Canadians, Trump's approach is eerily familiar. The effects of Stephen Harper's decade-long war on science, in which the Conservatives squeezed funding and curtailed academic freedoms, are still being felt.
What Harper and Trump either don't recognize or understand is that science does not operate on the same short-term cycles as politics — even a relatively brief dip in funding can have catastrophic long-term consequences as scientists depart their field, momentum is lost and infrastructure decays.
In Canada at least, light is beginning to show at the end of the tunnel. Justin Trudeau's government has begun to rebuild the national scientific ecosystem in fits and starts. A firm step in the right direction was last April's government-commissioned Fundamental Science Review which, as part of a detailed roadmap for Canadian science, recommended that research investment increase by $485 million over four years. This represents a considerable target for Minister of Science Kirsty Duncan and her colleagues to aim for.
With U.S. and Canadian science policy rapidly pivoting in opposite directions, an opportunity is arising for Canada to position itself as one of the world's most desirable destinations for scientists and their research.
Knowledge investment improves prosperity, living standards
It is hard to exaggerate the benefits that growth in the knowledge economy has on a society. Education and research are key drivers of innovation and prosperity while simultaneously making economies more efficient and mobile. The result is that, despite President Trump's assertions, the societies who invest in science are the ones with the highest living standards, the best environmental protection and the strongest economy.
What is now required is vigilance on our part to ensure that we do not let science drop from public consciousness. We must communicate to the world that Canada does not see its scientific capability as expendable.
Today's domestic and global challenges are more complex than we have ever faced. We have resource and energy industries that power our homes, cars and economies, while also pushing our planet to its limit. There are threats to our security and common values that exploit the very openness and inclusivity that has led to our prosperity.
I do not claim that Canada's leadership of scientific endeavour will answer every question its society faces. But allowing the U.S. to continue down its path unchallenged — either now or in the future — will never provide the solutions to our problems.
In a very real sense, we rely on a global scientific community — now more than ever — to endure and seek out new frontiers. Canada must be at the forefront — it must make science great again.