The Canadian government's rejection of the proposed takeover by a Chinese company of the Toronto-based construction giant Aecon on the grounds of "national security" reflects Canada's vulnerability in an increasingly complicated era that's been dubbed the China Century.
Canada's construction industry went to great lengths to lobby Ottawa, even commissioning opinion polls, in the hopes of influencing the fate of the proposed $1.5 billion bid. For good reason, segments of the Canadian private sector are terrified that their Chinese competitors will outperform, undercut and win favour with Canadian political leaders.
Corporate activists, backed by a stream of opinion from ex-national security officials, political opportunists and academic ideologues, have weighed in. To their credit, the campaign worked on Innovation Minister Navdeep Bains, who rejected the deal in a noticeably vague statement.
The stakes are high for many of Canada's special interest groups, and Ottawa's decision was therefore a welcome one to those stakeholders.
This of course is unsurprising, and in some ways Canadians are lucky to have officials publicly going to bat to defend their interests. Yet this discussion must evolve. Those who rejected the Aecon bid on grounds of national security, environmental threats and labour rights amid a modern-day Red Scare need to be more honest about what's happening.
The truth is Canadian businesses simply can't compete against Beijing's giant state-backed corporations.
China excels at infrastructure
Canada's construction industry is particularly vulnerable given China's long history of expertise in engineering and infrastructure development. In fact, China is so good at building infrastructure that it's become a principle export strategy within the Chinese government's trillion-dollar One Belt One Road policy.
The failed Aecon deal represents a difficult and structural challenge for Canada and its Western allies. How do liberal trading nations work with a politically socialist state that has ironically become a champion of the liberal trading order?
This is a question Ottawa has yet to answer.
As Canadians debate on how to engage a rising China, Beijing has been aggressively positioning itself as a viable and pragmatic alternative to the West's development model. The past five years has seen China take leading roles in multilateral institutions such as the Asian Infrastructure Investment Bank and the New Development Bank while investing heavily in the developing world.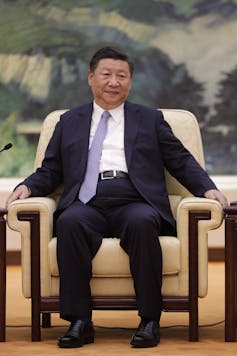 And despite Western fears around President Xi Jinping's so-called China Dream philosophy and a recent constitutional amendment that allows him to hold on to power indefinitely, Beijing still needs friends. And it's actively pursuing investment partners, including those in Canada.
But the most recent attempt via the Aecon takeover goes well beyond any one company.
Beijing is scouring the planet for resources and opportunities to meet its domestic consumption needs. Chinese state-owned enterprises will continue to seek out large-scale takeovers, business partnerships and resource accumulation investments.
How then does Canada operate in an increasingly relevant liberal trading system that is taking on some distinct Chinese characteristics?
Anti-China rhetoric doesn't accomplish much
To start, the anti-China investment narrative found in some public policy circles does little to address this question. While takeover bids will continue, rejecting them on unclear grounds of threats and national security can only go so far. Pundits and think tanks need to drop the anti-China rhetoric and give serious thought to how the global trading order has evolved.
Second, Ottawa must develop a clear non-partisan policy, one that can cut across party lines, on how to work with a rising China that still aligns with Canada's national interests. This will be difficult, something no federal government has yet to achieve. Still, developing a national task force on building and advocating a clear long-term China policy has never been more important.
Finally, Canadians need to have an honest conversation on what type of trading nation we want to build. Canada has significant investments in China, including a recent $800 million venture by our state-owned Canada Pension Plan in Chengdu. Beijing has options to retaliate should they believe Canada is behaving unfairly.
Although rejecting the Aecon bid may have been in our national interest, Canadians must find a way to cut through the anti-China cacophony. As talks on possible Canada-China free trade deal move forward, there must be a sophisticated understanding of how global trade networks are evolving.
Indulging in Red Scare rhetoric and continuing to ignore the new global trade realities is a bigger threat to Canada's economic security than China itself.