The Trans Mountain Pipeline expansion is turning into one of the most controversial and divisive issues in Canadian politics in years.
On the one hand, proponents point to the economic benefits for Canada, and for Alberta in particular. On the other hand, critics emphasize the environmental footprint of the oilsands as well as the risks of transporting oil over land and by sea.
Faced with such profound disagreement, the point is not who has the jurisdiction to decide. Knowing that the federal government has the legal power to settle the issue does not get us any closer to figuring out an acceptable way forward. Instead, what's called for is a real compromise.
The debate to this day has focused on a number of controversies that, while highly relevant, tend to distract us from the larger question of what would be an acceptable compromise.
Here are some examples of these controversies: How should we measure the costs and the benefits of the pipeline? Is it even possible to put a pricetag on the value of an ecosystem as rich as the B.C. coast? Was the review process of the project conducted transparently? Are Indigenous peoples being given an effective voice in the decision-making process?
Suppose satisfactory answers could be provided to these questions — which, it has to be said, seems highly questionable at this stage. Even then, neither a simple yes nor a simple no to the pipeline would represent an acceptable compromise. What would?
Pipeline plus carbon tax
Here is the answer that, explicitly or implicitly, Prime Minister Justin Trudeau's Liberals have given to this question: The project gets the green light, but at the same time, Canada will introduce a carbon tax with a price per tonne of CO₂ emissions that will rise from $10 a tonne in 2018 to $50 a tonne in 2022.
The goal of the carbon tax is to help meet Canada's target of reducing greenhouse gas emissions by 30 per cent by 2030 (compared to 2005 levels), as agreed upon in the Paris Agreement.
A carbon tax can indeed be an efficient way to reduce emissions, but can it be combined with the pipeline to fashion an acceptable compromise? No, it cannot.
We know that the oil from the Alberta oilsands is particularly dirty. It produces three to four times the pre-combustion emissions per barrel compared to regular crude oil. We also know that in order to have a chance to keep global warming under two degrees Celsius, the share of renewable energy needs to increase from 30 per cent to 80 per cent by 2050.
The rest is basic economics: When you introduce a carbon tax, it will — or at least it should — have an effect where emission reduction is most efficient. In Canada, this is clearly the oilsands.
Taxpayers footing the bill for a losing enterprise?
This leaves us with two options to interpret what is going on at the moment. First, the proposed carbon tax does not have any real bite. To do so, the carbon tax would have to impose a higher price on emissions right away. Second, the pipeline has somehow been exempted from the economic logic of the carbon tax altogether and would be built for political rather than economic reasons.
The former would mean that the federal government is hypocritical about the Paris Agreement. The latter would mean that, sooner or later, the taxpayer will have to pay for a project that is bound to lose money under a meaningful carbon tax. Neither throws a positive light on Ottawa's current position on Trans Mountain.
In any case, these reflections undermine the idea that the pipeline plus a carbon tax in its current form represents a meaningful compromise. However, a pipeline advocate might say, adopting a carbon tax that scuttles the pipeline is not an alternative either. After all, a defining feature of a compromise is that both sides have to make concessions.
A different option? Transform the Alberta economy.
Time for Alberta to diversify
The Trans Mountain pipeline or not, the oilsands are not a long-term strategy for Alberta. The province is already scraping the bottom of the barrel of its oil reserves and will export bitumen of increasingly deteriorating quality in the years to come.
At the same time, renewable energy is set to be consistently cheaper than fossil fuels in a matter of years. Short-term thinking due to election cycles is at least partly to blame for the blind commitment of Alberta governments to the oil sector.
One way to balance economic interests against today's environmental imperatives consists in subsidizing the transition of the Alberta economy towards a more diversified and greener future.
Let's do a back-of-the-envelope calculation.
According to the Alberta government, around 140,000 people were employed in mining, quarrying and oil-and-gas extraction in 2017. Suppose one wanted to retrain 25 per cent, or around 35,000 workers, over the next five years at a cost of $50,000 per worker. This seems generous, since part of the retraining costs could plausibly be shouldered by the private sector.
---
Read more: Facing uncertain future, fossil fuel workers want retraining in renewables
---
The pricetag of such a program would be $1.75 billion per year, and $8.75 billion in total. This is less than the sum Ottawa will have to spend to buy and expand the pipeline — $4.5 billion and an estimated at $7.4 billion respectively.
Concessions necessary
Ottawa should invite British Columbia and other provinces to contribute a share to this project.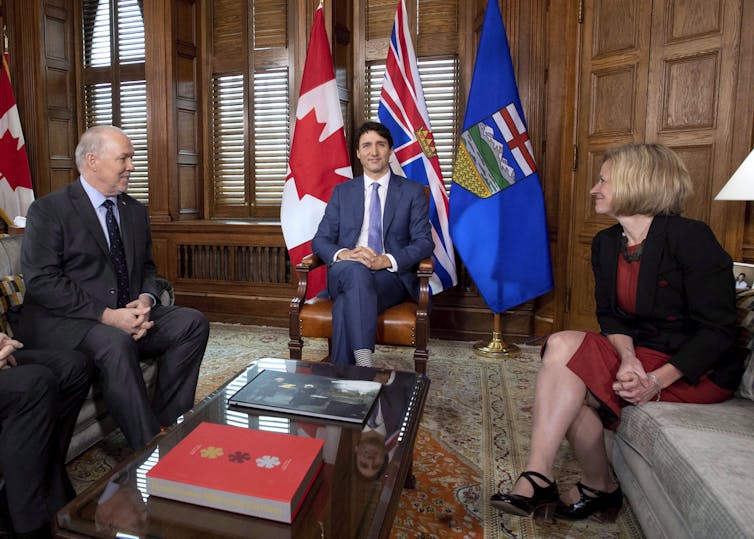 Such a formula — the details of which would have to be hammered out — would require concessions from both sides. Alberta would have to abandon the project, but recall that several existing pipelines are in place and that the province's economy is doing just fine with those at present. British Columbia and others motivated by environmental concerns would also make a concession in the form of their financial contribution.
For a government that keeps emphasizing its environmental commitments, let alone its commitment to reconciliation with First Nations, it seems baffling that the Liberals are not seizing this opportunity.
Justin Trudeau's government should open their minds to real compromise.