With all the focus on the carbon tax, it is not surprising many people are unaware that the government's carbon pricing package incorporated a suite of other measures to reduce emissions.
ClimateWorks has done a detailed analysis of the impact of all the measures in the government's carbon price package in achieving the abatement potential identified in the Low Carbon Growth Plan for Australia.
Our research shows that if implemented successfully, the carbon price package as announced by the government with the default scheme cap of 5% below 2000 levels by 2020 could reduce 133 million tonnes of carbon emission by 2020 within Australia. This is more than double Treasury's modelling through the carbon price alone.
The complementary measures in the package include:
the Carbon Farming Initiative where farmers and landholders receive carbon offsets for reforestation, fire management and reductions in emissions from livestock and fertilisers,

the Clean Energy Finance Corporation, which will help finance cogeneration and projects developing renewable technologies,

and a review of the fuel excise arrangement for all vehicles.
Other key measures include the proposed National Energy Savings Initiative for energy efficiency, a Clean Technology Investment Program and tax breaks for Green Buildings.
Our analysis of the government's package looked at financial and non-financial barriers to reducing carbon emissions in three key areas of energy efficiency, land use (forestry and agriculture) and cleaner power.
We found that the carbon price improves profitability for these actions by making it more cost effective for business to reduce emissions.
However, there are also non-financial barriers to reducing emissions, which include access to capital, information and market structures. These are not addressed by the carbon price but can be removed as a result of complementary measures in the package.
For example, the package provides financial support in the form of grants, loans, equity investments or load guarantees that will overcome some of the shortage of capital facing investors.
Measures that provide access to information and improve awareness and understanding of how to achieve energy savings will also help households and businesses reduce emissions.
A list of major programs in the government's carbon pricing package, and their associated abatement potential are in the table below.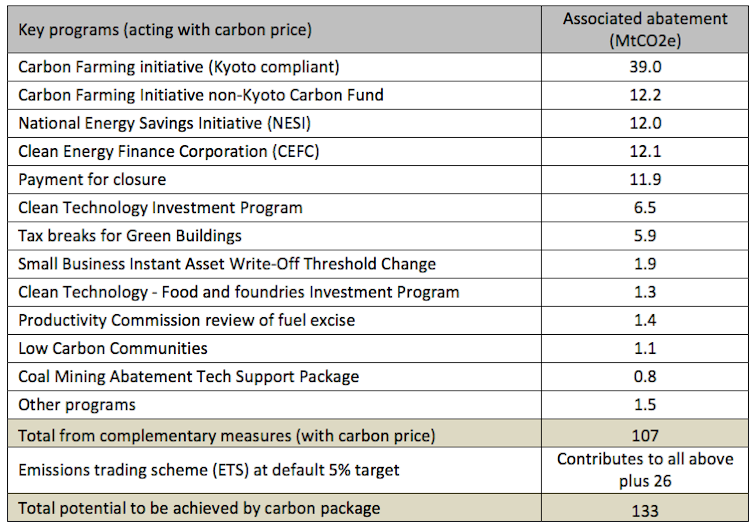 Treasury modelling indicated the carbon price alone would produce domestic abatement of 58 million tonnes by 2020. Our research shows that abatement within Australia increases to 133 million tonnes when all measures in the package are considered.
These domestic abatement opportunities take Australia 83% of the way to achieving its 5% emissions reduction target by 2020. This would enable Australia to reverse its growth in domestic emissions to 2000 levels.
These opportunities are in addition to internationally sourced abatement.
This provides solid evidence for increasing Australia's 2020 pollution cap, to be considered by the independent Climate Change Authority.
The governance measures in the carbon price package allow the ambition of the target to be increased on the basis of independent advice. ClimateWorks Australia's research shows that 25% reductions below 2000 levels is achievable in Australia.
To unlock the remaining opportunities to achieve a 25% reduction (272 MtCO2e) we must build upon the momentum that this carbon price package can create and extend its efforts.
This can be done through measures to deploy more low emissions power, more ambitious mandatory efficiency standards and incentives to make it easier for the remaining profitable activities to be implemented by those not currently reached by the carbon price package. This is all within our reach.
However, every year we delay action, more opportunities are lost or become harder and more expensive to catch up. ClimateWorks' previous research found that delaying action on climate change to 2015 would increase the cost for business and households by $5.5 billion to reach Australia's 5% reduction target in 2020.
The good news for now is that the government's carbon pricing package can achieve more than is forecast from just the carbon price alone.
Smart program design and delivery will be critical to ensuring the complementary measures in the carbon price package deliver their full potential for emissions reduction.
This article originally appeared in Climate Spectator.