Aged care is being hit both ways by the ageing of Australia's population. While population ageing is increasing the number of Australians in need of formal care, it's also reducing the proportion of working age people able to provide formal care.
To help bridge the gap, we are going to need to make it easier for working age Australians to provide informal care for parents and partners living at home.
The Royal Commission into Aged Care Quality and Safety suggested a way. In 2021, it asked the government to examine requiring employers to offer unpaid extended leave for carers of older Australians.
In February 2022 the government asked the Productivity Commission to conduct the examination. I was one of the two commissioners appointed to lead it, and last week we released our position paper.
Here's what we found, and how you can have your say.
Growing demand for informal care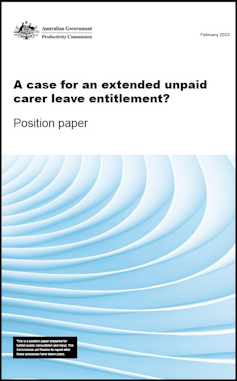 We discovered there's a lot of informal care already. Most older Australians who require assistance get it through informal care – 62% according to the Australian Bureau of Statistics.
About half of this informal care is provided by partners, about 30% by daughters, and 24% by sons.
Calculations by Deloitte Access Economics suggest if this informal care was charged for, it would cost A$78 billion per year. But it is set to become more scarce.
As more people live longer, the needs of the oldest Australians will grow and become harder to manage without considerable support. And as families become smaller, there will be fewer family members to help.
Deloitte Access expects the need for informal care to grow by 23% to 2030, while the number of informal carers grows only 16%.
Examining extended unpaid carer's leave
When my father was diagnosed with dementia, I was incredibly lucky to have ample leave balances, his wife as his primary carer, and the resources to privately pay for formal care while we waited for a government-provided home care package.
But many aren't that lucky. Many carers state that they have unmet needs for leave, financial assistance, physical assistance and respite.
The National Employment Standards applying to workers covered by the Fair Work Act require employers to offer 10 days per year of paid carer leave, which is bundled with sick and personal leave and accumulates when not used, as well as "up to two days per episode" of unpaid leave.
In addition, workers can take up to two days of compassionate leave when an immediate member of the family or household dies or develops a life-threatening illness. This is paid for permanent employers and unpaid for casual workers.
---
Read more: In 2020 our workforce and caring system broke. They are the same thing
---
Many employers offer more. But what's missing from the legislative requirements is unpaid extended carers leave, available for months rather than days.
It is available for new parents. The legislative requirement is 12 months of unpaid leave, with the right to request an additional 12 months.
But after much investigation, we found that extending the option to the carers of older Australians would do little to close the care gap, little to help the majority of carers, and little to keep carers in the workforce.
Few people would use it
The model we developed based on parental and other leave standards (and the need to avoid undesirable consequences) provided three to 12 months of unpaid leave for carers of older people who have worked for at least 12 months for their current employer, after giving four weeks' notice.
We found between 7,000 to 17,000 employees would use it each year, less than 0.1% of the workforce.
About half of those who used the entitlement would have provided care anyway, leaving their jobs if necessary.
We estimated it would produce only 4,000 to 8,000 extra informal carers.
And many don't want unpaid extended leave. What they told us they want is workplace flexibility, with the income and relief from caring it offers.
---
Read more: Carers' leave could help us look after elderly parents and stay in work
---
That said, mandated extended unpaid leave would benefit the older people who would be cared for, and would benefit the carers who took it, reducing their costs of searching for a job after their extended absences.
But it would impose costs on employers: disrupting workplaces, requiring the recruitment of new temporary staff, and leaving employers uncertain about which of their workers would stay.
For businesses with high turnover of relatively unskilled labour, these costs would be low. In more specialised businesses, the limited evidence (mainly from parental leave) suggests these costs would be significant.
We need carers to know their new rights
The good news for carers is that changes to the Fair Work Act due to begin in June will strengthen employees' rights to request flexible work.
Under the amendments, employers will only be permitted to refuse requests for flexible work if they have:
discussed the request with the employee

genuinely tried to reach an arrangement

not been able to come to an agreement

considered the consequence to the employee of refusing the request for flexible work, and

a reasonable business grounds for refusing the request.
The government should ensure that carers are aware of these and other rights through its Carer Gateway.
It should also ensure informal carers get support from the formal sector, with formal carers available to provide care at times and in ways informal carers cannot.
Informal care needs formal support
Waiting lists for formal home care packages at one stage climbed to 15 months in some categories and have come down considerably, but there is more to be done in reducing waiting lists.
Carers also need access to respite care for the older Australians they care for, to give them a break, especially respite care in the home.
And they need support for a wider range of relationships.
Carers can usually only access leave to care for immediate family members or members of their households. This excludes broader kinship networks for Aboriginal and Torres Strait Islander people, care relationships in "families of choice" for LGBTI seniors, and care for aunties and close friends.
We can do more to support carers. I was personally lucky to get a good deal of support. We ought to make sure we are all that lucky.
You can make a written submission on the carer's leave paper until March 28. You can also register here to watch online or attend the March 20 and 21 public hearings.