The terrorist attacks in Barcelona and Cambrils in August brought the vulnerability of Spain to jihadi terrorism into sharp focus. Since 2004, when 192 people were murdered in an attack on the Madrid metro, Spain has remained a key target. Despite pulling its support from the war in Iraq and refusing to participate in the bombing of Syria, Spanish security services continue to deal with the threat from jihadi terrorism, and have arrested some 180 suspects since 2015 within Spain.
In the aftermath of the Barcelona attacks, public attention has focused on immigrants coming into Spain from Morocco. So far all of the suspects in the Barcelona attacks that have been captured and killed in Cataluña have been of Moroccan descent, either first or second generation, and resident in Spain. One of the men arrested after the Barcelona attacks, Mohamed Houli Chemlal, is from the Spanish enclave of Melilla, which is situated on the northern shore of Morocco.
Melilla and its smaller sister city of Ceuta have been part of Spanish territory since the 15th century and have been centre of diplomatic disputes ever since. While both towns have semi-autonomous status, their proximity to Spain and the fact that they are the only land borders between Europe and Africa make them a convenient route for migrants into Spain.
Historically, the towns were important due to their geographic position linking trade between Africa and Europe, but they have played a secondary role to the much larger and popular nearby city of Tangier. In 1995, in an attempt to ease tensions, Ceuta and Melilla were allowed to elect their own governments that send official representatives to Madrid, rather than be managed by provincial Spanish authorities. Sovereignty issues remain and in 2002 there were clashes between Moroccan and Spanish security forces over an island off Ceuta.
Security co-operation
The towns – where I have conducted research on migration and security – are located along Morocco's northern coast, an area that has been fertile recruiting ground for the so-called Islamic State (IS). More than a third of the 1,500 Moroccan citizens who have left to fight in Syria since 2011 have originated from the areas adjacent to Ceuta. As a result of the increased recruitment activity, Moroccan security services have placed increased resources into dismantling IS operations in the country.
Spanish and Moroccan authorities have developed a cooperative security relationship which has resulted in several terrorist cells being broken up, both within Morocco and in Spain.
Morocco and Spain have also been cooperating on immigration control. Ceuta and Melilla are a particular focal point of attempts to reduce irregular migration into Spain – which has long been considered a potential weak link by other EU countries regarding illegal immigration. Since the late 1990s, the EU has spent money shoring up the border controls around Ceuta and Melilla, paying Morocco for helping to protect the border and funding a 20ft high fence around the towns.
Using immigration control as leverage
These borders have been the subject of political leverage between Morocco and the EU. Morocco is able to exert varying degrees of control of the migrant presence around the towns – depending on its relationship with the EU.
The UN estimates that double the amount of illegal migration through Morocco has occurred in 2017 compared to 2016. Between January and May 2017, 2,658 people arrived in Ceuta and Melilla by land, compared to 5,932 in 2016.
In January 2017, when around 1,000 migrants charged the border fence trying to gain access to Ceuta, over 50 security officials – the majority from Morocco – were injured in the clashes. And in early August, 180 migrants managed to cross the perimeter into Ceuta.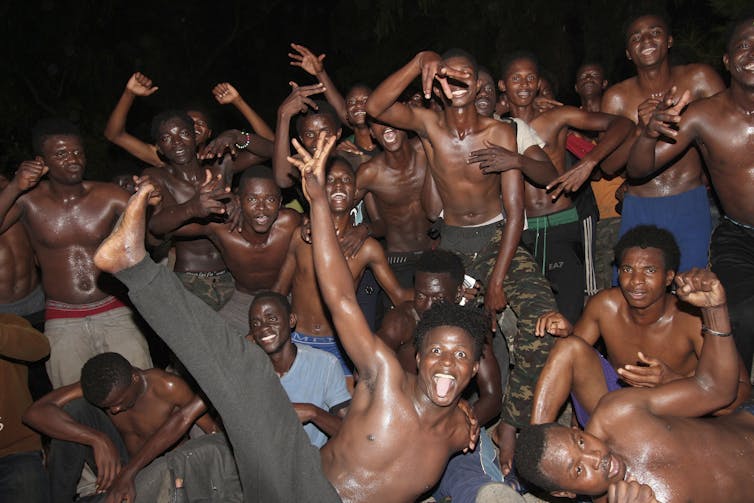 Trade dispute
One reason for the substantial increase in attempted crossings by migrants has been an ongoing trade dispute between Morocco and the EU. This stems from a December 2016 ruling by the European Court of Justice (ECJ) that Western Sahara is a sovereign entity – a position which clashes with a Moroccan claim to the territory.
The result of the ruling means that any goods originating from Moroccan-controlled Western Sahara territory is not subject to EU-Morocco trade agreements. While Morocco still currently occupies Western Sahara, the ECJ ruling has precipitated trade disruptions on goods leaving Western Sahara to EU and non-EU countries alike. The ongoing impasse is a significant problem for both parties: trade between the EU and Morocco is worth €37 billion a year, which includes agricultural products grown from Western Sahara.
The increase in migrant arrivals in 2017 has been interpreted as Morocco issuing a warning to the EU about its power to control the flow of migrants to Europe.
The overwhelming majority of migrants who try to migrate through Ceuta and Melilla are not members of jihadi groups, nor have they travelled from areas in which IS recruits and radicalises such as Iraq and Syria. So there is no certainty that limiting the movement of migrants through the towns will result improve Spain's security situation. There is vast human suffering for both those migrants trying to claim asylum there and for those camping around the towns preparing their attempts to cross. They are now being used as geopolitical bargaining chips by Morocco against an EU that is increasingly becoming more anti-migrant.