It's been widely reported that the UK government is considering its options for the future of Channel 4. A team from the Department of Culture, Media and Sport is due to report soon and privatisation is thought not only to be on the table, but prominently so after an official was photographed entering Downing Street with a document setting out options for a sell-off.
Privatisation is, of course, within the government's power – but it can't be restated often enough that Channel 4, like the BBC, does not belong to the government or the state but to the citizens of the United Kingdom. Consequently, the impact on the range and quality of broadcasting available to these citizens should be the paramount consideration in making any decision.
Set up in the 1980s during the prime ministership of Margaret Thatcher and now financed directly by advertising and programme sales, the channel's remit requires it to be innovative and distinctive, thus extending the provision of programming beyond what is offered by the other channels. But it also must balance what might be regarded as niche programming with more popular material if it is to retain a respectable market share (in 2014 10.5%, compared to ITV's 22% and the BBC's 33%, according to the Broadcasting Audience Research Board).
So alongside the widely praised Channel 4 News and Film4 movies, it has mounted programmes such as Big Brother, Celebrity Big Brother and My Big Fat Gypsy Wedding. Some of these might not be to everyone's taste (innovative or not) but they have to be seen as part of a balanced package.
Film4 (originally Film on Four) has been part of the operation from the start, producing films designed to be given a theatrical release as well being shown on TV. Nowadays the channel acts as a co-funder, rather than sole or major financier. Films in which it invested which were released last year include Carol, Suffragette and 45 Years. The commitment of the channel to film production has also stimulated the BBC to expand its own involvement in the film sector (including, in 2015, The Lady in the Van and Brooklyn).
The independent production sector is now far stronger than it was before the establishment of Channel 4 and there is a requirement, policed by Ofcom, on both BBC and ITV to source a significant proportion of their programming from independent producers, which clearly owe the impetus for their remarkable expansion to Channel 4 which was obliged from the start to source its programmes from them.
But it is perfectly possible to be supportive of the channel and also to be critical. It has a bad record on commissioning production beyond England from the rest of the UK – so much so that Ofcom felt obliged to announce at the beginning of 2014 that it was proposing that from 2020 the "out-of-England" quota would be 9% by volume and spend, a big increase on the current 3%.
Nice little earner
For some time it has been obvious that the present government is toying with the idea that Channel 4 should be privatised, which would mean that any profit generated would accrue (perfectly properly) to its shareholders. But the immediate question is why this Conservative government might be seeking to put at risk the achievements of a service it was responsible for establishing more than 30 years ago.
It is hard to believe that a privatised Channel 4 would be more innovative or more willing to take risks than at present. On the contrary, pressure from shareholders might well lead to a drive for a rebalancing of the programming mix so that fewer chances are taken and higher profits generated. The government must know this, so one is forced to conclude that there is another explanation for the discussion of privatisation.
The relevant minister, John Whittingdale, the secretary of state for Culture, Media and Sport, is known to be one of the government's more committed believers in the power of markets. Currently presiding over the Charter Renewal process, he has been critical of several aspects of the BBC's operation and has indicated that he takes the view that the licence fee method of funding has a limited future. That is a perfectly reasonable position and the Green Paper which his department produced does ask a lot of pertinent questions.
Up for grabs
A highly relevant factor as far as Channel 4 is concerned is that the government is short of cash and is anxious to find as much money as it can to reduce its debt.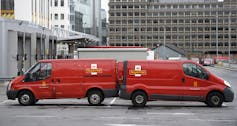 It has had some success so far in pursuing privatisations – for example, the disposals of its stakes in Royal Mail and Eurostar – but has just come up against a very real problem in offloading more of its shareholding in Lloyds Bank as the share price has dropped (a sale of its shares in the financial basket case that is RBS looks more and more unlikely).
So, to the exchequer, privatising Channel 4, possibly for as much as a billion pounds, might seem a smart thing to do. Whether it would be good for the quality of British broadcasting, the health of the television production sector and the development of British cinema, however, is another matter entirely.