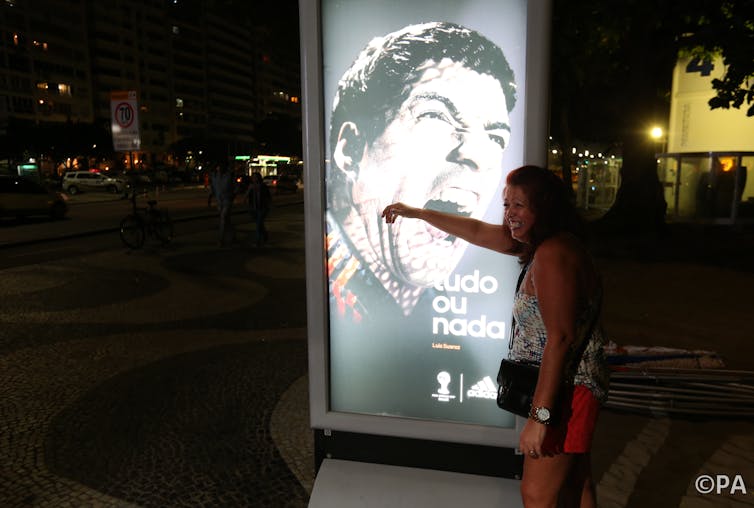 For the uninitiated, there is a popular British reality television show called "How Do You Solve a Problem Like Maria?" in which desperate wannabes compete for the right to star in a London-based theatre musical. For the show's next run, one suspects that the title might be changed to "How Do You Solve a Problem Like Luis?" This series could focus on a desperate wannabe who competes for the right to star in the world's leading football competitions, without causing trouble.
"How Do You Solve a Problem Like Luis?" is more harsh reality television than Saturday night family fare, after Uruguayan international Suarez decided again to feast on one of his favourite TV dinners: the shoulder of an opposing player. After three separate biting incidents while playing for Ajax, Liverpool and Uruguay, Suarez has now been hit by FIFA with a nine game ban, a four month removal from all football-related activity and a fine worth £65,000.
It could be that FIFA believes it has now solved football's "Luis Problem", but we have been here before and, judging by Suarez's pattern of behaviour, there is a good chance we will be here again in the future.
The latest biting affair raises a whole series of issues: for the player, his club Liverpool, and for football in general. Liverpool officials must be watching this episode with some dismay. This isn't the first time a top player has been banned or injured while on international duty and the latest events will only add to the often strained relationship between FIFA, domestic associations and individual clubs.
Last season Suarez's goals fired Liverpool towards the top of the table, enabling the club to qualify for the Champions League for the first time in five years. The player will now miss three games in the tournament, and wins in those matches would net close to £2.5m in prize money alone. Factor in the potential financial blow from losing Premier League matches, and Liverpool is potentially staring at a financial hole that is not of its own making. Owner JW Henry will presumably be unimpressed.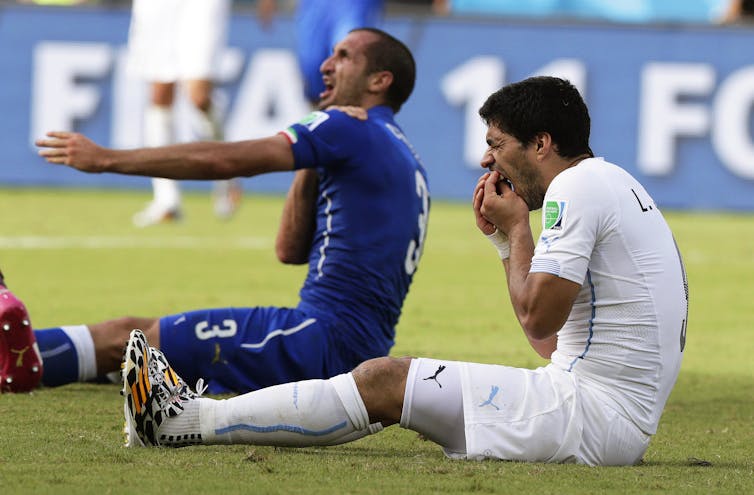 There are management issues for Liverpool to consider as well. In one sense, Suarez has been a vital component in the mythology, legend and reputation of manager Brendan Rodgers. Rodgers is famed for his open, democratic management style, and for his willingness to employ sports psychologists and meditation to get his teams playing well. Yet it remains to be seen whether he is up to the task of getting Liverpool through Suarez's "third coming". Having to build team cohesion again, after the Uruguayan's latest misdemeanour is a tall order for Rodgers.
As for Suarez himself, he is challenging clubs to re-think how they deal with problem employees. Let us not forget that football players are employees too, and many employers would be unlikely to accommodate the likes of Suarez in the same way as Ajax, Liverpool and Uruguay have. In the real world, a charge of gross-misconduct and employment termination would appear to have been the most likely outcome for a supposedly lesser mortal, if one had bitten a colleague sat at the next desk.
Yet 21st century employers are often rather more supportive organisations than they used to be. With Rodgers as manager and Liverpool seeking to protect the financial value of an asset, presumably Suarez will receive further support. Workplace well-being – psychological and otherwise – is important to many organisations and further counselling and therapy will be needed.
If this was a one-off nibble of an opponent's shoulder, dealing with it might be more straightforward. But there is a recurring pattern of behaviour with Suarez, which may mean he will have to confront the reality of deep-rooted psychological difficulties. An arm around the shoulder from his club captain Steven Gerrard is unlikely to be of much help this time round.
This incident is likely to affect his value as a player. Real Madrid and Barcelona have often been linked with Suarez in the past, so we could soon find out what the transfer market makes of his behaviour. His commercial value too is under threat; the Uruguayan reportedly has a £1million+ deal with adidas, and several others with companies such as Pepsi or 888, the online gaming site.
The deal with adidas is an interesting one as the brand has a very close relationship with FIFA; indeed, it reserved judgement on Suarez until it had heard what action FIFA had taken against the player. But now the German sportswear maker seems set to stick with him, albeit after reminding Suarez of "the high standards we expect from our players".
So the Uruguayan may have got away with his biggest commercial deal largely intact, but his brand is clearly more tainted than ever. If Suarez were to be dropped by his other sponsors, one is left to ask: would another company have the inclination or courage to step in? Suarez is no Messi, with a charming smile; and no Ronaldo, with a sculpted body. Might we therefore see a Suarez re-launch (currently scheduled for late October, when his bans end) playing on his evil image? Perhaps he will embrace his bad guy brand, becoming football's equivalent of a pro-wrestling villain?
"How Do You Solve a Problem Like Luis?" For most of us, we do not need to – after all, he is not actually our problem. However, for the sake of football, it is vitally important that Suarez's pattern of behaviour is, once and for all, broken. For the sake of Liverpool and the player too, one hopes that ultimately our recent experiences of Suarez for once leave some positive impressions, and not just the negative ones in Giorgio Chiellini's shoulder.