The US policy of separating children from parents entering the country without permission was rightly met with global outrage. After weeks of heart-wrenching stories, images and audio recordings of children crying for their detained parents, Donald Trump finally bowed to pressure and signed an executive order to end family separations.
In the UK, while children of immigrant families are not routinely wrenched from parents nor held in cages, many aspects of their treatment are nevertheless inhumane and in breach of international children's rights law.
The UK ended indefinite detention of immigrant families with children in 2010. But there remain what Nick Clegg, the former deputy prime minister who was a proponent of the change, described as "exceptional cases and border cases" where families are still detained. This might happen, for example, where their removal from the UK is pending and they have not agreed to leave voluntarily.
When children are detained
Child detention has decreased significantly, and is supposed to be short-term and a last resort after parents do not leave voluntarily, but it continues. Since the 2010 policy change, 1,649 children have been detained with their families, 600 of whom were under 11-years-old. The Migration Observatory points out that in 2016 alone, 71 children were placed in immigration detention with their families.
The conditions of children's detention have also recently become much more prison-like. Children's charity Barnardo's previously provided services at Cedars, a dedicated facility managed by the private security company G4S to "hold" families before removal from the UK. The Home Office announced in 2016 that Cedars would be closed, with families housed instead in a unit at a general immigration removal centre, Tinsley House, near Gatwick – also run by G4S, but now without Barnardos. G4S has been subject to claims of abuse and neglect of those in its custody, including children. The environment at Tinsley House has been described by Clegg as "prison-style".
The 2014 Immigration Act banned the detention of unaccompanied children who have arrived in the UK without a responsible adult for more than 24 hours at any one time, but there are still circumstances where unaccompanied children are detained. For example, they can be detained pending an age assessment where the Home Office believes them to be over 18. Over 900 such assessments were carried out in 2016, despite the fact that age assessment tests are notoriously inexact.
---
Read more: Questions over age of refugee children show how ugly Britain has become
---
There are also extreme cases where children end up in state care because of the detention of their parents for immigration reasons. In March, reports emerged of three children aged eight and below who were taken into the care of the state because of the immigration detention of their father (their mother was overseas at a funeral). This is contrary to the Home Office's own guidance which states that a child must not be separated from adults for immigration purposes if this means that a child will be taken into care.
Psychological harm
The outcry at Trump's family separation policy has rightly focused on the profound psychological ramifications for those children affected. If a child is taken into the care of the state because of immigration detention, this creates a disruption of the relationship with their carer with inevitable adverse effects on the child's well-being. Research carried out in 2013 by the organisation Bail for Immigration Detainees, found that children who had ended up in care in the UK because of the detention of their parents for immigration reasons had "lost weight, had nightmares, suffered from insomnia, cried frequently and became extremely isolated during their parents' detention".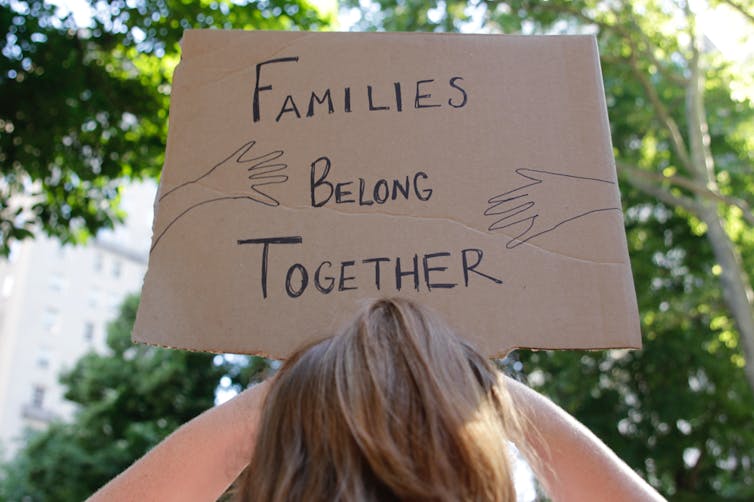 Detention of children is also highly likely to be psychologically harmful. As pointed out by Coram Children's Legal Centre, "(d)epriving a person of their liberty can have a serious and lasting effect on his or her mental health (particularly) in the case of children and young people, including age disputed children." The Refugee Council therefore calls "for people whose age is in question to be given the benefit of the doubt" until their age has been appropriately verified.
The US holds the notorious title of being the only country not to have ratified the UN Convention on the Rights of the Child. It's perhaps unsurprising then that the Trump administration's separation and detention policy sat in stark contrast to the obligations contained in that treaty. The UK, however, is meant to be one of its leading proponents since ratifying the treaty in 1991. A growing body of domestic law, specifically in an immigration context, obliges UK immigration authorities to ensure that the best interest of the child should be "a primary consideration" in all matters affecting them, in accordance with the treaty. But children's best interests are clearly not always given adequate consideration in the UK's current immigration system.
The groundswell of opposition to Trump's separation and detention policy is an opportunity to acknowledge where children's rights are sidelined in the UK too. Children should never be detained nor separated from their parents for immigration purposes, even for a short period of time.