The upcoming IPO of Chinese e-commerce giant Alibaba is likely to be the biggest the US market has seen. At an expected US$20 to $25 billion, it would be one and a half times bigger than Facebook's IPO which raised US$16 billion.
The Alibaba group conists of a number of companies that roughly cover the same businesses as Amazon and eBay combined. Its revenue last year was around US$240 billion - about three times the size of eBay and twice that of Amazon. In 2013, it made US$2.5 billion net income off $6.5 billion in revenue. The success of Alibaba reflects the huge opportunities that China's large population combined with poor physical commercial infrastructure offers to internet commerce.
Given the penetration of mobile phones in the Chinese market, it is not surprising that Alibaba has been especially successful in the mobile space. Alibaba's mobile sales account for 15% of total revenues and are responsible for 76% of all mobile commerce in China. Nearly 20% of Alibaba's payment transactions through Alipay (the equivalent of PayPal) are done through mobiles.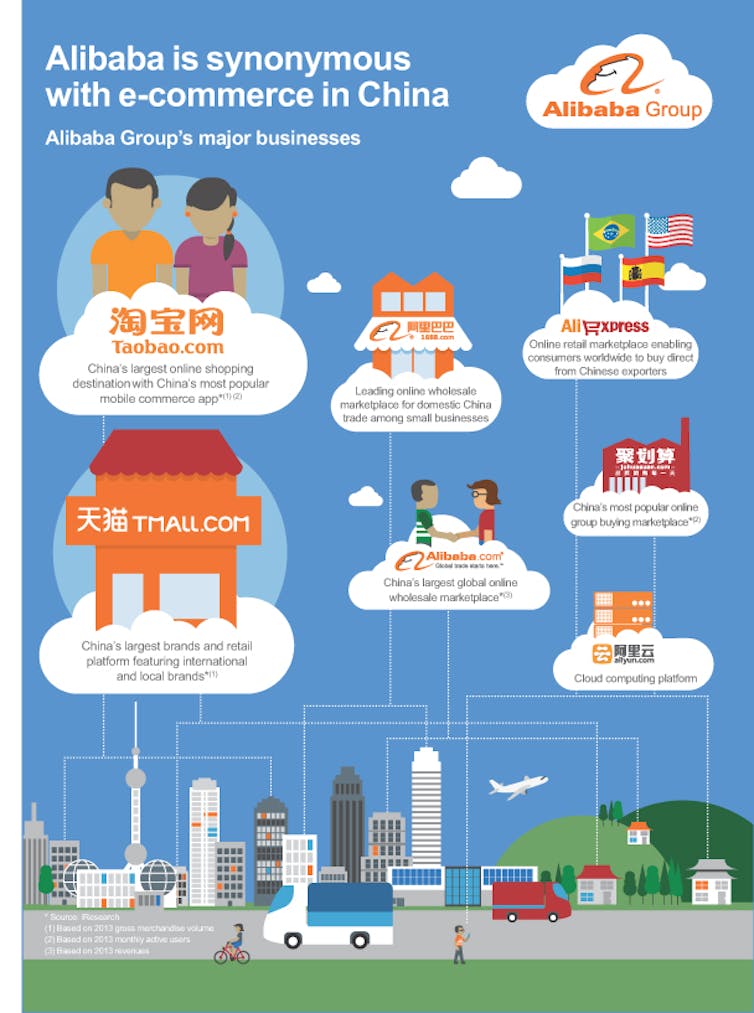 Alibaba's origins
Alibaba was founded 15 years ago by english teacher Jack Ma. It is structured in a complex arrangement of companies that are registered in the Cayman Islands. Despite having an english site aliexpress.com catering for the global market, it is little known outside of China. What is more widely known, however, is that in 2005 Yahoo co-founder Jerry Yang invested US$1 billion for a 40% stake in the company. Yahoo still owns 23%, which after the IPO could be worth about US$13 billion.
When Yahoo sold Alibaba shares in 2012, netting itself US$7 billion, it became obliged to sell Alibaba another 208 million shares which would bring down its stake in Alibaba to about 14%.
IPO possibilities
The most intriguing question the IPO throws up is what the company will do with the money it raises. Investors at least will be expecting the company to continue to develop the enormous market in China, but will also be anticipating an expansion into the US. This could pose a significant problem for companies like Amazon and eBay. Non-Chinese consumers may take a little time to accept the Chinese company, but the US market listing will certainly help.
Like Amazon, Alibaba runs a cloud services business which in many ways is a cheaper alternative to Amazon Web Services. Western businesses are unlikely to want to put corporate data on computers in China, and so Alibaba's growth of this business will depend on it setting up data centres in other countries and it isn't clear whether this is something it's interested in doing.
Another question post-IPO is what Yahoo will do with its investment and possibly more pertinent, what Alibaba will do with Yahoo. Despite Yahoo's general improvement in its performance, it is still seen as a company with an unclear future. The recent increase in Yahoo's share price has been largely attributed to speculation around Alibaba's listing and so once that happens, investors are expecting some sort of payoff from the money generated by the IPO. Yahoo CEO Marissa Mayer has not said what she intends to do with the remaining stake in Alibaba.
The other big foreign Alibaba investor is the Japanese tech company Softbank (owner of US mobile company Sprint) which owns 34.4% of Alibaba. Softbank CEO Masayoshi Son has said the company doesn't intend to sell the shares, seeing itself in a strategic partnership. Given Softbank's current attempts to buy another US mobile carrier, T-mobile, the combination of two predatory tech companies in the ascendancy in the US doesn't bode particularly well for US companies in their path.
What the IPO will reveal
Stock market listings serve one important function and that is to bring public transparency to the way businesses operate and have been operating. Not only will this information lead to a greater understanding of what sort of company Alibaba is and what its prospects are, it will also serve to establish a new relationship with consumers in other countries, especially the US. Investors and consumers may also obtain a greater insight into a country that supplies the US with 25% of its total imports.
In the original story of Ali Baba and the Forty Thieves, Ali Baba is the only person left knowing the secret to the thieves' cave of riches. The company Alibaba is probably hoping this story is about to come to pass in its future.