As the Islamic holy month of Ramadan ended, lethal violence flared up in China's Xinjiang province – the latest grim entry in the saga of terrorism and repression that surrounds the region's Uighur Muslim minority.
Every year during Ramadan, China's religious policies in Xinjiang come under international scrutiny – particularly with regard to the Chinese Communist Party's (CCP) repeated bans stopping Uighur CCP members, government civil servants, teachers and students from fasting during Ramadan.
This year was no exception. The atheist CCP's official regulation on religious practice forbids its party members and youths under 18 from following any religion. This technically applies to the whole country, although its actual enforcement varies significantly across different ethnic groups and different regions.
The specific discouragement against observing Ramadan was mounted by the Chinese state as part of its campaign against the "Three Evil Forces" among the Uighurs: terrorism, separatism and religious fundamentalism. This has of course only stirred further resentment among the already restless Uighur people.
Terrorism
The Uighurs, who live in China's northwestern Xinjiang province, are a mainly Turkic Muslim group. Claiming a distinct ethno-nationalist history, in recent decades they have challenged China's control of Xinjiang province, which they claim as their homeland.
Where their struggle differs from the more famous row over Tibet, however, is in the more violent resistance to Chinese state power some Uighurs have mounted. For the past few years, the Uighurs have been associated with a series of violent incidents that the Chinese government has dubbed as cases of terrorism.
In 2009, a major riot erupted in Urumqi, the capital city of Xinjiang, and claimed the lives of more than 200 civilians (mostly Han Chinese). In May 2014, bombs were detonated at the Urumqi railway station and in a market, killing more than 30 people.
And in March, knife-wielding Uighur attackers killed 29 civilians at Kunming Rail Station in faraway Yunnan province – indicating that the security threat to the Chinese state and society posed by Uighurs is now spreading beyond Xinjiang.
Getting it all wrong
Such crises signify the overall failure of the Chinese government's approach to handling the Uighurs in Xinjiang. Its policy of banning some Uighurs from observing Ramadan, together with another recent banning of public veiling among Uighur women and long beards among Uighur men, show how frantic the state in dealing with Islam as the religion among the Uighurs.
Indeed, in today's Xinjiang, Uighurs have become more religiously conservative than they have ever been before. More are following orthodox forms of Islam rather than the Uighurs' traditional, more mystic, form of Sufism. A few decades ago, Uighur women would don colorful traditional costumes; these have been increasingly replaced with black burqa-style gowns with face veiling.
The Uighurs are increasingly turning toward religion for "salvation" from their suffering under Chinese rule – and the CCP's repressive religious policies have achieved the opposite of its intended goals.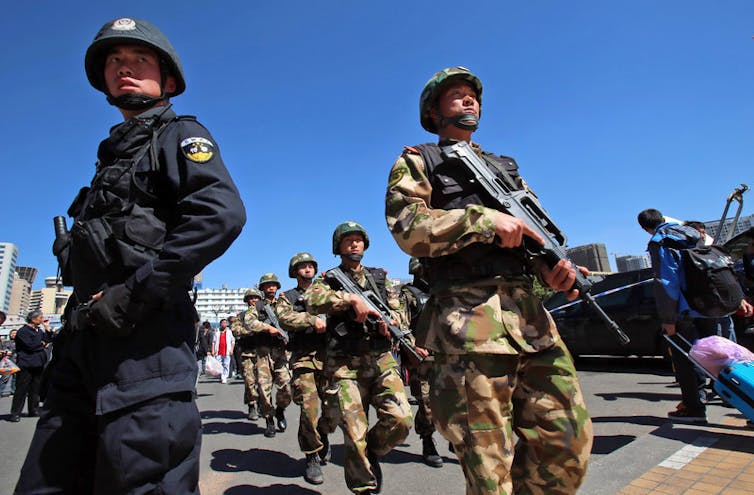 Similarly, the Chinese government's anti-terrorism campaigns have seen the Uighurs subjected to more and more racial profiling, creating tremendous hurdles and inconveniences in their daily lives. That has alienated the otherwise more moderate members of the whole Uighur community.
Resistance and repression
China's economic policies aim to use development to eradicate poverty among the Uighurs and thus "pacify" the group, but they have done far more to enrich the Han Chinese community, the majority ethnic group in China. That has encouraged further Han Chinese migration into Xinjiang, and thereby widened the economic gap between the two groups. This in turn has put the Uighurs under even more demographic pressure.
As things stand, there is no clear sign of a major policy change to correct those failures. Instead, what we have seen an increasing militarisation of the Chinese police force as its struggles to handle Uighur dissent.
In years past, the Chinese police would rarely be equipped with guns; these days, shooting "attackers" on the spot has become standard practice. This has been criticised by Uighur exile groups as a disproportionate use of state violence, which it seems will only continue the vicious cycle of resistance and repression into which Xinjiang has sunk.
As the world's Muslims marked the end of Ramadan Eid, Xinjiang's Uighurs had little to celebrate. It seems the violent resistance and repression that has characterised the relationship between the Uighurs and the Chinese state is only going to get worse.