Danny Boyle has announced that his next project will be a sequel to the breakout hit Trainspotting. Planned to be released next year to coincide with the 20-year anniversary of the original, what can we expect from the follow-up and what implications does this move have for a film industry increasingly dependent on delayed sequels and reboots?
Based on the novel by Irvine Welsh and set in Edinburgh, Trainspotting famously centred on Renton (Ewan McGregor), a heroin addict whose very existence seemed determined by his quest to get his next fix and the effects on his family and wayward friends: Sick Boy (Jonny Lee Miller), Spud (Ewen Bremner), Begbie (Robert Carlyle), Tommy (Kevin McKidd) and Diane (Kelly Macdonald).
It was a visceral and kinetic depiction of 1990s drug culture, aesthetically somewhere between A Clockwork Orange and Pulp Fiction. Together with an innovative advertising campaign and popular soundtrack ("lager, lager, lager …"), what resulted was a global critical and commercial hit. And this was surprising, considering the harrowing subject matter: the sequence showing Renton's withdrawal and that toilet scene are two memorably disturbing moments.
So how will the sequel compare? Its working title, Porno, comes from Welsh's own book sequel, although the rumours are that the film's plot will differ from the novel. After many years of speculation, Boyle is set to return to direct, John Hodge will again adapt the screenplay and the four leads (McGregor, Bremner, Miller and Carlyle) will reprise their roles.
Twenty years is a long interval, however, and part of Trainspotting's success was surely the way it captured the public's imagination at a specific cultural moment. It was part of the era of 1990s/early 2000s club culture in the UK that went on to spawn the likes of Human Traffic (1999), 24 Hour Party People (2002) and It's All Gone Pete Tong (2004). Moments from the film have meanwhile become iconic, such as the rhythmic, frenetic "choose life" opening sequence accompanied by Iggy Pop's Lust for Life. Moments such as these might create a sense of nostalgia for spectators when the sequel is released, but they might equally prove unrepeatable.
Life after Trainspotting has also changed dramatically for some of its key personnel. Boyle has become an Oscar-winning director with Slumdog Millionaire (2008) and a critical darling thanks in no small part to tackling a diverse range of subject matter and genres. Horror (28 Days Later [2002]), science fiction (Sunshine [2007]) and biopic (Steve Jobs [2015]) have all received the Danny Boyle treatment, not to mention his role as artistic director for the London 2012 Olympic Games. Going back to the same subject matter could prove a professional risk.
Ewan McGregor's performance as Renton turned him into a Hollywood leading man with roles in Baz Lurhman's version of Moulin Rouge (2001) and as Obi-Wan Kenobi in the three Star Wars prequels. As such, McGregor has developed a star persona that is at odds with his role in Trainspotting, when he was still relatively unknown to audiences. It will be a testament to his skills as an actor if he is able to seamlessly step back into that role.
Choose dollar signs
Sequels and reboots are hardly a new phenomenon, but they seem to be everywhere in mainstream Hollywood. A glance at films playing in UK cinemas this week reveals the extent of production companies' dependency on tried and tested formulas to ensure healthy box-office returns. Mission Impossible: Rogue Nation is the fifth iteration of Tom Cruise's all-action Ethan Hunt, itself a remake/reboot of the 1960s television series.
Other examples include Terminator: Genisys and Marvel superhero film sequels Avengers: Age of Ultron and Ant-Man, which form part of a "multi-verse" of film and TV crossovers to cultivate a distinctive brand. Then there is The Transporter Refueled, where the film's reboot status even seems to be referenced in the title.
What is perhaps less common is the delayed sequel/reboot, but that may be changing. The extraordinary financial success of Jurassic World demonstrated this year how a successful product, several decades old, can be re-packaged and sold to a new audience as well as those who look fondly on the original.
Forthcoming releases include Zoolander 2 and an all-female update of Ghostbusters. It is tempting to decry this trend as nothing more than balance-sheet filmmaking. Jurassic World, especially, bares a remarkable resemblance to its 1993 predecessor in terms of plot and characters.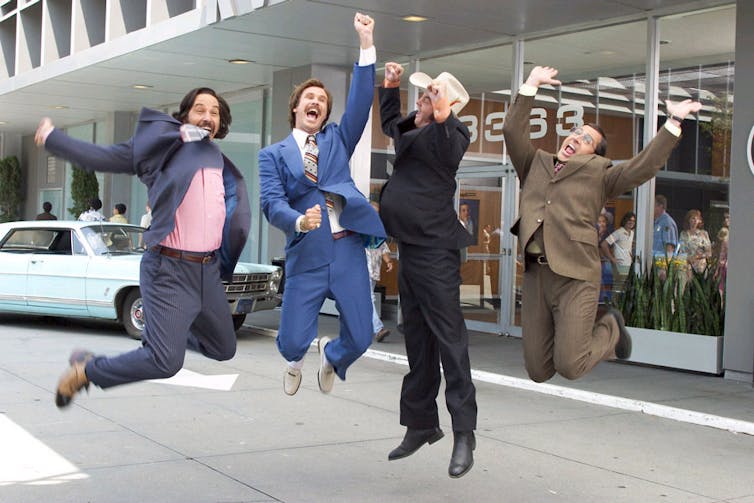 In some cases, the film spectator might have more of a part to play than they realise. Joss Whedon's 2005 space western Serenity and last year's Anchorman 2: The Legend Continues were both examples of films that came about from strong fan demand – outcry from fans of Whedon's science fiction series Firefly in the case of Serenity and howls for the further adventures of Will Ferrell's anarchic character in the case of Anchorman. Clearly the reduced economic risks of familiarity and spectator demand are both powerful forces, often working together of course.
No doubt they are both playing at least some part in the decision for "Trainspotting 2" to go ahead. That and timing. Hodge had finalised a draft script two years ago, but it seems Boyle and co are now all in a position to commit to the project. Either way, we shall have to see whether it can be a hit with fans and at the box office. For those wary of the result, there is at least one definite note of reassurance: it is being made by those who created a landmark British film the first time around.