For British Labour leader Ed Miliband, defeat was yet again snatched from the jaws of victory. With the UK general election less than six months away, the recent Rochester and Strood by-election was a key test for Labour. But with one tweet, shadow attorney-general Emily Thornberry was forced to resign and hand momentum to the UK Independence Party (UKIP), which placed even greater pressure on Miliband.
During the by-election, Thornberry tweeted – with no comment – a photo of a house with three St George's flags, with a white van parked outside. The message was seen as an unambiguous sneer at white, working-class Britain.
Cue media mayhem, and a Labour Party close to being at civil war.
A significant part of this story is the growing disaffection of working-class Britain from the mainstream parties. This remains an acute problem for centre-left parties. In general, the MPs and membership of most Labour and centre-left parties around the world are becoming increasingly "gentrified".
When Miliband was asked what he thought when he saw a house like the one tweeted, he replied: "Respect" – and was widely mocked online. Miliband is seen as part of an affluent middle-class elite, who talks to, rather than speaks for, working-class people.
The problems afflicting UK Labour raises the question about whether or not the Australian Labor Party – politically a kissing cousin of UK Labour – could survive an equivalent "class" test here. How "in touch" are ALP leader Bill Shorten and his frontbench with the working class?
It is striking that of Shorten's 30-member shadow ministry, only three (Claire Moore, Kate Ellis and Doug Cameron) do not hold some form of tertiary qualification. As the Labor Party has become more professionalised – along with the expansion of university education under the Whitlam government – its composition has changed.
In contrast to Shorten's frontbench, the first cabinet in 1908 of Andrew Fisher, the first ALP prime minister, included two former miners (Josiah Thomas and Fisher himself), a carpenter (George Pearce), an engine fitter (Lee Batchelor), a former apprenticed compositor (James Hutchison), a ship-builder (Gregor McGregor), a milliner (Frank Tudor) and perhaps an asset modern Labor might appreciate in Hugh Mahon – a former newspaper owner.
It may be fair that a professionalised frontbench has a skill set we might realistically expect of our pre-eminent lawmakers. And the ALP (and UK Labour) frontbench is certainly closer to the working population than the UK coalition cabinet, which in 2010 comprised 23 millionaires out of its 29 members.
But while they might be skilled legislators – or policy wonks like Andrew Leigh – MPs also have a representative role. That invariably means talking the language of the public and understanding – if not shaping – their concerns. And the issue is that the long-standing links between Labor parties worldwide and the working class have been diluted.
While a number of the ALP frontbench come from working-class backgrounds, the overriding impression is of a group of articulate, mostly clever, middle-class professionals. This is problematic when you consider that – as noted by Owen Jones in his book Chavs: The Demonization of the Working Class – there is a long-standing tradition of sneering from political elites, including British Labour.
Questions of leadership also arise. Previous ALP leaders like Fisher and James Scullin – a grocer – were arguably more grounded in the lives of working-class people around them. However, Fisher, a non-drinker, was probably more culturally out of touch than, say, Bob Hawke, the unambiguous larrikin.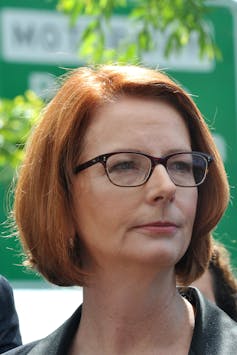 More recently, under Kevin Rudd and Julia Gillard, the policy record and relationship between the party and the working class are both mixed. Rudd, the social democrat, was more popular, but the 2020 Summit was a middle-class safety valve to let off steam from the Howard era. Arguably, Gillard's greatest policy achievements for "working people" were trebling the tax-free threshold and the pay award to community sector workers. Yet neither was widely recognised.
These were certainly more long-lasting achievements than Gillard's notable week's residency in western Sydney in early 2013. This was a symbolic gesture that ironically reinforced her distance from the working class.
On cultural issues, Gillard's intransigence on same-sex marriage might have appeased the ALP's right faction, but this neither reflects the cross-class support for the issue, nor the diversity of blue-collar workers – who are often assumed to be more culturally conservative on this issue.
And would Shorten himself pass a "bogan" test – and be able to articulate the language of the working class? The signs are mixed. His union background is an asset, but he is still largely seen as a "machine man", lacking authenticity. But his time as parliamentary secretary for disability and children's services seems to have been a formative experience: he was instrumental in championing the National Disability Insurance Scheme.
Overall, the ALP might rightly claim that it can articulate new economic policies for the interests of the working class. But, culturally, this gap might well be growing.
If there is a lesson for the ALP from the Rochester and Strood by-election disaster of its UK counterparts, then it is that its frontbench may need more than the ubiquitous photos of MPs in hard-hats. The party – rightly – sets gender quotas for its MPs. Perhaps it should do the same for the working class.