Discussions about climate change and the effects it will have on public health and the global burden of disease have been long in the making. These consequences are now starting to come to fore.
Several examples have recently played out. For example, in Russia, an anthrax outbreak in the remote region of Siberia meant that nomadic communities and thousands of reindeer were affected. The outbreak was due to the bodies of infected people buried in 1941 defrosting and releasing anthrax spores into the water system as the permafrost defrosts with global warming.
Closer to home, prisoners are starving in Malawian jails and suffering from acute severe malnutrition as a result of food shortages due to erratic climate conditions from both droughts and floods. Malawi has since declared a state of national disaster.
These unanticipated public health consequences of unsustainable development reminds the world that the issues are not in the distant future, but instead face us now.
Climate change exerts its influence on public health through three main mechanisms.
First, the effects of extreme weather events such as heat, storms, floods or fire that directly cause loss of life or illness.
Second, there are indirect effects of climate change on natural systems. This leads to, for example, changes in disease vectors such as mosquitoes that spread malaria, availability of fresh water, crop survival, or the concentration of pollen in the air.
Third, the effects on economic and social systems as people migrate or conflict over scarce resources.
These effects can be moderated by the presence of early warning systems and effective disaster and emergency medical services.
More affluent communities with more resources will be better able to adapt and withstand these effects. Having strong primary healthcare systems will also increase the resilience of communities.
But in sub-Saharan Africa many communities do not have these protective mechanisms in place, and will be particularly vulnerable to the impact of climate change.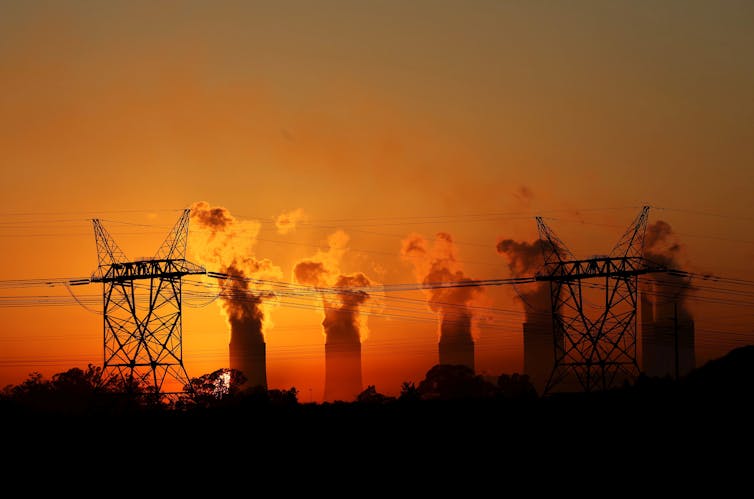 Disease and environmental health
The World Health Organisation has recently published a new report on the burden of disease due to modifiable environmental risks. The report estimates that 23% of all deaths globally can be attributed to environmental risks. This percentage rises to 26% in children.
These environmental risks include:
air, water and soil pollution;

ultraviolet radiation;

the built environment;

the occupational environment;

agricultural methods; and

climate and ecosystem changes.
Children, the elderly, and those living in low- and middle-income countries are most at risk.
The diseases that make the greatest environmentally attributable contribution to the global burden of disease are stroke, ischaemic heart disease, diarrhoea, lower respiratory tract infection, cancers and chronic obstructive pulmonary disease. And over the last ten years the contribution of non-communicable diseases has significantly increased.
An example in South Africa is from Mpumalanga's Highveld, which has 12 coal fired power stations. The collective air pollution from these power stations has been reported as being responsible for just over half of the deaths from respiratory disease and cardiovascular disease in the area.
Living differently
Sustainable development has been defined as:
… development that meets the needs of the present without compromising the ability of future generations to meet their own needs.
The United Nations' Sustainable Development Goals recognise that improving the wellbeing and health of people requires an approach that protects the planet from degradation. This is required because there are ecological limits to development that is based on ever-increasing consumption.
But the climate crisis is just one of the manifestations of the world's collective inability to live sustainably.
There is also a loss of ecosystems and the biodiversity. This compromises the natural services they render to humanity: food, fresh water, clean air, building materials and even new medicines.
Economic inequality is increasing. It is reported that 62 people now own as much wealth as 50% of the planet's population.
At the same time, we have seen unprecedented population growth and increasing urbanisation that is characterised by the growth of slums or informal settlements.
The 21st-century challenge
Humanity's biggest challenge in the 21st century may be its ability to find a way of living sustainably and to tackle the crises of both planetary and public health. This will require action on a global scale by world leaders and by a change in collective consciousness.
There are some encouraging signs. Brazil has joined China and the US in ratifying the Paris agreement on tackling climate change. China and the US are responsible for 38% of global emissions.
World religious leaders have also joined forces to promote a change of consciousness as part of a "season of creation".
It can be summed up in the video message from Pope Francis, who says the relationship between poverty and the fragility of the planet requires another way of managing the economy and measuring progress, conceiving a new way of life.