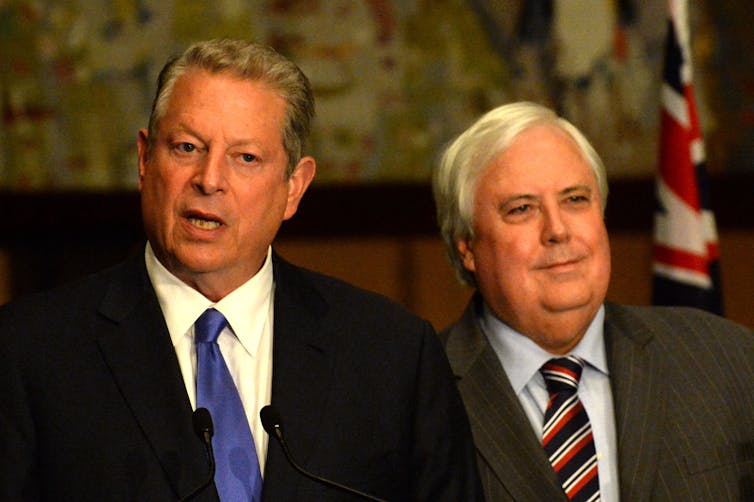 What on earth was Al Gore, a zealot on climate change, doing celebrating a Palmer carbon policy that's worse than what Australia has in place, although not as bad as it could have been?
That remains a known unknown because Gore fled, with his new friend, before any journalist could ask.
Palmer says Gore's representative contacted him for a meeting (adding that Gore's a fan on YouTube). He also says he didn't provide any money to the former US vice president.
It was less surprising that Palmer wanted Gore standing shoulder-to-shoulder with him in Parliament's Great Hall – because nothing Clive does surprises anymore – than that Gore would agree.
Gore spoke of "this outstanding statement" and "this extraordinary moment in which Australia, the US and the rest of the world is finally beginning to confront the climate crisis in a meaningful way".
These were very odd assessments, especially when he also said he would be disappointed if Australia's carbon price was removed because it was a policy "ultimately critical to solving the climate crisis". Perhaps he was relieved that Palmer was preparing to help dismantle just part (albeit the central part), rather than all, of Australia's suite of national policies on climate change.
The government naturally chose to seize on what Environment Minister Greg Hunt called the "signature announcement" of Palmer's stand on the Coalition's carbon package – that the Palmer United Party (PUP) will vote to repeal the carbon tax. And indeed, despite the condition attached and what the PUP won't do, the news was good for Tony Abbott.
Look at it this way. If Palmer had said his senators would stop the repeal, the Prime Minister would be in diabolical trouble.
He promised a double dissolution if he couldn't abolish the tax. That would be a most unfortunate pledge to have to keep, against a background of a budget in danger of resembling Swiss cheese and negative opinion polls. On the other hand, his authority would take a big knock if the Senate stood him up on repeal and he retreated.
So Hunt welcomed "vindication for the government", while starting to sound like a politician who knows the realities have to be recognised.
Palmer wants a legislated provision that energy providers have to pass on savings. The government says this isn't necessary – the Australian Competition and Consumer Commission will be watchdog. But "we are willing to provide additional guarantees and to work with Mr Palmer … on any further legislative amendments," Hunt said.
The government will, it seems, also have to live with the retention of the Clean Energy Finance Corporation and the Climate Change Authority because PUP won't scrap them. PUP's determination that the renewable energy target can't be changed before the 2016 election puts an interesting constraint on the inquiry now under way, chaired by Dick Warburton. Abbott's "direct action" policy is looking more than shaky, written off as "a waste of money".
As for Palmer's plan that PUP will put up an amendment for a sort of shell emissions trading scheme that would only become operative when Australia's main trading partners had such schemes - this looks like a bit of game play.
It is not being made a condition for PUP voting to repeal the carbon tax.
Even if the Senate supported it, it wouldn't be embraced by the lower House and so would not become law. And anyway, our major trading partners (Palmer named the US, China, the European Union, Japan and Korea) won't have such schemes any time soon.
It is perhaps notable for the future that in this announcement on legislative specifics, Palmer's party has thrown bones in all directions.
Recently Palmer has made sweeping statements about PUP's position on various budget measures. It remains to be seen whether these will stand in their bald form or whether PUP will be willing to refine any of them.
If Hunt (presumably aka Tony Abbott) and Gore can be positive about the Palmer climate stand, it suggests a certain political cunning beneath all the madness.