For the philosopher Bertrand Russell, drinking alcohol was a sign of misery: happy people – a category that for the rapacious Russell included sexually satisfied people – did not seek escape in booze.
Yet for the rest of us mere mortals, sexy drinks and sexy feelings often go hand in hand. Sure, necking a few pints in a grungy pub probably has a similar effect – scientifically – to sipping away at a succession of perfect negronis on an Italian beach. But today's trendiest booze makers and bar people insist on going rather further than the simple imbibing of alcohol. Their USP is the presentation of truly, shall we say, intoxicating drinking sessions, theatrical and layered from conception to construction to presentation. They want their drinks to invoke lust: aphrodisiac, embodied, enervating.
Gin is the centrepiece of the sensual cocktail revolution. These days, it's an elixir with special powers. In Britain alone, there are now a record 233 gin distilleries (the number was 116 in 2010).
Gin bars, such as The Ginstitute in Notting Hill and speakeasies such as the Stac Polly in Edinburgh and Gin Bathtub in New York, have sprung up. Meanwhile, LA's giant gin bar The Flintridge Proper offers 200 bottles of gin, and makes its own blend with foraged botanicals, including wild sage and rosemary, star jasmine, and lemon from an employee's back garden. Luxury boutique gins like the thyme, olive and basil-infused Spanish Gin Mare are now to be found where the Bollinger used to be in the houses of the swanky.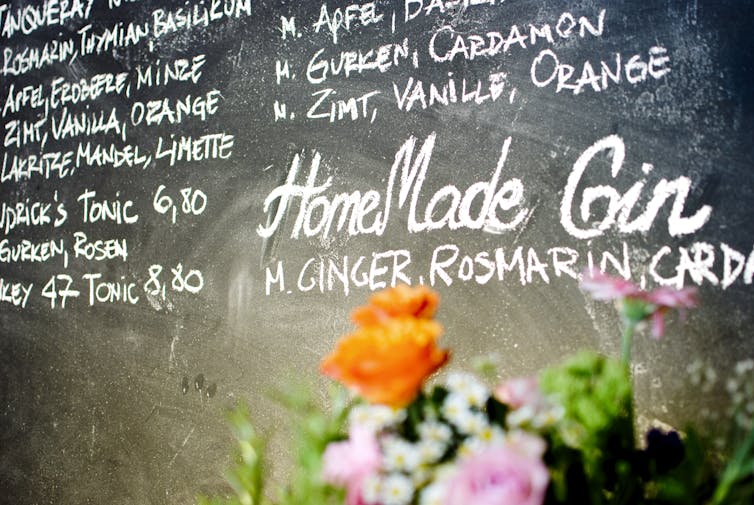 But what's so aphrodisiac about gin? Mostly, the botanicals (the plants, spices and essences) it's brewed with. With gin-makers getting ever-more creative in their use of botanicals, we – the lusty customers – are getting hit with more infusions meant to inspire carnality.
Cardamom, cinnamon, chocolate, honey and nutmeg are all examples, and can all be found in contemporary versions of mother's ruin. Some brands are even more explicit: X-Gin, another luxury gin, bills itself simply as "a pure aphrodisiac". Its combination of juniper berry with 15 herbs "and several of the best spices known to man" makes it, apparently, "gin for the queens, Gods and kings". And, presumably, their orgies.
But gin alone can't pull off the scene. So tonic is no longer tonic but a magical dance with aroma. And cocktails are not necessarily just drinks anymore, but an exercise in sensuality, where nose, eyes and tongue are marshalled in one smooth operation. A little sherbet here, a whiff of edible perfume there, a spray of violet essence, a flash of colour or fire or sugar.
Which is exactly the kind of thing that Smith and Sinclair, "adult play" experts and makers of essentials like, erm, edible cocktail lozenges, are offering at a pop up at the Sanderson hotel's Purple Bar, Fitzrovia, London (until Christmas Eve). The result is, in fact, somewhere between the sublime and grotesque. Potions include the likes of lapsang suchong whisky, gold-dusted rose-infused gin stirred with a giant sugar diamond, and those naughty cocktail pastels in flavours such as spiced rum and whisky sour, equivalent to half a shot each.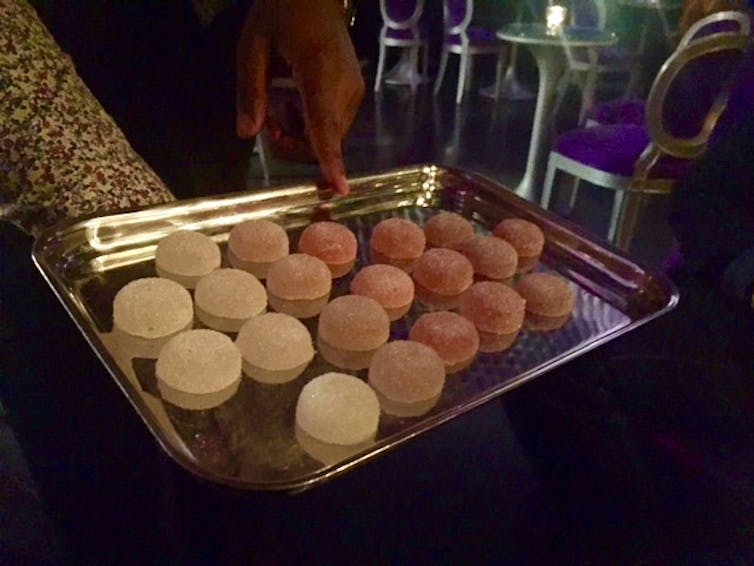 Your date is meant to be dazzled by fizzing smoke spewing from the "Thyme for Tea" cocktail, which is presented in a teapot; marvel at the way the (slightly sickly) maraschino-liqueur-filled "Violet You're Turning Violet" turns a deeper shade of purple as it was being poured, and yelp with joy when a spoonful of chocolate sherbet was topped with Bailey's, while a rather surprising edible Christmas essence is sprayed overhead. The intention is to dazzle and scramble senses, and – presumably – to tip you into bed when you've downed tools. On our visit, the former was rather more successful than the latter.
Meanwhile, over at the Green Bar at the plush Hotel Café Royale on Piccadilly, bar honcho Derren King has built a wardrobe of gin and botanicals that are more sophisticated than the Smith and Sinclair sensual assault and perfect for an awkward date. After making an intuitive read of each person's tastes and even moods, he produces a botanicals-infused gin to match.
This is a delightfully gender-neutral exercise. My (male) date that night was given a rose-petal flute called a Red Queen (gin, sour cherry, clove, orange, champagne) while I was presumed to want a more austere White Queen (gin, lemongrass, lychee, lemon and champagne). Then I was "matched", Bumble-like, with more drinks. My Tanqueray with lemon and lime, tea reduction, rose and lychee, plum wine and egg white was full to bursting with "look at me" cocktail tricks, while my more spartan friend – keen to assert his masculinity – was assigned celery gin, celery, fresh basil and olives in martini form. This was almost too masculine – he had to grit his teeth to swallow it.
Perhaps it's fitting that sensory cocktails have taken flight in the age of Tinder, in which dates too often feel mechanical, bonds week, conversation a bore. If the app often fails to infuse dates with chemistry, the new breed of high-functioning cocktails can help.