Four songs in to the final of the Eurovision Song Contest on Saturday night, six Icelandic men in a band called Pollapönk took to the stage dressed in fluorescent suits and declared to an ecstatic house:
Let's do away with prejudice
Don't discriminate, tolerance is bliss
We can get together on this
Cross this problem off our list.
Later in the evening, the Austrian entry Conchita Wurst began her performance of her diva anthem Rise Like a Phoenix. As she continued, the lights slowly revealed more of her sparkling, form-hugging dress, before spreading to illuminate her hirsute jaw. Hers was a meticulous drag act, with a twist – Conchita Wurst sports a full beard.
Eurovision, often associated with camp and queer culture, has long been a forum for these kinds of resistant performances. Camp, though, has rarely been performed with such earnestness. And even rarer still, she won.
Speaking later about her victory, Wurst declared that we can indeed "cross this problem off our list", as she claimed a victory for tolerance. What, though, has actually taken place here? The power of Wurst's victory turns on three ideas key to live performance: representation; identification; and address.
Live performance, unlike other art forms, turns on the presence and recognition of a real, breathing body. It has therefore often been a target of those intent on denying minority or marginalised communities the chance to represent themselves. The politically-resistant performances of the Belarus Free Theatre, for example, are banned in their home country, denying them the possibility of mainstream representation.
Attempting to account for the significance of performance, then, we can suggest that those from different marginalised communities – on the basis of race, gender, sexuality, or otherwise – denied legal-judicial or political means of exercising their rights can turn to performance as a means of gaining power, and making visible their identities.
In her performance of both imperfect maleness and imperfect femaleness, Wurst opens her arms and embraces a wide spectrum of individuals who recognise their own gender performance as imperfect by mainstream standards.
Wurst is not to be laughed at; she invites identification through the stillness of her choreography. Her body, making male and female visible simultaneously, assumes a queer address. This is particularly powerful for we who identify as queer, given dominant culture (and pop culture in particular) often renders the queer invisible.
We are unused to being addressed, certainly to being addressed so sincerely during an internationally-broadcast televisual extravaganza. And, judging by the roars heard even on the telecast, it was an identification returned in spades.
Television shows such as Glee and Modern Family have taught us that the power of prime-time, mainstream address cannot be overestimated – they make visible a range of queer identities, and represent them as mainstream. This is empowering for marginalised individuals, especially young people, allowing them to build, celebrate and take pleasure in their identity. For the approximately 125 million viewers watching across the Eurovision world, Conchita Wurst's performance offers a similar effect.
When she stood on stage at the end of the competition, Wurst clutched her trophy in her hand and declared:
This night is dedicated to everyone who believes in a future of peace and freedom. You know who you are. We are unity, and we are unstoppable.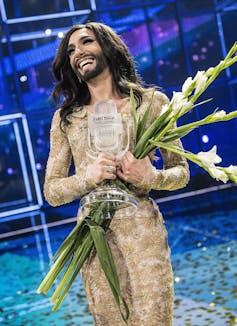 Raising the trophy high above her head, to a deafening roar from the crowd, Wurst has – in using "we" – constituted a public of individuals who hear this statement, and recognise they are being addressed.
To those living alone in societies where queer role models have been made systematically invisible, on which Russian anti-propaganda laws relating to "non-traditional sexual relations" seem so intent, Wurst consoles:
You threw me down but
I'm gonna fly
And rise like a phoenix
Out of the ashes.
Wurst's appearance in the contest, and the power of her victory, will not spread tolerance overnight. It would be easy to assume that, just in seeing her, people will be moved to accept her (and, by extension, those like her).
This is unlikely to be true. In assuring those who identify with and as marginalised identities that they can rise "out of the ashes", and fight back against a mainstream culture intent on denying them, Wurst has offered powerful opportunities for recognition and visibility.
Those of us who cheered on, and maybe even wept at her victory, must do all that we can to see those opportunities are taken.