Trade and security in the Asia-Pacific, including Australia, is at a crossroads. Democratic presidential candidate Hillary Clinton represents continuity with more than 25 years of American regional engagement. But Republican nominee Donald Trump places the very foundation of the US security guarantee under threat.
So, if elected president, how well will either of these candidates manage the Australia-US alliance?
US presidents over the past 25 years have had varying views of the alliance. While none have questioned its value, commitment has not been even across the board.
George H.W. Bush
George H.W. Bush, arguably, is most responsible for the character of today's alliance.
A second world war veteran, Bush shared many personal experiences with Australians serving in the Pacific. He also had close relationships with Australian leaders, especially Bob Hawke.
When Bush's Australia visit was first planned, Hawke was still prime minister. In the intervening months Paul Keating replaced Hawke. What was to be a reunion between two close friends did not quite work as intended.
Bush set the benchmark for Australian-US alliance. In 1992 he said:
We will not abandon the special responsibility we have to help further stability in this region.
Bill Clinton
Before becoming president, former Arkansas governor Bill Clinton was a foreign policy amateur.
In 1993, the Australian-inspired Asia-Pacific Economic Co-operation (APEC) forum became a way of bridging Clinton's economic focus with international trade. Later, his 1996 visit to Australia met with tremendous success, aligning Australian and American visions for the Asia-Pacific.
Clinton's relationship with the Keating government was mostly positive, but his relationship with the Howard government was less so.
In 1999 the Howard government fumbled its handling of calling on the US to send troops into East Timor alongside Australia's. The US made significant contributions to the Australian-led efforts, providing essential logistical and communication support.
By the end of his administration Clinton had built on the efforts of his predecessor and continued to strengthen the alliance.
George W. Bush
It is hard to say what George W. Bush's handling of the Australia-US alliance would have been like if the September 11 terror attacks had not happened. Would his father's Australian experience have coloured his view?
There can be no doubt that, after September 11, Australia's support of US-led conflicts in Afghanistan and Iraq signalled the continuing deepening of the alliance.
Despite Bush's unpopularity in Australia, his administration continued to see Australia as an important ally. Adding to the depth of the alliance was agreement on the Australia-US Free Trade Agreement and creation of the E3 visa category for Australians.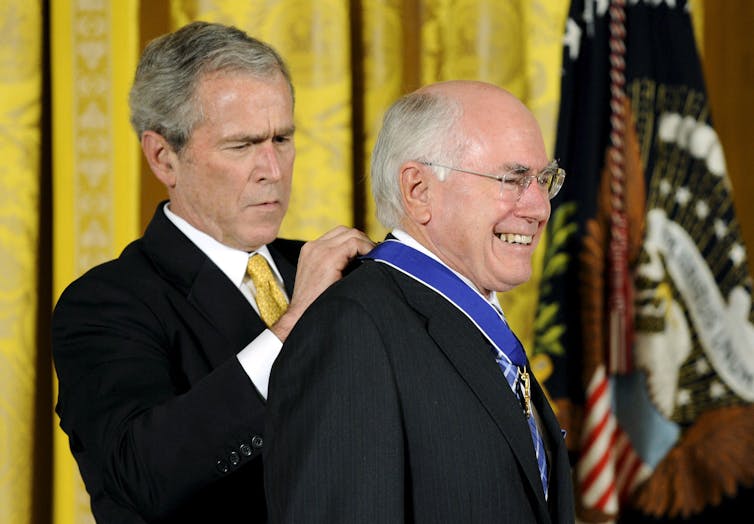 Barack Obama
America's first truly Asia-Pacific president is Barack Obama.
Obama was born in Hawaii and lived in Indonesia in his youth. The Obama-led "pivot" to Asia acknowledged the importance of the Asia-Pacific, both in economic and security terms, as he described in a speech to the Australian parliament in 2011.
Australia has a central place in the pivot. The George W. Bush-negotiated Defence Trade Co-operation Treaty between the US and Australia was finally passed in the US Senate and signed into law by Obama in 2013.
Obama has built on the foundations in the alliance laid by his predecessors.
What might 2016 mean?
Should Hillary Clinton win the White House the long evolution of alliance should continue as it has done since Bush senior's presidency.
One of her most-trusted advisers, Kurt Campbell – the pivot's architect – might well become secretary of state. Under Clinton Australians would be in no doubt about the US position on the alliance in particular and America's broader commitment to the Asia-Pacific.
A Trump victory signals ambiguity and insecurity. He has already telegraphed his intention to use trade tariffs against China in his campaign to protect American manufacturing.
His commitment to American security alliances is predicated upon each ally's financial commitment to the particular alliance. Australia's defence spending might protect it against a Trump presidency's ire. But, then again, it might not.
Finally, Trump has expressed an indifferent view on the continued growth of nuclear weapons in northeast Asia.
Unlike previous Republican candidates, Trump does not have a stable of ready political appointees to take up positions of responsibility. Even if he did, his congressional relations will be anything but cordial if the Democrats win the Senate.
Given the long experience of Republican congressional obstinacy to pass legislation, the Democrats might feel it is their time for payback. Should the Democrats win the Senate, which is distinctly possible, one can expect Trump nominees to have a very long and slow confirmation process.
A Trump presidency will likely seem to Australians like a very long four years. Under Clinton, time will pass at its normal pace.