In his 1939 novel "The Grapes of Wrath," John Steinbeck dubbed Route 66 "The Mother Road."
The 2,448 mile-long highway that once wound from Chicago, Illinois, to Santa Monica, California, may soon have a new title: National Historic Trail.
On June 5, the U.S. House of Representatives passed a bill to amend the National Trails System Act in order to officially designate Route 66 a National Historic Trail. Assuming the Senate takes up the legislation, Route 66 will join other federal historic trails – such as the California and Oregon Trails – recognized as migration routes historically significant to the development of the nation.
But the legislation does more than simply denote official commemoration. It provides federal oversight and management through the National Park Service, which includes the establishment of distinctive marking and signage along the trail. It also awards federal funds for preservation, development and promotion.
I've researched how Route 66 has facilitated human migration and how this movement influenced local communities and the natural environment.
Migration and tourism shaped towns along Route 66 even before the road was officially established in 1926. But the Interstate Highway System decimated many of these communities when it circumvented Route 66 in the late 1970s and early 1980s.
Today, many sections of Route 66 are completely gone. Some sections are accessible only by foot and have crumbled into oblivion.
With this new legislation, the historic towns that once thrived along these now-little used sections of Route 66 could experience a revival.
A grassroots movement spurs national highways
It is difficult to imagine today, but a little over a century ago the United States lacked a national road network. Cross-country travel happened via train. Cities and towns on the rail lines had streets, of course. But most simply ended at the edge of town.
In the 1880s, farmers and bicycle enthusiasts started the Good Roads Movement in order to grade and pave dirt roads and trails with gravel and water. This made carting produce to town easier and encouraged bicycle tourism from the city to the countryside.
By the 1910s, touring the countryside in automobiles had become popular, and auto-tourism replaced bicycle tourism. The local roads were too shoddily made to withstand nonstop auto and truck traffic, so the Good Roads Movement – now dominated by grassroots automobile activists – lobbied legislators around the country for federal funding for concrete or bituminous paved roads. In response, Congress passed the 1921 Federal Highway Act, which dramatically expanded federal funding for highway construction and maintenance and created the first federally numbered highway system.
These new federal highways, marked by numbers, were built on top of the existing local roads and touring routes. One such route ran from Chicago to Los Angeles and included parts of the former Lone Star Trail, King of Trails, Ozark Trail and National Old Trails auto-touring routes.
In 1926, highway officials gave this highway a number: 66.
Towns profit off travel
For towns situated along Route 66, the ensuing increase in automobile and truck traffic created a transportation service economy. Local entrepreneurs built gas stations, repair shops, restaurants and motels to serve road-trippers, tourists and truckers.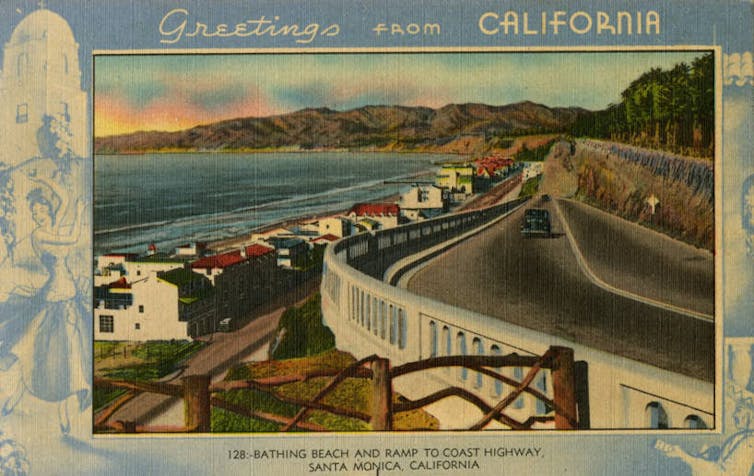 Meanwhile, waves of mass migration also took place along Route 66. In the 1930s, Plains states farmers fled the Dust Bowl for California. During World War II, millions of Americans moved west to either serve in the military or work in wartime industries along the coast. Then, after the war, Americans flocked to the Sunbelt's blossoming suburbs.
Through it all, these communities located along Route 66 prospered, including two railroad towns in northern Arizona that I've focused on in my research: Seligman and Peach Springs.
Both communities were born as railroad towns in the 1880s, and tourism was important to these communities from the start.
Seligman, named after railroad financier Jesse Seligman, was built by a switchyard.
Peach Springs, which gets its name from a water spring nearby, was built as a watering station for steam locomotives. The railroad also constructed train facilities, housing for railroad workers, a depot and a hotel at each stop.
Within a few years, both towns had multiple businesses catering to travelers and railroad workers. Peach Springs attracted tourism dollars by promoting itself as the first gateway to the Grand Canyon.
But in 1901, Peach Springs weathered its first economic decline when a new spur line at Williams, Arizona, diverted tourists directly to the canyon and newly constructed Grand Canyon Village.
Salvation was delivered via Route 66. Like many other towns along Route 66, Seligman and Peach Springs built motels, diners and gas stations, many of which used elaborate props and neon signs to attract passersby.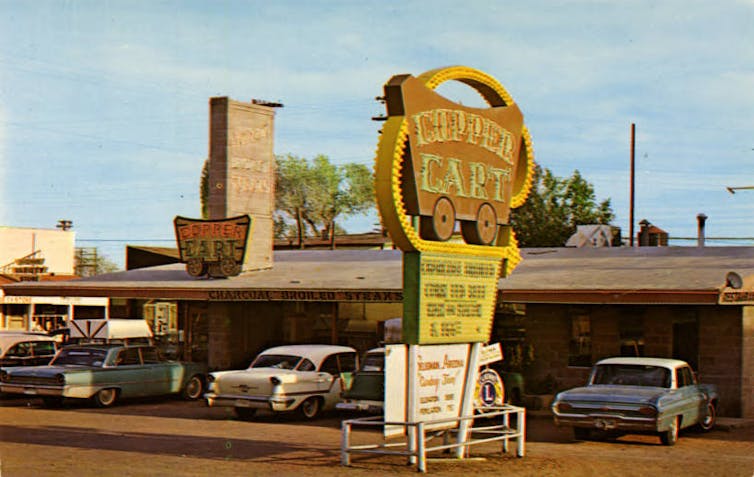 Interstate highways bring decline
Then business suddenly came to a stop.
By the mid-1950s, the original federal highways were overwhelmed. Accidents and gridlock soared. In July 1954, President Dwight D. Eisenhower proposed a massive upgrade to the nation's highways. Two years later, the Federal-Aid Highway Act of 1956 was passed, launching the interstate highway era.
The new interstate highways didn't bypass every town along Route 66. But it did change all of them. The interstate system's limited access design prescribed controlled entry and exit points for cars. Businesses clustered near freeway exits, and downtowns foundered.
However, changes for Seligman and Peach Springs were particularly drastic. Both are located on a section of Route 66 that was completely bypassed by the interstate system. Although it's common to think of economic decline as a gradual process, it is difficult to overstate how quickly the new interstate affected businesses along the bypassed section of Route 66.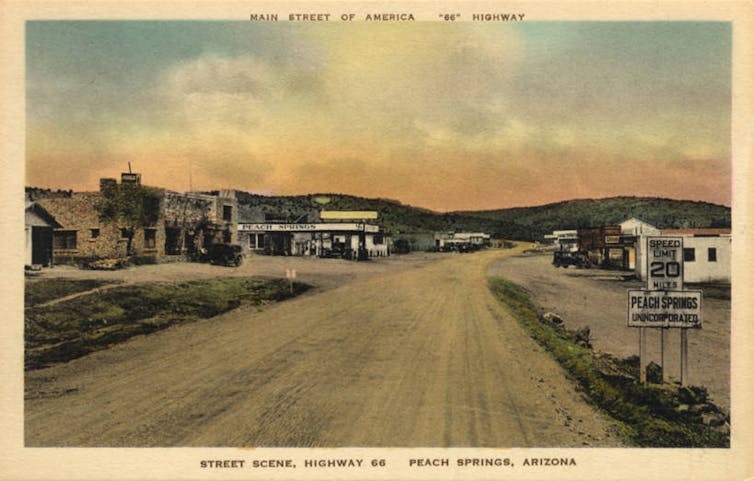 The Seligman-Peach Springs bypass section of I-40 opened to traffic after a ribbon-cutting ceremony on Sept. 22, 1978.
Businesses that had been busy the day prior went hours without a customer. That night, for the first time in decades, motels in Peach Springs and Seligman sat empty.
Even though both towns suffered steep economic decline after being bypassed by the interstate, one eventually ended up faring better than the other.
A tale of two towns
Due to the efforts of local business owners, Seligman rebranded itself around Route 66 tourism. Local residents convinced the state of Arizona to designate the portion of Route 66 through their town a historic highway, and they rebuilt their economy around Route 66 nostalgia tourism.
Many other communities along the route did the same. Santa Monica, California, revitalized the historic Santa Monica Pier – the old terminus of Route 66 – into a vibrant shopping, restaurant and amusement park. Winslow, Arizona, capitalized on both Route 66 and rock music fame to revitalize their downtown around the intersection of North Kinsley Avenue and Route 66. It was on that downtown corner where folk-rock star Jackson Browne had car trouble and found himself "standing on the corner in Winslow, Arizona."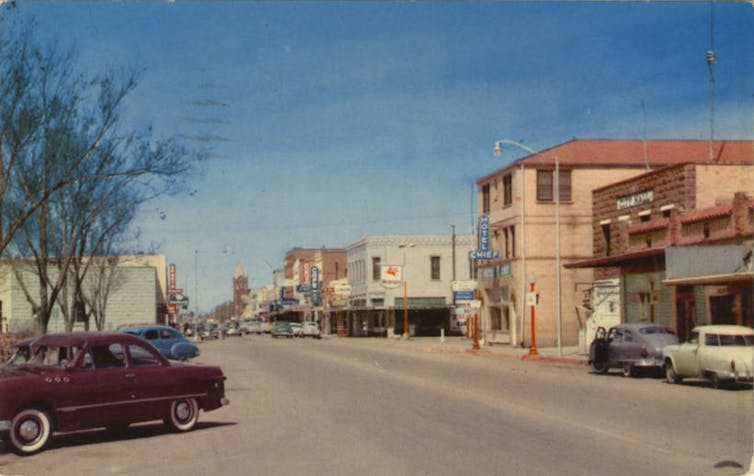 But other towns, either due to fewer resources or the lack of an organized local business effort, continued to struggle. Peach Springs falls into this camp.
Thirty-two active businesses operated in Peach Springs before the bypass in 1978. Only two businesses are present in the town today. Although you can still take Route 66 through Peach Springs, travelers and residents have to buy gas in Seligman. The only remaining businesses are a grocery store and a motel.
This disparity in local resources is what makes the amendment to the National Trails Act so important.
By permanently designating Route 66 a historic trail, local communities and regional and national organizations can now draw from federal coffers to fund historic preservation, development and promotion.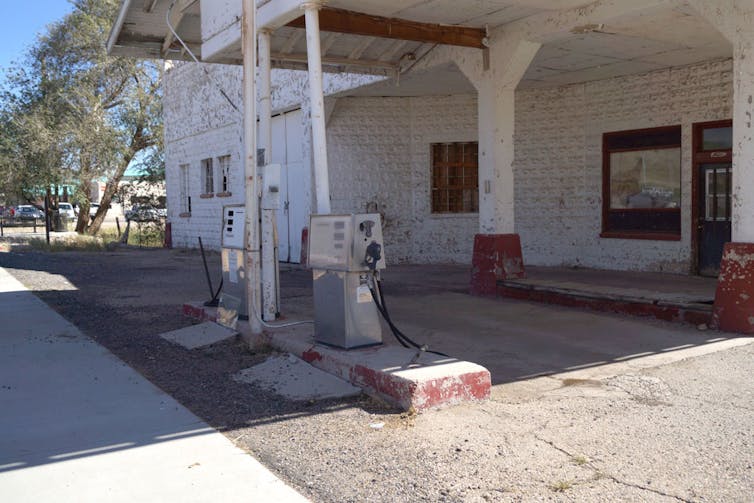 An immediate benefit will be prominent uniform trail signage along the length of Route 66 alerting tourists to the trail's presence and providing highway directional signage on how to get to it. The trail would also be listed on the National Park Service website and other Park Service promotional materials.
Finally, it would provide a stable source of funding for preservation and promotion efforts along the trail.
Through this federal legislation, local communities along Route 66 – once negatively affected by earlier federal interstate legislation – will have an opportunity to rebuild, rebrand and reclaim their heritage along this historic road.