The great sensualist Romantic poet John Keats arrived in Rome in late 1820 with his friend, painter Joseph Severn. This was not to be a grand tour of Italy in the typical sense. Fortune did not smile on Keats's lungs or his bank balance; one year later he was dead. Passionate letters from sweetheart Fanny Brawne lay unopened and were buried with him, as he requested, in the tranquil oasis of the English Cemetery in Rome. How surprised young Keats would be to see his last home, a cheap rental in its day, become a dynamic museum, filled, not just with tourists and poetry lovers, but with artists and refugees.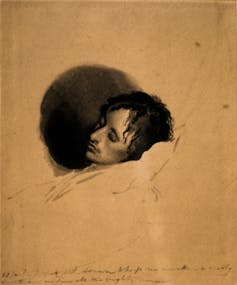 Some, like Rome-based art therapist Helen Creswell, consider Keats to have been both a health and an economic refugee. The poet fled creditors and poverty in England but his doctors had also recommended that he soujourn in a warmer climate to help his deteriorating Tuberculosis condition. And so he famously undertook a difficult journey by boat and land, finally arriving in Rome on a cold mid-November afternoon in 1820 after ten days in quarantine in Naples. Keats took lodging in the "English Ghetto", an area that had attracted English artists and writers since the 1760s; sons and daughters of the ascendant middle and upper classes also came on educational grand tours, sending crates of real and fake antiquities home.
These days, the journey to Italy by boat, even where that journey finds its terminus in the eternal city, has a different cast, being a common, perilous quest for many economic refugees and asylum seekers. The politics too has become perilous as Italy strains under the economic and social weight of assisting more settled migrants than any other EU country. UNCHR figures from August 2017 suggest that 97,377 refugees and asylum seekers have landed at Italian ports with over 2000 deaths sustained from Mediterreanean sea crossings. In literature, the trope of the courageous quest has been with us since Virgil's epic poem the Aeneid (19 BC) in which King Aeneas and his tattered band of survivors seek repatriation in Italy via Scylla and Sicily.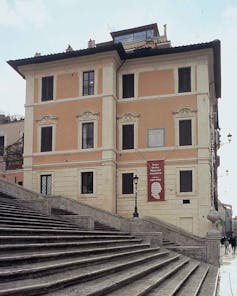 I recently visited Rome to research and update ideas of the "grand tour" in relation to mass people movements, hoping eventually to create a body of poems that contest negative stereotypes of refugees. Fieldwork opportunities included volunteering at the Joel Nafuma Refugee Centre in Rome and dialogue with individual refugees and asylum seekers, NGO staff and art therapy organisations. One workshop made a particular impact.
In June 2017, the Southern Italian art therapy organisation, Art and Seek, partnered with the Keats-Shelley House in Piazza di Spagna to run a special workshop for refugees, migrants and artists: "Art and Seek: The Journey from Romantic Times until Now". Volunteers and staff working for refugee organisations in Rome were also invited to participate.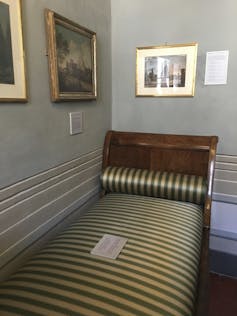 Like good tourists, we took a tour of iconic rooms where Keats and Severn, lived and worked (and died, in Keats's case, on the wintry night of February 23rd, 1821, his famously monastic single bed intact in the tiny upper floor bedroom). Workshop participants were then invited to create a large artwork based on found, large scale maps of the world. A collage by contemporary painter and filmmaker William Kentridge was used to trigger responses, particularly the image of a silhouetted man on a map struggling to carry his furniture on his back. Following Kentridge's powerful image, we made shapes out of black card, talismans of something that had been important to us on our respective journeys.
We then drew over large, colourful print-outs of world maps with modest means (markers and black paper, scissors and glue), depicting journeys made thus far. The maps filled with skewed, competitive lines of latitude and longitude. Erratic diversions from this grid indicated how some had been transferred from refugee camp to camp across Northern Africa before landing at Libyan ports for embarkation to Italy.
We admired the looping trails, the chaotic journey lines that had finally intersected in Rome, intrigued to ask each other about our places of origin. The lingua franca was English, interspersed with Italian.
Language is the first tool of social, cultural and economic advancement within the host country for newly settled migrants, according to Italian linguist Maria Grazia Guido. Guido has described the particular importance of English as a lingua franca. In a short video posted on YouTube, a British interviewer undertaking vox popoli interviews with people rescued at sea shows one unnamed young man intoning "I like my mum, I like my mum". The simple repetition of this one English phrase conveys a moving signal of loss, mourning and fear. Repetition drives home that, in his limited English, the young man means to use English verbs he cannot yet find, the verb "to love" and the verb "to miss".
Church centres around Rome daily pack with newcomers desperate to participate in language programs. As William Maley observes in What is a Refugee?, churches and NGOs are working with refugee communities to compensate for massive failures in the system of states. New arrivals turn up punctually at 8.30am to the Joel Nafuma Refugee Centre at St Pauls Within the Walls for the free language classes run five days a week in windowless, vaulted classrooms below the church. There are never enough volunteer teachers to meet demand. For teachers, classes are joyful but chaotic as people attending have different mother tongues.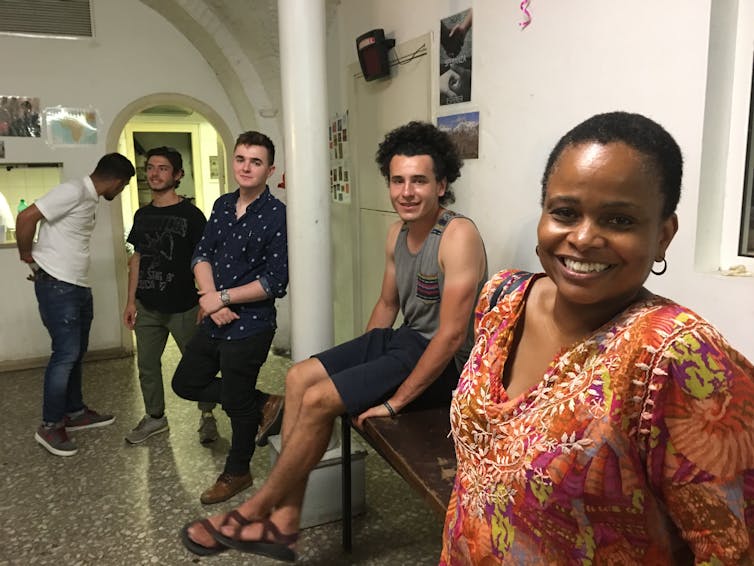 But this is not to put an overly optimistic gloss on the experience of arrival and transition. As Maley has observed, "To leave one country for another is a traumatic decision".
Workshop participant Ali, is an educated, dynamic 25-year-old, recently settled in Rome from Tanzania. While to date, the Italian government had been "very friendly to migrants, with friendly policies and laws', he laments the daily experience of racism that prevents him, as a black man, from being considered for work as a town planner. "Boredom is an issue for refugees," he adds. "Boredom and shame". He spends his time on the fringes of Rome working as a part-time chef in a Swahili restaurant. The outlook is bleak in Italy, with youth unemployment at 40 per cent.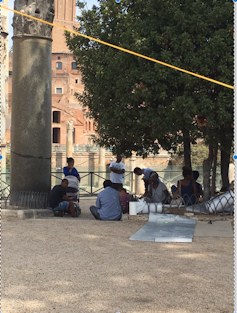 Two months after speaking with Ali, forced evictions) of up to 500 mostly Eritrean people from a squat in Rome's Via Curtatone and subsequent refugee protests in nearby Piazza dell'Indipendenza culminated in a show of brute force by police. Nonetheless, ordinary Romans filled the streets to protest the violence and lack of sustainable housing alternatives, while evicted refugees set up sleeping quarters by the Forum's ancient heart, banners insisting on housing as a universal right.
At Keats's House, as we worked and chatted, only weeks before the violence at Piazza Dell'Indipendenza, tourist time flowed about us; sometimes we took a break to peer out the window, marvelling at the sea of tourists surging around and up the Spanish steps. Workshop leader Vivianna Bagnato then asked us a confronting question; how did we see ourselves travelling in the future? Was this an optimistic bridge too far, given Italy's dire economic and employment situation? Or an important opportunity to dream, rarely conferred?
The room went quiet.
But watching a fragment of the Jane Campion film biopic Bright Star (2009), refugee participants became moved and vocal about the separation of the amorous protagonists, John Keats and Fanny Brawne.
The idea of the journey was not the only thing to unite us; ideas of love and loss, and of ordinary difficulty in relationships, were spoken about with heated feeling. In Rome. Keats was lonely for Fanny and mourning the death of his brother Tom; finally, he became too ill to work on that which he loved most: poetry.
"He [John Keats] should never have made the journey," Mohammad from Afghanistan said, wringing his hands and pointing to locks of Keats's hair, installed in a museum case.
Ali, the same age as Keats when he left England, disagreed, averring that "there could be no such thing as love without health". "Love", he added, as if health had not been a sure thing for him to date, "needs time and health".
Alas, for poor Keats, a cure was not found, despite the offices of famed English doctor and Roman resident James Clark, who nonetheless encouraged Keats to get out and about, to be in the world.
Guinean woman Aisha, a young mother of three, insisted, that "travelling meant learning, learning meant travelling, no matter what". She had limited patience with Ali's despair about Italian job markets visibly affected by racism. She felt that Keats had done the right thing. "You must never stop travelling, never stop learning," she re-asserted, like an oft-visited line of poetry. "That is the life".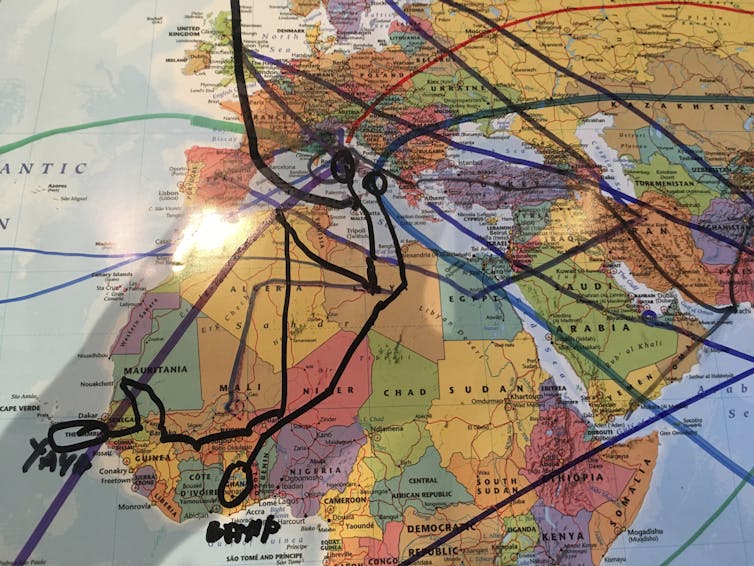 Her English and her Italian were already excellent. Another new arrival to Italian shores, Virgil's character Aeneas, expresses a similar attitudinal mantra in the heroic dactylic hexameter of the epic:
What greater ills hereafter can you bear?
Resume your courage and dismiss your care,
An hour will come, with pleasure to relate
Your sorrows past, as benefits of Fate.
Thro' various hazards and events, we move
To Latium and the realms foredoom'd by Jove.
Keats, though suffering a terminal illness, was generally given to more melancholy views. In the poem, Ode to a Nightingale, one of his five great odes from 1819, he tackles themes of mortality:
Fade far away, dissolve, and quite forget
What thou among the leaves hast never known,
The weariness, the fever, and the fret

But a few stanzas on, Keats has some quite contemporary things to say about settler dislocation and homesickness:
Thou was not born for death, immortal Bird!
No hungry generations tread thee down;
The voice I hear this passing night was heard
In ancient days by emperor and clown:
Perhaps the self-same song that found a path
Through the sad heart of Ruth, when, sick for home,
She stood in tears amid the alien corn
The same that oft-times hath
Charm'd magic casements, opening on the foam
Of perilous seas, in faery lands forlorn.

The story of Keats's life and death hit a nerve for some now "amid the alien corn". Hakim had made a perilous passage across the sea to reprise Keats's epitaph ("Here lies one whose life was writ in water"). But as the workshop came to a close, he was laughing, full of life, bemused by the recent gift to the museum of Mary Shelley's portable writing desk, a small, sloped timber escritoire with a suitcase-like handle.
This object, with its lockable desktop, KSH curator Giuseppe Albano proudly observed, was the laptop of its day.
"I am just like Keats," the young man said. "But I am staying longer," he added, with a lopsided grin.
"Yeah? You got a girl yet?" Mohammad piped up. "Yo! A bright star?"
The names of refugee workshop participants have been changed.