Too many children are not being cared for adequately after being found mentally disturbed in a public place, the Howard League for Penal Reform reports. Instead of being taken to "a place of safety" as required by law, except in exceptional circumstances, the national charity suggests around one in ten (more than half girls, and many in their young teens) are taken into police cells or adult hospital wards. The number could be much higher, it says, because hospital trusts are also failing to keep adequate records about this very vulnerable group.
The figures come from questions put by the charity to all 52 mental health trusts in England.
That such a "confusing landscape" of emergency provision exists is hugely disappointing but perhaps unsurprising if we look at the wider issue of children in the mental health system.
In a frank interview with The Independent last month, health minister Norman Lamb said children's mental health services were "dysfunctional". Young people face delays in accessing services and support. In some cases, young people are admitted to adult psychiatric wards or specialist units that are long distances from their families. In response, Lamb established a task force to put forward recommendations for a complete overhaul of the structure of mental health services for young people.
Section 136 MHA
The Mental Health Act (MHA) 1983 outlines specific powers for police officers in the area of mental health. The most significant of these is section 136, which allows for an officer to take a person, who is in a public place and appears to be mentally disordered to a place of safety which, as emphasised by the MHA code of practice, should be a health facility. And if someone is detained under this power, they must be assessed by a psychiatrist and an approved mental health professional.
Because it is recognised that a busy and stretched accident and emergency department is not an ideal environment for a patient who is experiencing acute mental distress, hospital trusts have established dedicated section 136 MHA suites where these assessments can be made.
In exceptional circumstances, a police cell can be used as a place of safety. However the authors of a joint review led by HM Inspectorate of Constabulary in 2013 were very unhappy about the frequency of the use of police cells as a place of safety. The most common reasons given for this was that the person was drunk, was violent or had a history of violence, or there was inadequate health-based provision. As the report noted, the person who is detained under section 136 and taken to a police cell is essentially treated like any other person in custody. They are searched and go through exactly the same booking-in processes as someone who has been arrested for an assault. There are no specialist facilities within custody suites.
Generally, there are very limited services to assist the police in ensuring that distressed individuals remain safe and receive access to mental health care. There have been a series of policy initiatives to tackle these long standing issues. These include mental health nurses being based in police custody suites.
Police forces are also working with mental health agencies to develop triage services that can provide faster assessments and access to appropriate services for those experiencing acute mental distress. For example, the street triage scheme in Birmingham and Solihull has been a great success.
Trust issues
It is in this general context that the Howard League for Penal Reform's report outlining the experiences of young people who have been detained under section 136 MHA should be read. The league contacted 52 mental health trusts in England and asked for detailed information about the provision made for children who were detained under section 136. The league found there was a frankly disturbing lack of understanding by trusts about their responsibilities. The information provided was also not complete in all cases.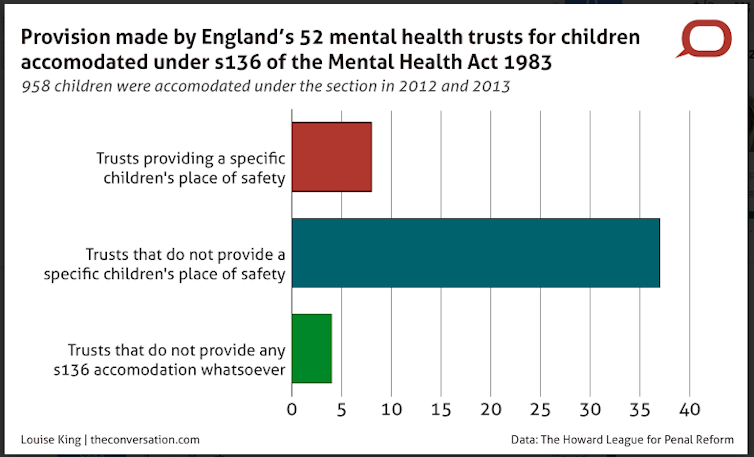 These are examples of young people clearly experiencing acute distress. This is a traumatic situation for the young people but also their families and carers. The police would have not become involved unless there were genuine concerns about the young person's well-being. It is clearly very concerning that despite this the trusts could not provide full details of what had happened. As Frances Crook, chief executive of the Howard League, put it:
While mental health emergencies may involve police officers as first responders, children facing mental health crisis should not be taken to or assessed in a police cell. Contact with the police should trigger an immediate response from mental health professionals and yet it appears that this is all too often not the case.
The report examined use of section 136 in cases involving children in 2012 and 2013. In this two-year period, there were 958 cases. But only eight of the 52 trusts provided a place of safety specifically for children; four trusts did not provide any section 136 accommodation meaning that there was little alternative to a police cell.
The charity obtained further information on 820 out of the reported 958 cases. No information was provided on the remaining 138 cases. In 225 cases the child was accommodated in a mental health unit, 216 in a place of safety in an acute hospital and 109 in a police cell. From the patchy information available, it seems the majority of the children detained were teenagers but there were two cases involving 11-year-olds.
The use of section 136 and the lack of specialist provision to support young people in crisis is unfortunately part of a wider crisis in mental health services. Mental health services have always been marginalised within the general NHS budget – specialist services for young people have been underfunded for decades.
A recent report from the YoungMinds charity reported that 77% of NHS clinical commissioning groups (responsible for allocating health budgets) had frozen or cut their child and adolescent mental health services (CAMHS) between the 2013-14 and 2014-15 financial periods. A further 59 out of 98 (60%) of local authorities in England had cut or frozen their CAMHS budgets since 2010/2011, and over half (55%) that had supplied data had cut, frozen or increased below inflation their budgets between 2013-2014 and 2014-2015.
Lamb's commitment to tackle the crisis in mental health services for young people is welcome. The Howard League report and the funding crisis shows the extent of the work that is required.