The taxi driver was mystified by the long queue waiting to go into Leeds Picturehouse cinema on a recent Sunday afternoon. He was clearly surprised when I explained that what turned out to be a capacity audience was there to see a documentary about the 1984-5 miners' strike.
There have been similar scenes at independent cinemas across the country as the film, Still the Enemy Within – of which I am one of the executive producers – climbs up the documentary chart. Given the size of the box office for blockbusters such as Paddington and The Hunger Games, published weekly in Charles Gant's influential weekly film blog, documentaries rarely make it into the weekly top ten. However, our returns, and unpublished figures from the ranking company Rentrak, suggest that it will make the top 20 of cinema documentaries.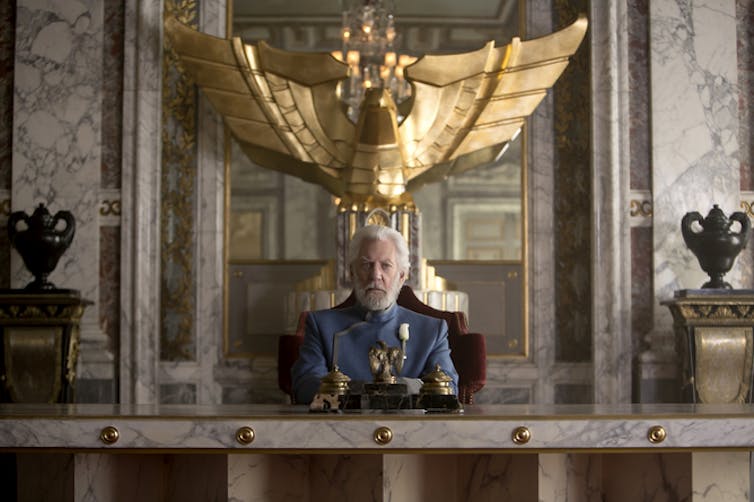 Big growth in documentary film
Our documentary is just one of scores of documentaries that will be released in cinemas this year – compared with a handful just ten years ago. Research by the BFI showed that in 2013, 89 documentaries were released in UK cinemas compared with just four in 2001. The figure will probably break 100 this year.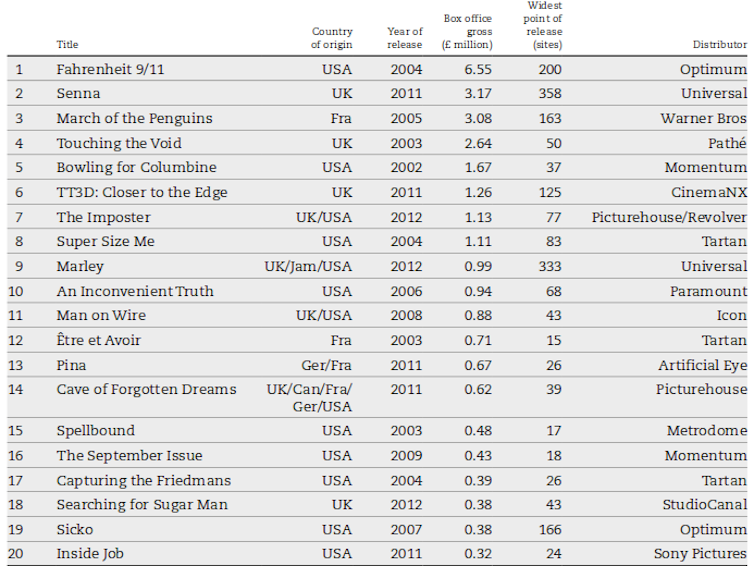 There are several reasons behind this growth. The digital revolution has reduced the cost of making films and – probably more importantly – screening them. Once producers needed a film print to show a film in a cinema, each print costing many thousands of pounds. With digital projection, the cost has fallen to under £100 per cinema.
At the same time cinemas – especially independent or art-house – have become more flexible, willing to show a film just once, instead of running it for a week. This can make financial sense for a cinema now that so many are multiplexes.
Despite stand-out successes in the past decade such as Michael Moore's Fahrenheit 9/11 (2004), Senna (2011) and last year's One Direction: This is Us, we still need a sense of proportion – they are still a minority interest. For example, seven documentaries were released in the UK on the weekend of November 7, grossing £10,200 at the box office, compared to £5.38m for Interstellar which opened the same weekend. According to the BFI, during the whole of 2013, documentaries took just under £11m at the box office, out of a total of £1,154m.
And of course, One Direction have a huge fan base already in place. Nick Cave's drama-documentary: 20,000 Days on Earth, looks like being this year's top UK documentary, but is unlikely to beat One Direction's £45m (worldwide) takings.
Subjects with a big fan base – sports, music and work by internationally known journalists – make the most successful cinema documentaries. Yet, the majority of documentaries don't fall into this category. Human rights, politics, the relatively obscure sports and music stories and personal tales which reflect on the human condition – these are the staple of many. And they do not make money.
So, why do we do bother? That's the easy question – every documentary filmmaker has something they want to say. A well-reviewed film in a cinema is still one of the best ways of a film getting heard about so that the people pay attention, possibly buying DVDs and downloads and even perhaps persuading television to buy it. Recent figures show a substantial growth in the importance of online viewing, especially for documentaries.
Hope online
The internet has been the big hope for independent filmmakers – a way of reaching international, niche markets, without the conventional intermediaries of broadcasters. Producers would spend many hours doing alluring back-of-the-envelope sums: if there are 100,000 people in the world who would like to see my film for £5, then I can make a living. The challenge was – and is – how to reach and persuade those people to pay for your film. And as online distribution has grown, so has the number of filmmakers turning to crowdfunding to finance their films.
Crowdfunding barely existed ten years ago – the leading crowdfunding websites Indiegogo and Kickstarter only stated in 2008 and 2009. It is now estimated that there are more than 500 such sites worldwide and in 2013 more than US$5 billion was raised through them. The principle is easy: appeal to a global crowd and attract a lot of investors putting in a small amount of money – as little as £1 in some cases.
Filmmakers were quick to see the potential of crowdfunding. Best known was Spike Lee, who raised US$1.4m from more than 6,000 backers for his new feature film. He is not alone – a quarter of the projects on Kickstarter are for films, though only about 40% achieve their target. As the veteran of several crowdfunding campaigns – successful and otherwise – I can vouchsafe that they are far from easy; they need proper planning and execution.
Building audiences
To use them as a last resort is to miss one of the attractions: the crowd which helps fund the film is part of a social network which helps to promote the finished product – you don't need the skills of a distributor to deliver audiences, as you can do that yourself. An important part of Still the Enemy Within's funding raised this way and from donations from trades union branches. This helped create the virtuous circle of funding and audience outreach. And once the film was shown, we were able to attract new funders to support the completion and release.
We came in the tradition of filmmakers like Franny Armstrong – one of the pioneers of crowdfunding – who made Age of Stupid, Amir Amirani, who raised more than US$92,000 for his film We Are Many, about the 2003 anti-war march – and the makers of the recently-released photography film, Finding Vivian Maier, which raised more than US$100,000.
The right ingredients
From successful crowdfunding appeals, there are several ingredients nearly all of them have: making it a full-time job, planning properly, constantly building your audience and making it viral. But, while these are necessary conditions, they are probably not sufficient. The really successful campaigns are ones where there is already an in-built audience: the fans of photography and Vivian Maier, the millions on the anti-war march, the film from the director of Helvetica, a film based on a best-selling memoir and so on.
We are just about to test these theories when we try to raise £60,000 for journalist John Pilger's next film.
Like his last two it's a cinema film; has some grant funding and some broadcaster money in it and is an important international story. Pilger is just one of the ingredients that may help it to success. But it will be a test of whether we can also build that personal relationship with consumers and audiences which the internet has for so long alluringly promised.