The inventive English journalist Dave Hill (who is as comfortable writing about politics and culture as he is about sport) published a book, Out of His Skin, in 1989 dealing with - among other things - the culture of English soccer.
A highlight of this book for me is Hill's description of how the former manager of English soccer clubs Arsenal and Watford, Bertie Mee, set out to prepare his players in the 1960s and 1970s.
Thinking it vital to teach them "a rigorous outlook … towards all aspects of their lives", Mee insisted on training them:
in everything from which knife to pick up first in expensive restaurants to how to contend with the carnal temptations of trips overseas.
A glance at the more recent, often outrageous (and outrageously funny) book by Simon Kuper and Stefan Szymanski, Soccernomics, will show you that Mee's determination to help players as people, not just as performers, is still not as widespread as it should be. The authors' concerns are made plain in the book's subtitle: "Why England Lose".
Kuper and Szymanski bemoan that fact that some English soccer clubs spend many millions of pounds to secure top-notch European players and then take no interest whatsoever in helping them to learn English or in helping them and their families to find housing, education for their children, and so forth, let alone making sure they are developing their skills of life on top of their playing skills.
In exempting the current Arsenal manager, Arsène Wenger, from their criticisms, they argue that one of the things he has done to earn his reputation as a shrewd participant in the player transfer market is regularly take on players with behavioural problems, who usually come cheap, confident that he can help them fix their "issues".
This of course is territory all too familiar to Australian coaches and administrators: in all football codes, cricket, swimming, athletics, to name but a few.
Rugby league coach Wayne Bennett and AFL mentor Mick Malthouse, to name just two, have good reason to take pride in what they have achieved by way of helping their charges to better cope with life's vicissitudes. They aim to make better people at the same time that they make better players.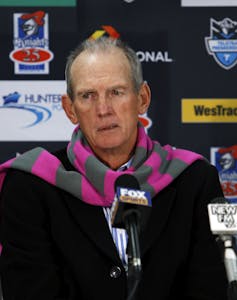 The matters raised by these examples offer a useful way of discussing the intersection between sport and culture. The word culture, notoriously, needs careful handling, lest it drift into amorphousness. The sense in which it applies to the above examples is the sense in which it has been used by scholars such as Max Weber, Norbert Elias, Marcel Mauss, and, more recently, Ian Hacking. In this sense, culture is what my colleague Barbara Evers elegantly calls "person formation" (the title of a 2006 article by Hacking, Making Up People, is also a handy shortcut to a definition).
By this way of thinking about culture, a "person" is not fixed entity, determined solely by biology. Biology is undoubtedly important to the study of individuals and their behaviour, as is the emerging field of neuroscience, but these should be supplemented by an understanding of the formation of attributes or characteristics which become more and more important as individuals engage with others and with human institutions like law, morality, politics, and economics.
The culture of sport, then, is the process by which sport produces (or enhances or reduces) in its participants and followers certain attributes or character traits, which they may or may not have had before. Alas, these can be negative as easily as they can be positive, as the difficulty facing the campaign to drive racism out of sport attests (especially inasmuch as it is aimed at spectators as well as participants). But let's stick to the positive for now.
In its positive sense the culture of sport produces, or tries to produce, individuals better able to participate not just in their chosen sport, but in the wider society of which it is part. Perhaps the oldest link in this regard is that between sport and military service, a link that goes back to at least the ancient Greeks.
With exceptions like dedicated ANZAC Day clashes in football, this sport-war link has not been as pronounced since 1945 as it was in both the first and second World Wars. Once heard, no-one forgets decorated air warrior Keith Miller's famous quip when asked about the pressure of batting and bowling at Test cricket level: "pressure is a Messerschmitt [a German fighter plane] up your arse". If this doesn't teach players (and spectators) something about grace under pressure, nothing will.
Of course, while the sport-war link may be lying dormant the culture of sport still has plenty to do. It is currently busy trying to produce better parents, husbands, wives, leaders, community members, and so on.
No less important, I repeat, is the extent to which sport might also be producing irresponsibility, drunkenness, loss of direction, depression, and other undesirable attributes.