The United Nations General Assembly voted this summer to cut $US600m from its peacekeeping budget. This is the money which pays for more than 100,000 troops, police and civilians in 16 missions across the world.
The reduction in funds was pushed for by the Trump administration, and immediately labelled a success by the White House. But there are fears that the spending cuts hailed by US Ambassador Nikki Haley could come at a huge price.
Haley was widely criticised after she boasted of over half a billion dollars being slashed from the peacekeeping budget. "We're only getting started," she added enthusiastically.
Peacekeeping consists of more than a military presence. As well maintaining ceasefires and agreements, it is intimately involved in the political aspects of the peace process. Work by civilians can drive political engagement and create environments conducive to lasting peace.
Even a cursory read of peace operation mandates shows the serious implications of the existing gap between available resources and the work needed. Neither the United Nations Security Council nor the Fifth Committee (responsible for passing UN budgets) seem confident that current mandates are achievable.
While the idea of a peacekeeping "go-between" might appear frivolous to Ambassador Haley, this kind of delicate communication is vital. Peace operations facilitate the early steps towards peace.
Planning for even more cuts is an extraordinarily shortsighted approach if the US is serious in its commitment to international security. It is particularly troubling at a time when peace operations across the world are only growing in complexity.
In both conflict and post-conflict environments, security institutions are often weak, corrupt, and mistrusted by those they are charged with securing. Those no longer employed as combatants face a difficult time reintegrating into society.
In many cases, peace operations conduct disarmament, demobilisation, and reintegration programs that prevent former fighters from rejoining armed groups. Even during ongoing conflict, UN operations can boast success in this area.
In 2015, the United Nations-African Union Hybrid Mission in Darfur, Sudan, worked on reconciliation initiatives and local dialogue projects following attacks on internally displaced citizens. But budget shortcomings resulted in their temporary suspension.
The UN Stabilisation Mission in the Congo has had modest but positive results. The modesty is largely due to the strained resources invested in the project. But with more than 50 armed groups operating in the country, the bill is likely to rise as the conflict persists.
As well as working to improve the environment for a peace process to take place, Civil Affairs Officers conduct Quick Impact Projects to foster good relations and confidence in the operation among local populations.
Multi-tasking for peace
These projects take many forms. The UN Multidimensional Integrated Stabilisation Mission in Mali (MINUSMA) included improving rubbish disposal in the cities of Kidal and Timbuktu. There was also work to increase access to electricity for residents and medical facilities.
Civil Affairs Officers installed water pumps in schools and city centres. To support the preservation of Mali's cultural heritage, MINUSMA restored three libraries of manuscripts of Timbuktu. In the city of Gao, there was increased support for people affected by HIV, additional security for the main prison, and the rehabilitation of the regional orchestra.
Conflict recurrence is commonplace, particularly where conflicts have ended in a negotiated settlement. Often this is the result of unresolved grievances affecting marginalised groups.
Peace operations encourage dialogue at the local level and help to establish community dynamics in which local economies can prosper and prevent disaffected groups from returning to violence.
Other artefacts of war persist after conflicts are settled. Landmines haunt regions until they have been detonated – either professionally or accidentally, with horrific consequences.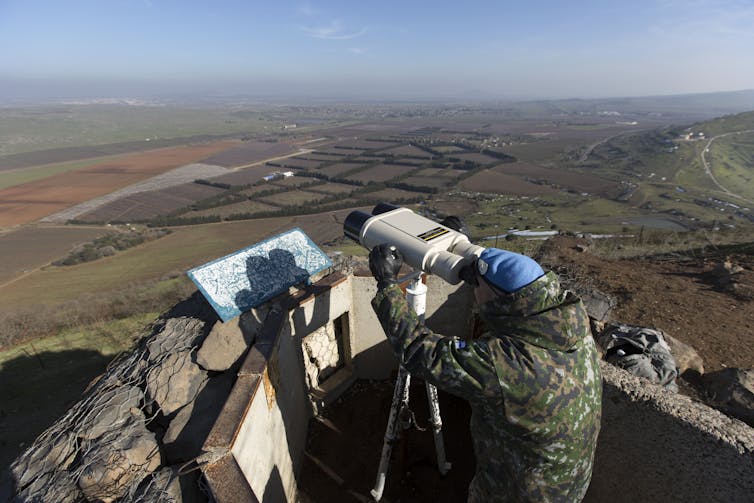 Peace operations are often involved in clearing them and educating effected populations on how to keep safe in their midst. The UN Interim Force in Abyei provided mine risk education to 28,000 residents and cleared landmines from important routes in Sudan.
Modern peacekeeping has many dimensions. It involves a myriad of different, specialised tasks. Slashing its funding will just put carefully crafted initiatives at risk. And people will die because of it.