When the owners of the 4,000-acre Blachford estate in Dartmoor, a vast moorland in south-west England, recently won the right to exclude campers from their land, it demonstrated how fragile the right to enjoy Britain's countryside is.
For the time being, an agreement between landowners and the national park means that wild camping will still be allowed, but with the permission of landowners only. Until access rights are properly protected by law, and recognised as important by everyone, wild campers would be advised not to make themselves too comfortable.
The public enjoy very limited rights over the British countryside. Following this decision, wild camping outside of a designated campsite without the landowner's permission is no longer legal anywhere in England and Wales. Access campaigners and conservationists are outraged, not least because Dartmoor was the last holdout of the right to camp without permission.
The decision centred on the interpretation of the Dartmoor Commons Act of 1985. This states that the public have "a right of access to the commons on foot and on horseback for the purpose of open-air recreation". Despite its misleading name, all English and Welsh common land is privately owned.
In a legal challenge brought by the estate owner, the high court was required to decide what was meant by recreation. The National Park Authority (the local government body responsible for managing the park) had previously advised visitors that this included the right to camp. Sir Julian Flaux, chancellor of the high court, ruled that the act contained no provision to pitch tents or make camp overnight, and that "any such camping requires the consent of the landowner".
Access and trespass
The decision in the Dartmoor case does not make wild camping a criminal offence. It does give a landowner the right to use reasonable force to remove a lawful visitor from their land once they begin to camp, or act in any other way that is not permitted by law.
The same principle was followed in the 1893 case of Harrison v The Duke of Rutland, which concerned an early hunt saboteur who entered a footpath on the duke's estate to disrupt a grouse shoot. Harrison waved his handkerchief in the air and opened and closed his umbrella to scare the grouse. The duke's gamekeepers seized him and held him to the ground.
Although Harrison was using a public right of way, the duke won the case. It was ruled that one becomes a trespasser when using a footpath for anything other than its very limited purpose, and that it is reasonable to use some degree of force or violence to remove them.
Little has changed since the 19th century, despite the introduction of the National Parks and Access to the Countryside Act 1949. This act established the first national parks, but contrary to their name, these are not owned by the state, nor are they public parks open and set aside for recreation.
All British land is owned by someone and it is estimated that the public has access to only 8% of it. Of the land where open access is allowed, this is usually for only the most narrow recreational purposes such as walking, bird watching or perhaps a picnic. Other activities such as swimming, camping or a game of football would be an act of trespass.
The statutory rights in the Countryside and Rights of Way Act 2000 opened up access rights beyond existing footpaths and bridleways to include mountain, moor, heath and down. This land was opened to public access on foot, but there was no right to camp, swim, canoe or ride a horse.
Even these limited rights were fiercely contested by a landowner in Dartmoor National Park. Vixen Tor is a rock outcrop, long open to the public and steeped in the myths and legends of Dartmoor. The owner successfully prevented this popular landmark from being opened to the public.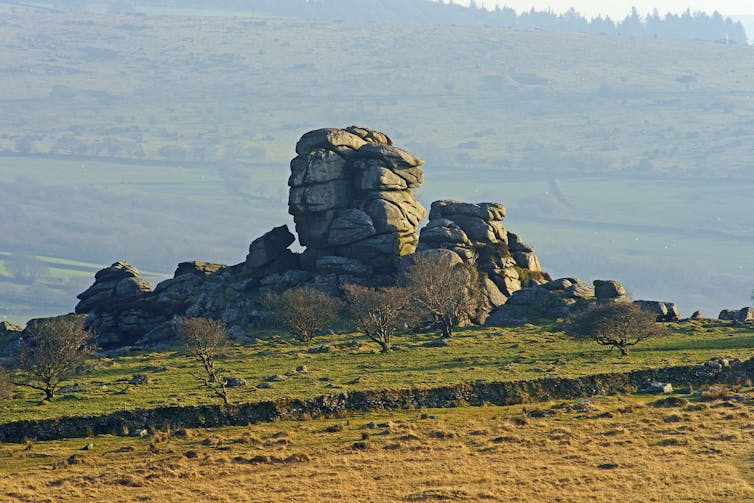 The new agreement between Dartmoor National Park Authority and landowners allows camping to continue for now, but restricts wild camping to specified areas. The authority also agreed to pay these landowners an unspecified sum of money, when previously the right was enjoyed for free.
A better right to roam
Access campaigners are now calling for an expansion of the existing statutory right to roam provided by the Countryside and Rights of Way Act. Under Green MP Caroline Lucas' Countryside and Rights of Way Act (Amendment) bill, which is due to be debated this spring, rights of access would be extended to grazing land, woodlands, green belt and river banks.
The right to camp on Dartmoor was based on a broad interpretation of a statute which extended only to commons on Dartmoor. This new act would restore the rights on Dartmoor and provide a statutory right to camp on all access land.
Supporters of a change in the law can expect fierce opposition from landowners. It has been estimated that half of England is owned by less than 1% of the population. Defending this arrangement is the argument that landowners have served as custodians of the countryside for generations, and that wider access and recreation could bring litter and environmental damage.
It is worth noting, however, that landowners have been accused of failing to stem pollution from farming on their land, for instance, including pollution to the River Taw in Dartmoor. Elsewhere, mass trespassers discovered a pit of fly-tipped rubbish and dead pheasants on the Duke of Somerset's estate. Much of this would go unnoticed if not for the vigilance of the public.
Access rights in Scotland are governed by the Land Reform (Scotland) Act of 2003. These are more expansive than those provided to England and Wales under the Countryside and Rights of Way Act, and include the right to be on most land for recreational or educational purposes. Not all land is open, with gardens and crops excluded. As with the original interpretation of the Dartmoor Commons Act, recreational purposes are broadly defined and include wild camping. This is not an unqualified right however, as wild camping by Loch Lomond has been restricted for environmental reasons. Scotland's greatest asset might not be the Land Reform Act itself, but the longstanding culture of access that preceded it.
As the wild campers of Dartmoor discovered, even statutory rights can be lost. If the British public are to enjoy a broader right to roam, as people visiting countries like Scotland or Norway do, the UK must expand existing statutory rights. This will require a culture change too – away from deference to landowners and towards a mutual recognition of the benefits of access to the countryside offers to all.
This article was updated on January 24 2023 to make clearer the difference in legislation between England and Wales, and Scotland.