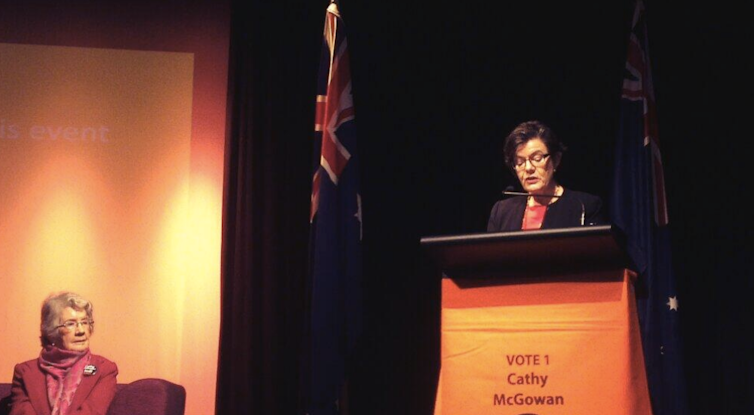 In Melbourne the "Indi expats" number about 30. They include nieces and nephews of Cathy McGowan, independent candidate for the north east Victorian seat, and relatives of family and friends.
The "Indi expats" recently booked out the Nova cinema in Carlton, raising thousands of dollars for McGowan's campaign, and some are arriving in the electorate this weekend to help from now until polling day.
Social media is being mobilised in a big way in her campaign, spearheaded by the youth brigade. She says when she walks down the street, "I meet lots of young people who are 'liking' me and sharing me with their friends".
McGowan is challenging the feisty Liberal frontbencher Sophie Mirabella, shadow minister for industry, described by retiring New England independent Tony Windsor as the person he'd least miss on leaving parliament. Windsor offered to campaign but McGowan's team wants to keep the focus grassroots and local.
After the hung parliament this is not a good election to be seeking to join the crossbench. But the Indi contest is catching attention.
McGowan, 59, who operates a farm consultancy and has a 50 hectare property on which she runs dorper sheep, says a catalyst for her candidature was a call last year from a nephew and niece and their friends, who were all at a Melbourne dinner party.
The young ones were disenchanted, unhappy with politics, including what was happening in rural Australia, and feeling they weren't being consulted. They wanted to know what she was doing for the election.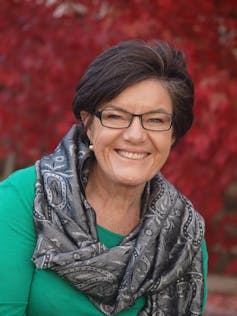 McGowan talked to others, helped get going a local "Voice for Indi" group. and held three months of "kitchen conversations" around the electorate. "Out of that there was a huge cry for me to stand".
She says people are disillusioned and disengaged, especially with "old century" politics based on joining parties. The desire now is for something "more flexible, lighter, using modern communications to get things done".
That leads to one of her main campaign pitches – the need for better broadband in Indi. At her campaign launch a week ago, attended by 400, she supported the current Labor fibre-to-the home NBN plan.
McGowan, one of 13 children, grew up on a dairy farm in the Indigo Valley, near where she now lives. As well as the farming background, her family has deep roots in the professions. Her father was an agricultural scientist and consultant. In the district, one sister is a doctor, another a lawyer, and two are scientists. McGowan has an arts degree from Monash and a masters in agriculture and rural development from the University of Western Sydney.
Through the NGO Australian Women in Agriculture, which she helped found, she was involved in setting up a Papua New Guinea Women in Agriculture organisation, which is the largest farm group in that country, and she is working with the Indian government to host an international conference on women in agriculture. She has an AO for services to women in agriculture and rural communities.
Many years back, she worked in the office of a former Liberal member for Indi, Ewen Cameron.
The Liberals dismiss any threat to Mirabella, who is on a 9% margin (52.6% of the primary vote in 2010, with Labor on 27%). But the MP was embarrassed by the leak of an email from her office to party members urging them to write to the local media because Mirabella was being "outgunned" there by McGowan. (The staff member responsible was described by Mirabella as an "overly passionate young campaigner", who had been "counselled".)
Mirabella told The Conversation today: "I'll run on my record and what I can do". Asked whether Tony Abbott would visit her seat, she said "I can't disclose his itinerary".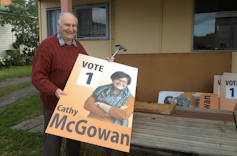 After the staffer's email was leaked Malcolm Fraser tweeted, vote for the independent. He said today, "I just thought she sounded good".
Nationals' Joyce (who was facing Windsor until he decided to retire) told The Conversation: "I know how independents campaign. You've got to take it seriously.
"The independent brand works on this theory: it puts a group of people who are not in support of the Coalition in one camp – from One Nation to the Greens. With the Labor vote, that can add to about 40%. So they start in a strong position - and then try to entice one in six of the rest to support them". He says they come up with messages that are seen as "clearly partisan to regional areas" and have the advantage of not having to deliver (unless there is a hung parliament, it might be added).
Joyce, who will campaign for Mirabella, describes her as "a very tough lady", courageous and always ready to man the barricades. "When you're looking for allies in Canberra, so often the nice people, the easy-going people, duck for cover".
"At times we get along very well, at times we fight", Joyce admits – fights have been over voluntary student unionism (he was against) and the now defunct referendum to recognise local government in the constitution (of which he was a strong supporter).
Di Thomas, editor of the Border Mail, which circulates in the electorate, says McGowan is "a significant challenge for Sophie – one she has not faced previously. Does Cathy have the potential to win? She may if there was a perfect storm of preferences [there will be about ten candidates] . But Sophie has really strong support". More likely, Thomas believes, McGowan has the potential to pull back Mirabella's margin considerably.