September 29 and 30 mark the anniversary of one the greatest atrocities ever carried out on Soviet soil: Babi Yar. In a ravine outside of Kiev in 1941, occupying Nazi forces murdered over 33,000 Jews in less than 24 hours in an attempt to exterminate the city's Jewish population.
Nazi Sonderkommando troops carried out the mass murder of men, women, and children with the support of local police officers. This would go on to be one of the single largest instances of mass murder carried out during the Holocaust.
Commemorating the Holocaust was often discouraged in the Cold War-era Soviet Union. This might strike modern-day readers as callous, but there was a twisted logic to this attitude. The Soviet Union had endured by far the worst losses of any side during World War II (with more than 20 million deaths), and Soviet authorities viewed Holocaust commemorations as "neglecting" the wider tragedy of Soviet casualties.
Dmitri Shostakovich, Russia's most prominent composer, would critique this lack of commemoration in his 13th Symphony, completed in 1962. But he would also go much further, criticising the Soviet Union under Joseph Stalin, who had died in 1953. The symphony is one of the most persistent condemnations of Stalinism, interspersed with frequent allusions to the continuing failures of the post-Stalin Soviet state.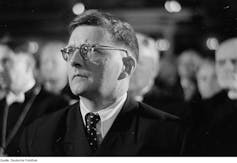 Made up of five movements, the symphony sets several of the noted poet Yevgeny Yevtushenko's works to music. When Yevtushenko published a poem on Babi Yar in the newspaper Literaturnaya Gazeta in 1961, eyebrows were quickly raised. Shostakovich, the Soviet Union's most prominent composer, was struck by the work's tone of solemn protest; it opens with the powerful line:
There is no monument above Babi Yar.
Shostakovich quickly went about setting Yevtushenko's poem as a single-movement cantata (a stand-alone piece of choral music) and was particularly pleased with the result. He then selected several more of Yevtushenko's published poems and put together plans for a multi-movement work with solo bass and male chorus. Thus began the 13th Symphony.
Babi Yar forms the symphony's first movement, a funereal elegy dedicated to Jewish suffering, including "vignettes" from the Dreyfus affair (an anti-Semitic scandal in France) and the life of Anne Frank. It opens with a solemn chime, as the chorus intones the damning opening line.
A condemnation
Musically speaking, the 13th Symphony shows the influence of 19th-Century Russian composer Modest Musorgsky, particularly in the use of bass singers performing solo and male chorus, as well as frequent use of chimes and bell-like textures.
The remaining poems that Shostakovich chose were even more contemptuous than the first in their condemnation of Stalinist Russia. The second movement, Humour, details how the Russian Tsars could not command or restrict humour (citizens making fun of them), and ends with "three cheers for humour – he's a brave fellow!".
Shostakovich quotes from one of his own earlier compositions, a setting of a Robert Burns poem, Macpherson before his execution, to illustrate how humour is constantly "executed" and resurrected anew. The quotation can be first heard in the low strings about halfway through the movement.
The third movement is an ode to Soviet women, In the Store. Yevtushenko details how Soviet women endured incredibly long queues just to collect bread, despite working every bit as hard as men in their own jobs: "These are the women of Russia; they honour us and they judge us".
After this paean to Soviet women, In the Store ends with a quasi-religious motive, a plagal cadence (think of the "Amen" at the end of Church music), following the words "their pious hands, weary from carrying their shopping bags".
The fourth movement is the most chilling of all: it opens with the line, "Fears are dying out in Russia". With no vagueness of expression, Yevtushenko depicts the oppressive culture of Stalin's political crackdown, the Great Terror of the late 1930s, when ordinary people lived through "the secret fear of an anonymous denunciation, the secret fear of a knock at the door". This was the only poem that had not been published before the symphony's premiere, since Shostakovich had actually commissioned it from Yevtushenko himself. Shostakovich creates a suitably menacing atmosphere, with a highly chromatic tuba solo at the opening that anticipates his experiments with dissonant "12-note" music in his later works:
The final movement, Careers, condemns those who remain silent in order to preserve their career, beginning with the example of Galileo, who dared to speak out against scientific censorship, and is now remembered as a genius.
In its lopsided opening waltz, this finale recalls the musical textures of fellow Russian Igor Stravinsky, with long passages of woodwind solos. The symphony ends overall with a chilling Celeste solo (like an eerie keyboard-operated glockenspiel), before a final strike of the chime that opened the piece:
'I cannot not write it'
Shostakovich was not Jewish himself, but had previously written works on Jewish themes, including his 1948 song cycle From Jewish Folk Poetry, as well as completing the opera Rothschild's Violin, begun by his Jewish student Veniamin Fleishman, who had been killed during World War II.
Shostakovich was attracted to Jewish themes partly through "their ability to build a jolly melody on sad intonations", reinforced through the influence of composer-friends like Fleishman and the Polish-Jewish composer Mieczysław Weinberg.
After finishing the symphony in the summer of 1962, Shostakovich wrote to his friend Isaak Glikman:
I am not expecting this work to be fully understood, but I cannot not write it.
Shostakovich had fallen foul of Soviet authorities several times during his career, with withdrawn works and humiliating public "apologies" forced upon him for failing to portray an ideologically-correct portrait of life in the Soviet Union. After having vague threats published about him in major newspapers at the height of the Great Terror, Shostakovich's subsequent rehabilitation by the cultural establishment elevated him to the status of the country's leading composer.
As such, all of his new works were carefully scrutinised for their ideological content, both by Soviet authorities and audiences, who were keen for meaningful artistic expression that could evoke some of the suffering endured under everyday Soviet life.
Nikita Khrushchev, who came to power after Stalin's death, condemned Stalin's cultural purges and his "cult of personality", heralding a new period of acceptance that historians refer to as "The Thaw". Unfortunately for Shostakovich, The Thaw was to be short-lived, cut short right on the eve of the 13th Symphony's premiere. Khrushchev began another period of cultural censorship, but The Thaw meant that artists had already started taking more experimental directions in their work.
'One of us'
The risky subject matter made arrangements for the 13th Symphony's premiere performance problematic. One of Shostakovich's closest friends and long-time collaborators, Yevgeny Mravinsky, refused to conduct it, giving only vague excuses.
Shostakovich instead turned to a young conductor, Kiril Kondrashin (the videos featured in this article are from Kondrashin's own recording of the symphony). Similarly, several of the bass singers that Shostakovich had invited to sing the key solo role also withdrew from performance – including Victor Nechipailo, who pulled out on the morning of the premiere.
Kondrashin later recalled "strange faces" appearing in the hall during rehearsals for the premiere – government agents monitoring preparations. On the evening before the performance, Kondrashin had a sinister phonecall from the Culture Minister Georgi Popov, who asked slowly, "How is your health?"
The premiere was a huge success, with massive praise for Shostakovich and Yevtushenko. The first movement's condemnation of anti-Semitism drew continued criticism, however. Shostakovich responded:
No, there is, there is anti-Semitism in the Soviet Union! It is an outrageous thing, and we must fight it. We must shout about it from the rooftops!
Such was the level of criticism that Yevtushenko actually edited several lines of his poem to be more "international" in outlook. Accordingly, the lyrics "I feel myself a Jew/ … Here I die, nailed to the cross/And even now I bear the scars of it" were changed to "Here Russians lie, and Ukrainians/Together with Jews in the same ground".
This was despite the fact that Babi Yar was an atrocity carried out specifically against the Jewish population of Kiev. Shostakovich's music itself was not judged to be offensive or inflammatory, but Yevtushenko's text was considered to be insufficiently international in its depiction of "war losses".
The 13th Symphony was the last in a trilogy of "Russian" symphonies for Shostakovich. His 11th and 12th symphonies depicted the 1905 and 1917 revolutions respectively. To 21st-century audiences, the work is a powerful statement of moralistic outcry.
It struck a particularly poignant note with long-suffering contemporary Russian audiences, who had seen the earlier two symphonies as "conforming" to the authorities' view of history. Such an immediate and powerful resonance is difficult to imagine in the present day. The famous pianist and critic Mariya Yudina put it heart-achingly simply when she wrote "Shostakovich has become 'one of us' again with his Thirteenth".
---
Shostakovich's 13th Symphony will be performed in Melbourne on September 17.