This year's Edinburgh Festival Fringe slogan – "defying the norm since 1947" – might make for good marketing. But it hardly reflects the role of the world's largest arts festival accurately. Far from supporting risk, the environment of the Fringe is increasingly one in which playing safe is the best way to avoid losing out.
The origin story to which the Fringe's slogan refers is well rehearsed. In 1947, eight theatre groups turn up uninvited to perform at the Edinburgh International Festival. Though they're not in the official programme, they perform anyway and are joined by larger numbers of independent performers in the following years. This leads to the formation of the Festival Fringe Society in 1958 as an organisation dedicated to supporting an "open-access arts event that accommodates anyone with a story to tell and a venue willing to host them".
If the Edinburgh International Festival is the conservative parent – programming international artists to perform elite cultural forms of opera, classical music and canonical theatre – then the Fringe has been imagined as the more adventurous younger child engaged in a creative free-for-all.
But the claim that the Fringe is transgressive becomes less convincing when you consider the commercial and professional pressures of the festival. Above all else, increasing costs have created powerful disincentives to taking creative risks.
Charlie Wood of the Underbelly venue suggests that acts should consider the Fringe in one of three ways: as an expensive holiday, as a highly uncertain attempt to make money, or in the "hope your show will get bought and find a future life". Putting on any show requires significant personal investment or the support of a production company that will gamble on your behalf (while also invoicing you for the privilege).
In the competitive mainstream of the festival, even a comparatively modest solo show can stand to lose £5,000 or £10,000 against fees for venue hire and marketing. An agreement for a standard box-office split with a venue will contain a guarantee against loss that means artists pay a deposit which is only returned when a certain proportion of tickets have been sold. A month of accommodation alone may cost more than £1,000 and a full listing in the print edition of the official Fringe programme itself costs £393.60 – again, all paid in advance.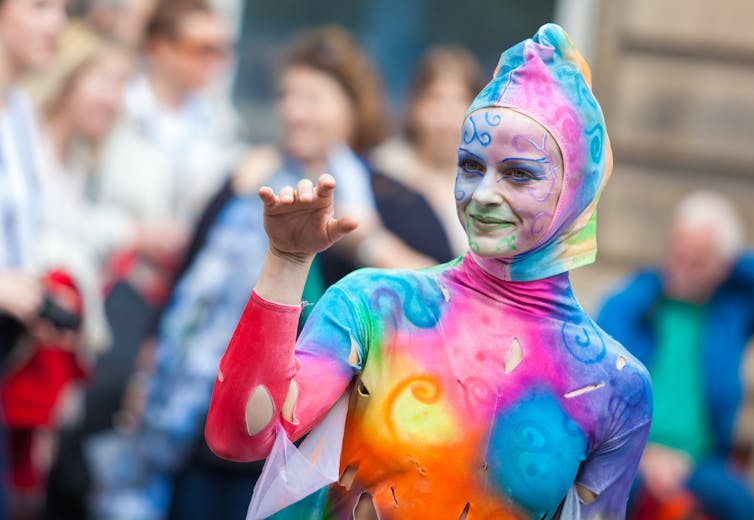 In turn, the Fringe programme polices cultural standards for good taste. In its style guide, the Fringe Office reserves the right to edit any images or text that they judge "to be inappropriate in any way" and censors "potentially offensive" words with asterisks. This policy meant that Fringe-regular Richard Herring's show appeared in the 2012 programme under the thinly-veiled title Talking C*ck: The Second Coming.
The standing of the Fringe as an industry trade show carries its own conservative dynamics. Viewing the Fringe as an investment that might lead to more lucrative work, major comedy agencies routinely offer contracts which guarantee a loss to the act, even if every ticket is sold. Stories of successful Fringe runs with packed houses and glowing reviews that end with an invoice for thousands of pounds are not uncommon.
While notionally interested in discovering the next new thing, talent scouts and BBC commissioning editors are also carefully watching their own budgets, and often prove unwilling to depart from tried and tested formulas. Though women in comedy have found increasing recognition over the past ten years, the choices of agents and bookers have been slow to change and reflect the continued wider dominance of opportunities for men across the industry. When Bridget Christie won the Foster Comedy Award in 2013, she was only the third woman to take the prize for a solo show since its inception in 1981.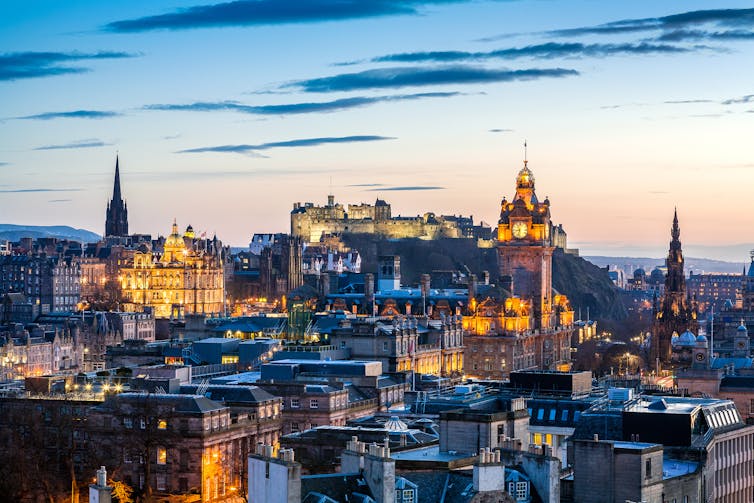 In the current environment, the Edinburgh International Festival's ability to exercise its own largely independent artistic choices means that the older festival may be in a far stronger position to foster work that "defies the norm". Though the programme still reflects its heritage through choices of classical music and opera, this festivial still increasingly supports experimental choreography and performance by directly commissioning work.
One highlight of this year's programme is Untitled Project's production of Paul Bright's Confessions of a Justified Sinner – first presented at Glasgow's Tramway venue. This re-staging is particularly significant because it marks a continued life for a highly acclaimed, experimental company who were forced to close their doors when the Scottish Arts Council ending their funding earlier this year.
None of this means that experimental, adventurous or transgressive work won't appear in this year's Fringe. But the environment of the festival is far from inherently supportive of creative risk. While there is a significant body of new writing in each year's programme, the public discourse of the Fringe is dominated by a small number of performance forms – primarily stand-up and naturalistic drama. The sheer scale of the Fringe – 50,459 performances of 3,314 shows in 313 venues, including 807 free shows – also means that smaller companies struggle to be get the word out about their work even when they are taking significant risks.
It's no coincidence, then, that the increasingly popular organisations that make up the "fringe of the fringe" are characterised by an attempt to encourage experimentation by offering venues and performances free of charge to artists and audiences alike. PBH's Free Fringe, Free Festival and Forest Fringe rely on volunteer labour, with artists pitching in to operate lights and run the box office. This is supported in turn with direct fundraising, as in the Free Fringe's annual fundraising gala, and the Forest Fringe's crowdfunding campaign to cover costs including an accessibility day for hearing impaired audiences.
Though precariously funded, it is the willingness of these groups to match rhetoric with concrete support for individual artists and build direct relationships with audiences that makes a real difference – something which the scale of the festival as a whole may make impossible for the Fringe Society, despite the promise of its marketing.