Football has had a grubby year, and an even grubbier week. Governing body FIFA has wrestled with scandal throughout 2016 and now a major investigation by the Daily Telegraph newspaper has forced the resignation of England manager Sam Allardyce. But it is worth reminding ourselves that the beautiful game is not just a sea of shady characters, drenched in money and greed. It also has the ability to inspire, to bring together people with little or nothing.
Nowhere is this clearer than in the role football has played as thousands of desperate refugees arrive in Europe. One of the largest migrations of people since World War II has confounded efforts to address it and sparked a muddled political response. Football is one space where the social conflicts are exposed, but it is also creating a useful space to challenge and understand the issues at hand.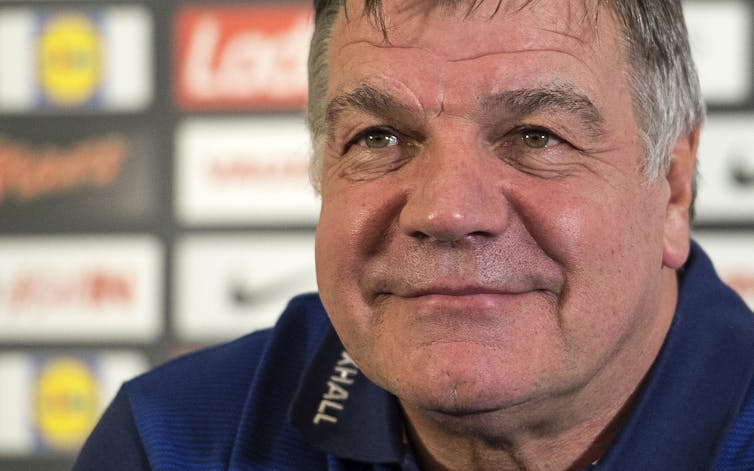 There has been an international emotional connection with the current refugee situation in Europe. Some football fans in Poland, Hungary and the Czech Republic displayed banners stating "Refugees Not Welcome" and protested against what they deem the Islamification of Europe, but the many football supporters have been highly adoptive of the "Refugees Welcome" message, particularly in Germany. That includes moderate fan groups who have never challenged discrimination before. Several fan groups in Germany, Scotland, Greece and England have displayed banners openly declaring their support .
Others have raised money or set up football teams to support refugees and asylum seekers. Fans of Istanbul's Fenerbahçe hosted a dinner for Syrian refugees to welcome them into the local community. There are so many activities taking place that Football Against Racism Europe have started compiling a database of locations.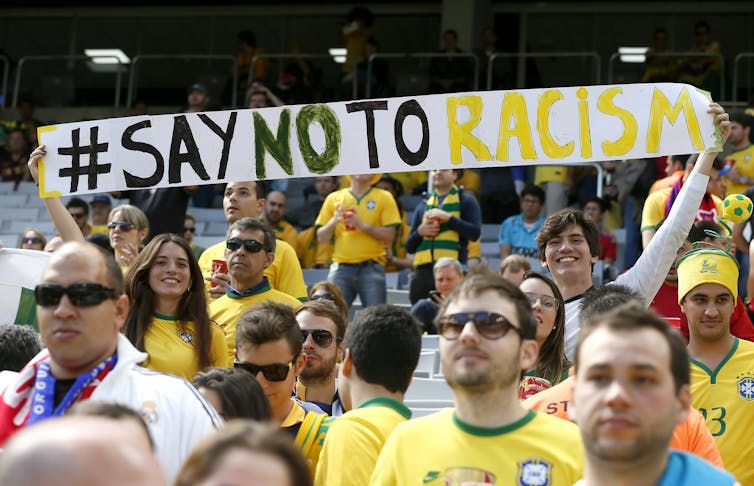 Identity games
Football 4 Peace at the University of Brighton has over 15 years' experience of demonstrating how football can help build bridges in culturally divided cities in Northern Ireland, Israel and Palestine, Gambia and Korea. Most importantly, Football 4 Peace shows that it is possible not just to bring people together to play football, but also to actively work with the participants to help them understand themselves and others.
Their methodology, which emphasises neutrality, equity, inclusion, respect, trust and responsibility, is designed to give players "teachable moments" from football. As Professor John Sugden says "sport is intrinsically value neutral and under carefully managed circumstances it can make a positive if modest contribution to peace building".
Football also provides a cathartic space for refugees and asylum seekers. A project run by Football Unites Racism Divides in Sheffield showcased the importance of football in helping refugees acclimatise to their new lives. Football helps those in traumatic situations to switch off from their daily travails and enjoy the bodily freedom of physical exercise and being around people who are in a similar situation. As asylum seekers are not legally permitted to work, leisure activities like football become an important source of self-identity.
Football fans across Europe have set up teams for refugees and asylum seekers. From United Glasgow in Scotland, to Lampedusa FC in Hamburg, Welcome United in Potsdam and Liberi Nantes in Rome, fans are volunteering their time to welcome new members of their community and help integrate them with the local population. As Football 4 Peace has shown, football can help link people from a wide range of backgrounds and cultures.
Building trust
More importantly, football doesn't just help refugees when they reach their final destination, it also provides a safe and cathartic space for young people in transit in refugee camps. Football fans set up Baloo's Youth Centre in the Jungle refugee camp in Calais as a way of engaging with young people. There are nearly 800 unaccompanied minors in Calais and youth workers at Baloo's have used football to build trust with vulnerable children. Once trust is built, they provide mobile phones to the children so that they can be traced to ensure they are safe.
Competitions like the Liberté Cup hosted at the Grand Synthe camp in Dunkirk, can also provide a focal point and sense of purpose for refugees living in stasis. At a very simple level, football games give others in the camp an entertaining break from the crushing boredom of refugee camp living.
Inspiration
Even those scandal-hit international governing bodies have helped. While they often get criticised by fans, they have taken positive steps to help refugees around the world. UEFA donated money from Champions League and Europa League ticket sales to refugee causes.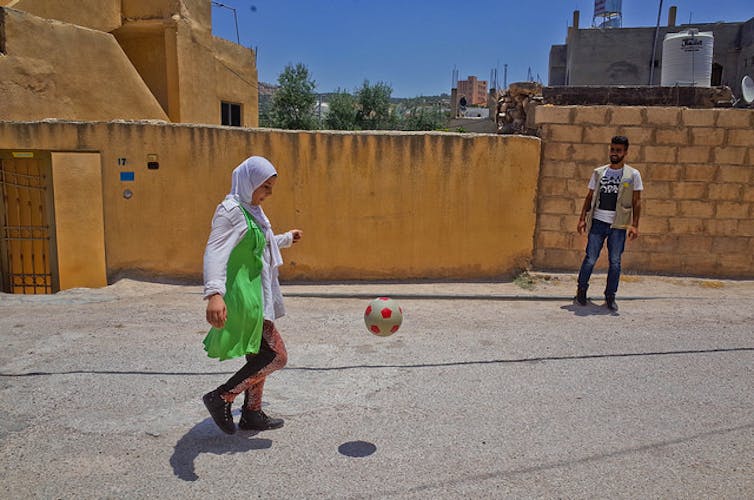 FIFA have also used football to help engage young people in refugee camps. In August 2016, the under-17s Women's World Cup trophy was showcased in the Al Zaatari camp. One 14-year-old girl said:
For me, there's nothing more important at the moment … In this camp, football gives me hope in life. I play it two hours every day and I'm happy for those two hours.
While some at the highest levels of football can seem relentless in their pursuit of wealth, football fans, governing bodies and NGOs are using football to build bridges for the most vulnerable individuals and groups. Football isn't the magic bullet that will solve the refugee crisis, but it does highlight the valuable work that civil society can provide in the absence of an effective response from the state. And it also showcases what football, as opposed to the grubby business of football, has always been best at: providing a common language that brings people together and promotes physical and emotional well-being for everyone taking part.