Finally the Edinburgh tram has opened – more than three years late and significantly over budget. Disputes with contractors caused long construction delays. The disruptive construction work was unpopular with many local businesses and residents. And the final cost per kilometre ended up above typical levels for tramway projects in places like France.
Having received widespread coverage in the media over a number of years, some see the UK's ninth tram network as a cautionary tale about politicians allowing their thirst for flashy new infrastructure projects to overcome rational decision making. Yet the project has at least come to fruition, unlike a number of other light rail schemes of the 2000s that were abandoned in cities like Leeds, Liverpool and Southampton.
The wider context is the urban rail renaissance of recent years. It came after a long period after World War II in which the number of tram networks was reduced because they had come to be seen as outmoded and prohibitively expensive to modernise. Buses became the urban transport of choice instead.
The UK went from having 2,605 route miles of tramlines in 1924 to just 11 miles (in Blackpool) by the end of 1962. In Edinburgh, the old tram service closed in 1956. In Germany the number of networks decreased from 169 to 90 between 1945 and 1975, and over the same period in France and Spain, the decline in trams left just one or two networks running.
The revival
Then the wheel began turning in the opposite direction. France is one country in which the tram has enjoyed a particular reversal of fortune. After they were initially reintroduced in Nantes and Grenoble in the 1980s, by 2011 22 French cities had a network. It is a similar picture over the Pyrenees in Spain, where 16 cities now have trams.
Germany continued shedding networks over the same period, but others have been maintained, even in shrinking cities, or extended through innovations like the tram-train systems in Karlsruhe and Kassel.
According to UN Habitat, in 2013 there were about 400 light rail and trams systems in the world and a further 60 under construction. Almost half of them were in western Europe, though there are also sizeable concentrations in places like Russia and the US, plus stand-out networks like that of Melbourne in Australia.
There are a number of reasons for this revival. The tram has enabled levels of public transport use to be maintained and sometimes modestly increased –- in France, for example, opening a new tramline has produced an average 30% increase in the use of public transport. Similar results have been seen in the UK. The Manchester Metrolink persuaded 2.6 million users to shift to public transport, while the Sheffield Supertram's results were strong too.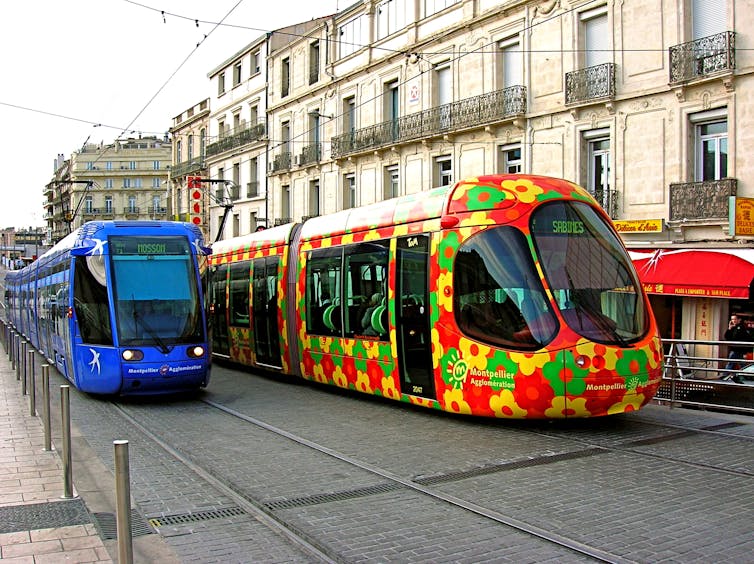 In Spain and France, another reason for trams' return to popularity is that they are seen not only as a means of solving mobility issues, but also as an instrument of urban renewal. In Bilbao, for example, the tram has been viewed as being as much a tool of regeneration as emblematic projects such as the Guggenheim Museum.
This additional benefit has meant that French tram costs have tended to be relatively high because they include transforming surrounding public spaces. For example in the central city of Tours, which became France's latest tram beneficiary in August 2013, the stops were designed with input from well known conceptual artist Daniel Buren.
The critics
So much for the positives. This new wave of tram schemes has also been criticised for being too complex to deliver, too expensive, and not essential to addressing the most pressing issues around local mobility and regeneration. On the first two counts at least, Edinburgh is clearly a notorious example.
Some question light rail systems' passenger projections, their ability to shift people to public transport and their promises about inward investment and regeneration. In the UK, for example, Sheffield Supertram was 45% down on projected patronage after eight years of operation. Croydon Tramlink had a 23% passenger shortfall after two years.
Even in the case of the apparently successful Manchester Metrolink, the National Audit Office has suggested that the big passenger shift into public transport was negated by increased car usage. It also thought it was impossible to measure benefits to regeneration and social inclusion because so many schemes and initiatives were working to similar ends in the area. In light of such conclusions, some have queried the reasoning used to support light rail schemes, suggesting other options may deliver similar benefits for less.
Edinburgh has done an unfortunate job of highlighting the pitfalls with major infrastructure projects like tram networks. While some politicians might be attracted to these kinds of big-ticket commitments, others will be more wary. Witness the SNP's opposition to the Edinburgh project. Another example would be Liverpool in the 2000s, where a senior council officer briefed the government against the Merseytram project ahead of its cancellation.
It is often easier for politicians to justify small-scale incremental improvements to the transport system rather than more fundamental changes like building a new tram network, which are often more open-ended in cost-benefit terms. Broader economic factors have also affected the prospects for tram development. For example in Spain after the economic crisis, some new tram projects have been delayed indefinitely.
Enduring tram love
Yet for all their critics and challenges, trams look set to remain an attractive transport option where the financial, political and spatial conditions are right. They perform strongly in busy transport corridors and they also help policymakers address greenhouse emissions and improve local air quality.
Even in the UK, for all the problems with Edinburgh and other projects, the Manchester Metrolink's striking expansion has been a great positive. England's metropolitan areas are receiving combined authorities, whose range of responsibilities includes transport, which might see new projects prioritised. The broader context is that the UK's department for transport also seems to have renewed its interest in light rail.
In the meantime, the people of Edinburgh and many visitors to the city will soon start to reap some of the gains from the controversial project. Some of those based in places like Liverpool – including two of the authors of this article – where there was no devolved government money to keep the project alive, will no doubt be looking on with a certain degree of envy.