Many African countries are in the grip of a nuclear fad. They believe nuclear energy will bring with it an international currency of prestige. Countries with nuclear energy programs are seen as rich and technologically advanced and as a result possess advanced status compared to other developing countries.
Nuclear is not new to Africa. It has been active since the 1950s when the Democratic Republic of Congo built Africa's first nuclear reactor. But now, more African countries are planning to develop atomic power for energy security.
There are 12 nuclear research reactors hosted in eight African countries. South Africa is the only African country with an operational nuclear power plant. But the list of countries seeking nuclear energy is long. Sub-Saharan countries of Ghana, Niger, Uganda and others have expressed interest in building nuclear plants. North African countries Algeria, Morocco and Tunisia have similar plans.
Why nuclear?
Africa's future economic growth is dependent on numerous key factors: political stability, human security, education, and electricity. The good news is that Africa has energy options ranging from the widely criticised coal to the more favourable natural gas, geothermal energy and renewables. Many African countries are taking a diversified approach with nuclear playing a significant role.
Africa's regional heavyweights Kenya, Nigeria and South Africa lead the way on the continent. These countries have developed long-term plans to propel economic growth. Even fossil-fuel-rich countries like Nigeria seek long-term power reliability and stability due to an ever-fluctuating oil price.
An integrated nuclear infrastructure review team from the International Atomic Energy Agency (IAEA) will soon complete their 2015 tours of Kenya, Morocco and Nigeria to identify problems and make recommendations as these countries advance the nuclear option.
Threats associated with nuclear
Many experts are asking if Africa is ready for nuclear energy in the face of mounting ethical, monetary, safety and security concerns. The main concerns include corruption, radiation events like the Fukushima disaster, high costs, lack of expertise and waste management.
One of the first steps to nuclear energy is gaining access to uranium. Africa is not short on supply. It contributes nearly 20% of world uranium production; 34 African countries that have uranium deposits. Most is mined in South Africa, Malawi, Namibia and Niger.
There is a real security threat posed by extremist organisations gaining access to nuclear material. The IAEA's incident and trafficking database provides information on incidents involving nuclear and other radioactive material.
From January 1993 to December 2013, 2477 incidents were reported in the incident and trafficking database, of which 424 involved unauthorised possession and related criminal activities. The main concern is extremist organisations targeting corrupt politicians or experts knowledgeable in enrichment to attack or sabotage nuclear facilities.
We learnt of al-Qaeda's plan to source nuclear material and recruit rogue scientists to build "dirty bombs" via American cables from WikiLeaks. Today, co-operation between extremist organisations exacerbates this threat. The 2013 joint attack of the French-owned Somair uranium mine in Niger is one example.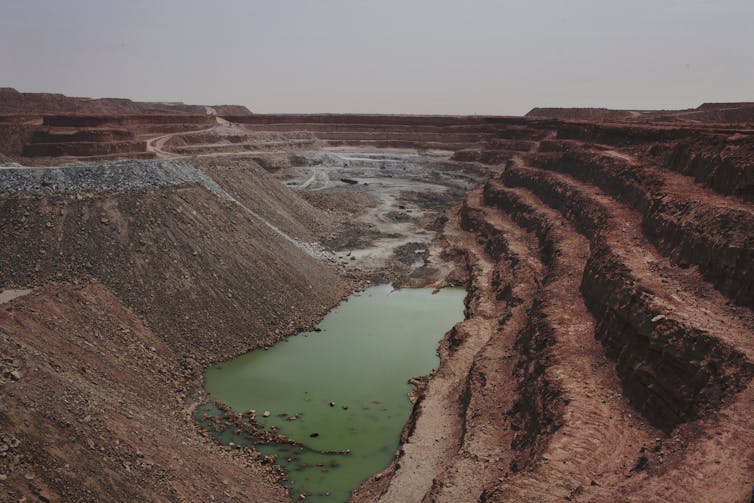 There is also the problem of the legacy of Pakistani scientist Abdul Qadeer Khan's global nuclear proliferation network. Now a free citizen of Pakistan, Khan at one time was at the centre of the global nuclear black market.
He had connections in South Africa. He also agreed to provide Libya with nearly all of the infrastructure and expertise necessary to build a nuclear bomb. Khan is an example of the damage one man can inflict and how fast and wide a proliferation network can spread.
The US, through several offices and supporting multilateral organisations, seeks to minimise the threat. And the Global Initiative to Combat Nuclear Terrorism, co-chaired by Russia and the US, is a partnership of 86 nations following core principles around nuclear terrorism deterrence, prevention, detection, and response objectives.
To date, Algeria, Cote d'Ivoire, Libya, Madagascar, Morocco, Seychelles and Zambia have partnered with the organisation.
The US has a premier program for strategic trade control of nuclear activities. It held a workshop in Kenya in August on trade management legislation, dual-use technology, and conventional weapons. The nuclear security challenges are clear and Africa has a role to play.
The big players leading Africa's quest
African nuclear expertise is limited so they are looking abroad to achieve their nuclear ambitions. This includes the Western powers like France and the US. But China and Russia and their closely affiliated non-state and state-owned nuclear energy providers are the biggest players in Africa.
Russia's nuclear involvement in Africa is not new and is rapidly expanding. President Vladimir Putin appears to be the frontrunner in South Africa's nuclear expansion. It was announced that Russia will build Egypt's nuclear power plant in Dabaa after Putin's visit to Cairo in February 2015. Russia's state energy corporation Rosatom also recently signed a deal with Nigeria to build a nuclear plant that will be operational in 2025.
China's overall expansion into Africa over the past decade is nothing short of remarkable. China has used this momentum to make inroads into the nuclear sphere. Most recently, China and Kenya signed a deal on the construction of the first nuclear power plant in the east African nation to be operational by 2025. At the same time, China General Nuclear Power Holding Corp will begin mining for uranium at its Husab mine in February in western-central Namibia.
China and Russia's interest is linked to the projection of strategic power and investment into Africa, but also to secure access to uranium reserves. Together, China and Russia are leading the drive for global energy security. At the same time they are solidifying their overall political and trade relationships with African countries and their leaders.
Despite the challenges and concerns facing nuclear power development, expect Africa's powerhouses from Egypt to Nigeria to reach operational levels.