Can digital technologies play a role in "closing the gap" in the 21st century?
Our research is focused on designing digital technologies that operate outside existing power structures. That means Indigenous leaders taking charge of the process – and consulting Indigenous end-users throughout.
---
Read more: Aboriginal communities embrace technology, but they have unique cyber safety challenges
---
Indigenous Australians were the first scientists, technologists, engineers and mathematicians in Australia.
For over 60,000 years their approach to innovation has shaped and informed how modern Australia addresses agriculture and climate change, the natural environment and the mining of minerals and resources.
For the last 248 years, Indigenous Australians have experienced disruption and disadvantage as a result of colonisation. Now with the advent of the internet, the same structures that keep Indigenous people marginalised and isolated in the real world are being translated to the digital world.
In 2015, a gaming app called "Survival Island 3" was made available in the Apple App Store, Amazon Appstore and Google Play Store. The 3D game encouraged players to bludgeon Aboriginal Australians to death. The app was eventually removed from stores, but the fact that it was ever allowed in the first place highlights how online spaces can be hostile to Indigenous Australians.
Digital land rights
Since 2016, we have been building a smartphone app called #thismymob to explore how digital technologies can contribute to improving the health and wellbeing of Indigenous Australians.
This is the first national Indigenous-led research to co-design and build technology with Indigenous people in Australia – if not the world.
We wanted to create a safe and culturally appropriate space in the virtual world, where Indigenous people have a sense of "citizenship". A space where they can connect with their mob – and other mobs – without feeling alienated or vulnerable.
We call this "digital land rights".
Digital land rights can empower Indigenous Australians to express themselves and promote themselves – culturally and artistically – in a positive light, and thrive. It can also mean being able to engage with non-Indigenous individuals and communities on their own terms.
'Postcolonial computing'
Our work draws on American researcher Lilly Irani's framework of "postcolonial computing", which recognises that:
Colonial relationships may have dissolved, and yet the history of global dynamics of power, wealth, economic strength, and political influence shape contemporary cultural encounters.
In order to avoid replicating these dynamics, we use a participatory design approach to create digital technologies with, and for, Indigenous Australians.
A core principle of participatory design is acknowledging that it's the people we design for who know best about what's important to them. So we involve end-users in the design process.
Another important principle is showing respect for people's expertise and their right to represent their own activities to others – rather than having others speak for them. Participatory design ensures that the technology we design is culturally appropriate, and usable in a wide variety of communities and contexts.
---
Read more: How Indigenous knowledge advances modern science and technology
---
Our research agenda is driven by Indigenous Australians – in partnership with non-Indigenous Australians – because we recognise that having Indigenous leadership on research and development projects is fundamentally important.
What participatory design looks like
To build the #thismymob app, we conducted design workshops with four Indigenous communities representing very different regions of Australia: Lombadina (WA), Tiwi Islands (NT), Portland (VIC) and Sydney (NSW).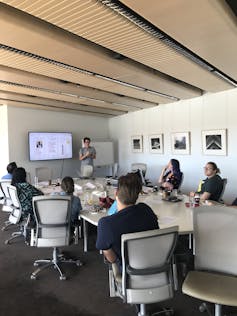 Over 40 participants across these sites helped to design the features and functions of the app. They told us:
what they wanted in their own app
how they would use it
what they consider user-friendly and culturally appropriate, and
how we could help ensure cultural safety and identity.
Some of the features that came out of these workshops include mob identities, mob news, and mens' and womens' business spaces.
The functionality of the app for each user is determined by the mob they are connected to, and their gender. Users can either post directly to their mob, or post to all mobs.
This has meant we had to design and code for many different Indigenous identities, language groups, clans and cultures. In effect: coding for culture.
Who's your mob?
The #thismymob app is about Indigenous community and how we connect with each other. The first thing we usually ask each other in the street is, "who's your mob"? The rest flows from there.
The #thismymob app will connect Indigenous people through a safe and culturally appropriate platform. It will be a place where it's okay to say: "Hey, I'm black and I'm proud."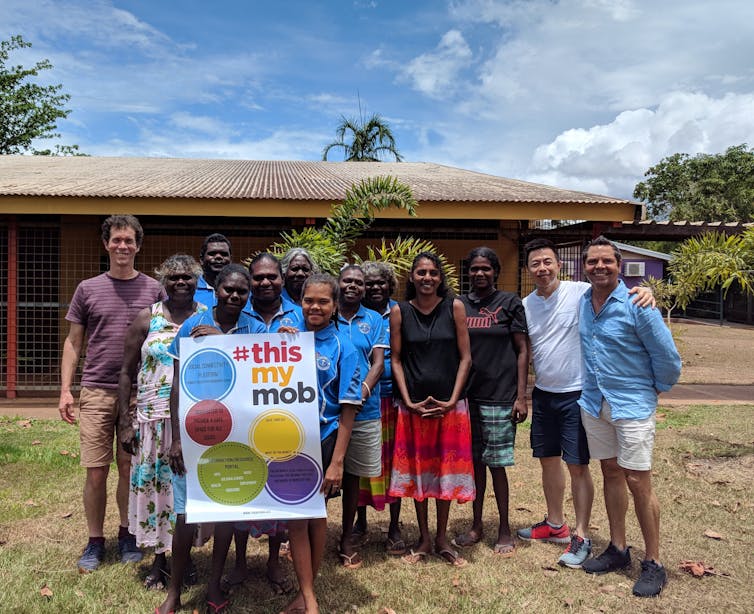 It will give young Indigenous users the opportunity to reach out to Elders from around the country to ask for guidance and support. It will encourage young Indigenous Australians to take up degrees and careers in STEMM (science, technology, engineering, maths and medicine). It is where Indigenous artists will be able to promote their work to both Indigenous and non-Indigenous buyers.
We hope the #thismymob app will create a sense of ownership in the virtual world and where we can say safely that, "We got digital land rights, hey!"
Looking to the future
The #thismymob project is not just about creating a useful new technology. It will also help shape and inform how emerging technologies are co-designed and built with Indigenous users in the future.
---
Read more: It's taken thousands of years, but Western science is finally catching up to Traditional Knowledge
---
We have been consulting with Apple and Google to help refine ethical guidelines for their designers and engineers to ensure that cultural values, ethics, and multiple identities and worldviews are incorporated into their products in the future.
And because we are discussing our ideas with Indigenous groups in other countries, we hope the impact of this work will be felt beyond the borders of Australia.